Ghost In The Shell: SAC_2045 Was Only Supposed To Last Two Seasons
Whether it comes back for a third season remains to be seen.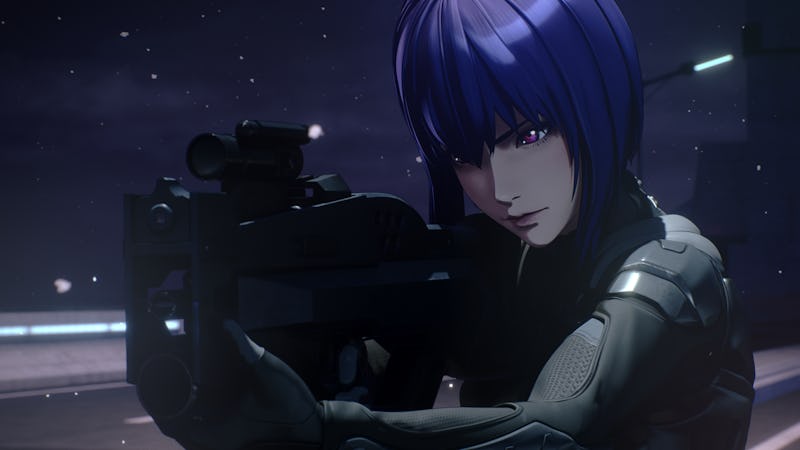 Atsuto Tanaka as Motoko Kusanagi in 'Ghost in the Shell sac_2045'
On May 23 Netflix is diving back into the mystery that is Ghost in the Shell: SAC_2045. Season 2 picks up right where Season 1 ended, hopefully making sense of the first season's mysterious ending. The war between Public Security Section 9 and a "post-human" threat has finally begun, which means we're in for an action-packed journey in Season 2. Season 2 is also poised to answer the question as to whether or not becoming "post-human" is the next step in human evolution, though it's unclear if that is ultimately a good thing or a bad thing.
When the series was first announced, Anime News Network revealed that the original plans for the show only included two 12-episode seasons. Whether or not the show's production team, Production I.G., will remain steadfast in their initial plans — or if Ghost in the Shell: SAC_2045 will return for a Season 3 — remains to be seen.
The series is an offshoot of the beloved 1995 animated feature directed by Mamoru Oshii and written by Kazunori Itō. The original source material leaned heavily into the story's neo-noir cyberpunk setting in attempts to tell a futuristic thriller. However, the film isn't necessarily the first iteration of Ghost in the Shell, seeing as its based on a manga of the same name, authored by Masamune. Ghost in the Shell even got a live action adaptation in 2017, albeit a maligned one, starring Scarlett Johansson. Which is all to say that the odds of a third season aren't that farfetched given how often the source material has been used.
It's also worth mentioning that Ghost in the Shell: SAC_2045 isn't really beholden to any of its previous iterations. It exists in its own timeline, in an alternate universe to the 1995 original, which means the creative team has a ton of runway ahead of them, and plenty of routes to choose from if they elect to pursue a Season 3. However, Netflix has yet to announce any plans for a third season. It would be reasonable to believe that the streaming service is waiting to see the reception of Season 2 before deciding as to whether or not they want to commission another season of Ghost in the Shell.
The Ghost in the Shell: SAC_2045 Potential Premiere Date
Season 1 debuted in 2020, and plans for a second season were announced in November of 2021. With Season 2 finally ready to hit screens 7 months after the original announcement, it's more than likely that a potential third season wouldn't premiere until 2023. It's also worth mentioning that Netflix announced Season 2 while at the Netflix Anime Celebration in November 2021, so it wouldn't be farfetched for Netflix to once again wait for their celebration to announce one of their major anime titles.