A Gilmore Girls Continuity Error Brought A Character Back From The Dead
And it didn't go unnoticed by fans.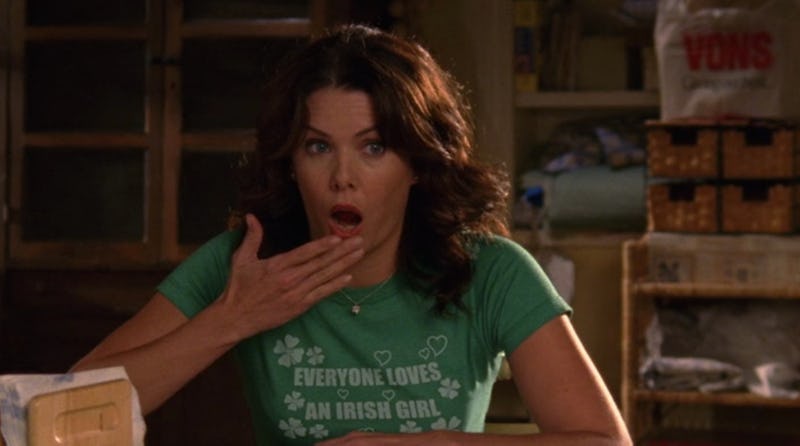 'Gilmore Girls' / The WB / Netflix
More than two decades after Gilmore Girls' debut, fans remain dedicated to the long-running drama and continue to rehash lesser-known facts about the series — including the many subtle mistakes made throughout the show's seven-season run. The latest continuity error that has fans buzzing? An errant line that (kind of) brought back a recurring character from the dead.
In the Season 1 episode "Kill Me Know," Richard Gilmore (played by Edward Herrmann) speaks about his mother, Lorelai "Trix" Gilmore (Marion Ross). "Lorelai the first was my mother," Richard says during the episode. "She was an extremely accomplished equestrian, a distinguished patron of the arts, and she was also world-famous for her masquerade balls. She was quite a woman, my mother."
As one fan noted on Reddit, Richard's past-tense dialogue implies that his mother is now deceased, even if he doesn't explicitly mention her death. During the same episode, Richard's wife, Emily Gilmore (Kelly Bishop), shares that her mother-in-law handed down her dinner plates — again, suggesting that Trix had passed.
However, in the Season 1 episode "The Third Lorelai," Trix unexpectedly shows up at Richard's home alive and well. To this day, Trix's surprise appearance doesn't go unnoticed by fans.
"These kind of errors happen a few times. You just have to breeze right by them and pretend they don't exist," one viewer joked on Reddit. Another forgiving fan wrote, "This is one of the few continuity errors I give the show a pass for. It's so early in Season 1 that they most likely were still figuring the show out and later decided to add in Trix as a character."
Trix Gilmore eventually met her demise in the Season 4 episode "The Reigning Lorelai," during which Richard received a phone call informing him that his mother had passed away suddenly from a heart attack.
While Trix's resurrection is the Gilmore Girls fandom's topic du jour, it's likely only a matter of time before they've singled out another obscure fact to discuss — like the show's unaired pilot, an alternate ending theory, or the canceled Gilmore Girls spinoff.