A Gilmore Girls Continuity Error Is Going Viral On TikTok
Fans "never noticed" the mistake, says the show's former set costumer.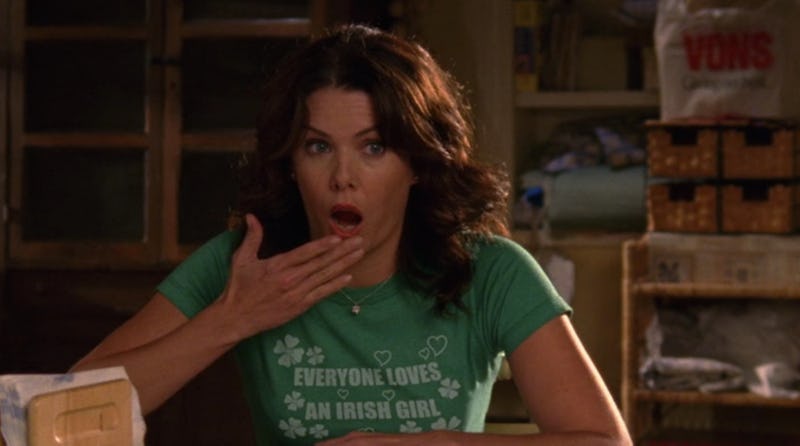 Netflix
Every fan of the beloved '00s drama Gilmore Girls remembers Rory's first heartbreak and Max's flower-filled proposal to Lorelai like it was yesterday, but as the show's key set costumer Valerie Campbell has revealed on her tell-all TikTok, there's a whole host of bloopers and continuity issues that pop up over the course of the show's seven season-run.
As it turns out, one such error occurs during the Season 5 episode "Women of Questionable Morals," midway through a Revolutionary War reenactment that takes place in the fictional town of Stars Hollow. The slightly bizarre piece of am-dram stars Kirk Gleason (Sean Gunn) as the heroine, who is forced to step in as an understudy after his girlfriend drops out of the play.
Sharing her insider perspective on TikTok, Gilmore Girls set costumer Campbell reveals a blink-and-you-missed-it "continuity error" in this particular scene that most viewers "probably never noticed."
The "mistake" in question occurred after Gunn filmed additional shots for the scene five hours after initial filming had taken place — by which time the actor was missing a vital piece of his costume, a pair of lace gloves, which he is briefly shown wearing in the episode before they seemingly disappear into thin air.
Speaking on TikTok, Campbell also recalls that filming of the war reenactment ran from the early hours of the morning right through to sunset, and shared that she was also battling against the artificial snow used during shooting. "There are random particles of paper flying all over the place onto their shoulders, onto their clothes, and I had to brush them off every single time," she reveals.
This isn't the first time Campbell has shared BTS tidbits from her time working on Gilmore Girls, and in another recent TikTok, fans were delighted when she appeared to finally confirm the identity of Rory's baby daddy.