All Hail Maxine Baker, The Barney Stinson Of Ginny & Georgia
Actor Sara Waisglass just wants to "mak[e] people laugh."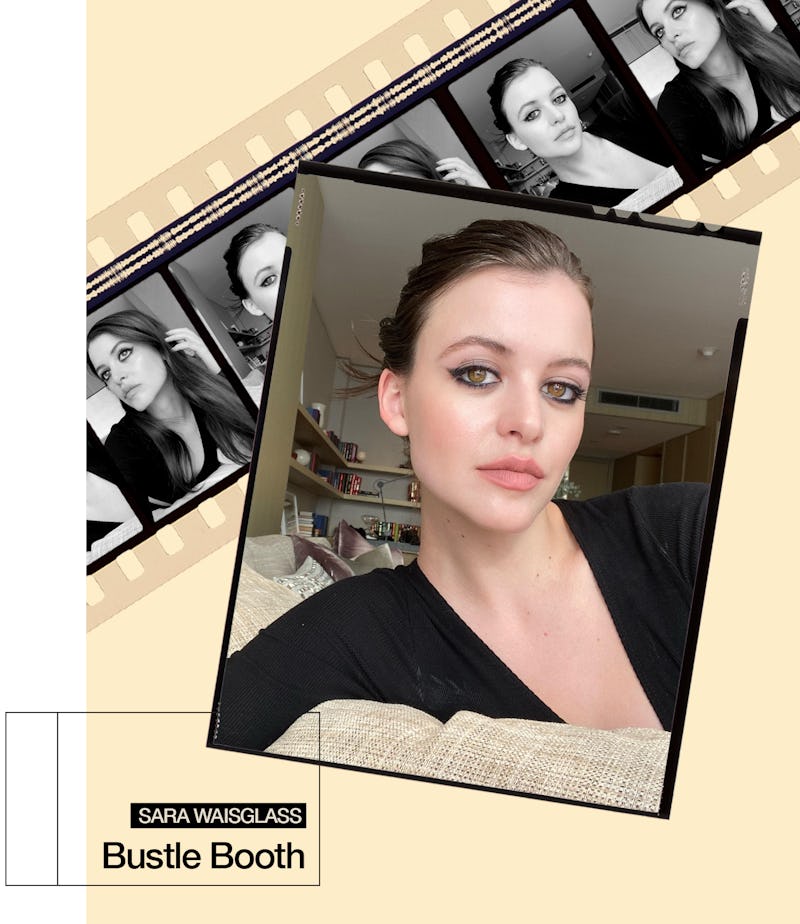 In an opening scene of Netflix's Ginny & Georgia, a family of three is driving toward another new home. The roof of the convertible is down, emotions are high. From the driver's seat, 15-year-old Ginny turns to her mom. "What are you wearing? You look like Vanessa Hudgens at Rydell High," she says. The throwaway pop-culture reference — one of many — tees up Ginny's first day at her new school. Will it be more Grease or High School Musical?
On Day 1, Ginny meets Maxine Baker in AP English. Wearing neon pink, Max is instant best friend material, complete with a zippered hoodie that could pass as a Pink Lady jacket.
Ginny & Georgia toggles between genres, both a high school drama and crime caper. Max anchors the former, serving as Ginny's guide-turned-confidante. She befriends the new girl, introduces her to the lunch-table clique, and orchestrates her first date with the painfully nice "nice guy," Hunter. Meet your new Frenchy. (The pastel wig comes in Episode 7.)
But emotionally, she's a bit more like Barney Stinson. "Max came out when she was 9 by announcing her love for Barbie's boobs," says her mom, who's played by Schitt's Creek alum Jennifer Robertson. The brunette types in caps lock, swoons at the hot girls of Instagram, and gives Ginny & Georgia consistent wingwoman comedic relief.
Sara Waisglass, who plays Max, was hooked as soon as she read the script. "I wish I'd had a friend like [her], someone who'd taken me under their wing," the Canadian actor, 22, tells Bustle. "But in my high school, it was more 'every man for himself.'" Her first acting gig was at age 6 for a Dove commercial, and with the exception of a few gawky braces years, she's been working since.
"I grew up too quickly because I'd been acting my whole life," says the actor, who had a six-season run on the Canadian Degrassi franchise. "You're forced to be an adult very young, and I was pissed because I didn't get to run around and be loud. I was always working. So Max came along, and [she] was my chance to be free and courageous. I took it as the greatest opportunity of my life."
The show filmed roughly 30 minutes from Waisglass' childhood home in Toronto, where she's been living since graduating from York University last summer with a screenwriting degree. She's done press junkets and interviews from her bedroom, which is "a little sad, but it is what it is."
If Ginny & Georgia is renewed for a second season, she hopes it re-centers the friendship. "I would love to see Max and Ginny work through their issues. I would hate for a boy to be the end of such a fantastic female friendship. Already, as it is, I'm so pissed about it!"
Rather than set up a Danny-Sandy or Troy-Gabriella romance, Ginny & Georgia is a story about women. The caper plotline focuses on the titular mother-daughter pair; the high-school plotline, on Ginny and Max. To resolve those love stories, we'll hope for Season 2.
In The Bustle Booth
What's your coffee order?
I don't drink coffee. Life is all the caffeine I need!
What are the saved weather locations on your phone?
Toronto (home!), LA (so I can dream about better weather), and Muskoka Lakes (I want to buy a cottage there someday!).
What's your sign?
Cancer.
Favorite overused movie quote?
I love a good "You're giving up your dream son!" "No dad, I'm giving up yours" movie trope.
What was your favorite cartoon as a kid?
6teen. The theme song is my ring tone!
What's one movie or TV show you're currently obsessed with?
Can I say my own? Ginny & Georgia is epic. But if you yell at me for that answer, I'll say Arrested Development, Dead to Me, or Umbrella Academy.
Who is your celeb idol?
Lately it's been Kristen Stewart. The world was real hard on her for allegedly not having facial expressions, but I think she's one of the most underrated actors of all time.
If you had to be on a reality TV show, what would it be?
Keeping Up With the Kardashians, so I could steal something in their house, sell it online, and use the money to take my friends on a big ol' vacation… or whatever… not like I've thought about it...
Go-to karaoke song?
"Bohemian Rhapsody" and "Mr. Brightside" always get me amped, but it's not really karaoke until we do "My Humps" by Black Eyed Peas.
What's something that's inspiring you lately?
My generation! Lately I've been seeing more and more people my age using their voices to amplify what they're passionate about. Say what you want about Gen Z and millennials, but I've never seen a group of people more dedicated to acceptance, compassion, and social change.
What is something you would want people to say about you?
Honestly, I just like making people laugh. If I can do that, I can go to sleep with a smile on my face.