Hailey Bieber Called Out "Invasive" Paparazzi For Taking Photos Up Her Skirt
"I've had two bad experiences where someone photographed my underwear."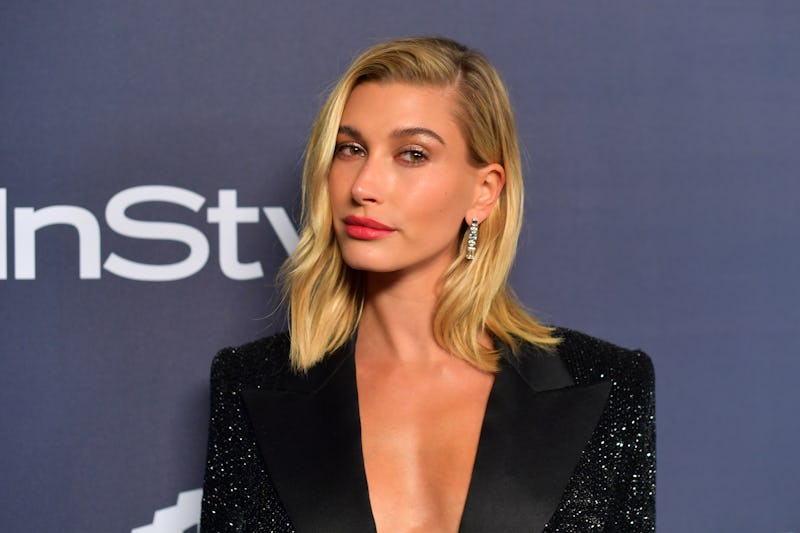 Matt Winkelmeyer/Getty Images Entertainment/Getty Images
Hailey Bieber is so over "invasive" and "disrespectful" paparazzi. On Sunday, April 11, the model appeared on Dixie D'Amelio's Early Late Night Show where she discussed her personal boundaries when it comes to being photographed in public. The model also detailed a few instances in which those boundaries were completely violated by photographers who decided to point their cameras up her skirt.
"Paparazzi is such an interesting thing to me because I really don't understand it and I think that it's a really, really weird, invasive thing," the 24-year-old said, adding that the only exception is photographers who are trying to capture celebrity fashion. Otherwise, she often feels very uncomfortable by those trying to take her picture. "It's a different thing when I feel like it feels invasive and disrespectful," she continued, adding that the evening prior, a paparazzi pointed their camera at her from a very compromising angle.
"I had noticed that someone stuck the camera under the curtain from the ground angle and I was wearing a really, really short skirt," she said, recalling her night out at a restaurant with husband Justin Bieber. "When we got in the car, I was like, 'I feel like that was a tricky angle because I'm concerned that they would've shot under my skirt.'" Unfortunately, this isn't the first time photographers have captured — or almost captured — pictures exposing Hailey's underwear.
"I've had two bad experiences where someone photographed my underwear while I was walking, and they still let the photos come out," she continued. "And I think when you're a woman and there's men that are taking these photos, it feels really, really invasive and it feels disrespectful and it's not OK." Her fear of this happening again got so bad that Justin had to confront the photogs himself, but they completely denied any wrongdoing. "[They were like] 'Oh, no, we would never do that. Why do you think that? Nobody would ever do that.' And I'm like, 'Well, it's happened to me twice, so I think it's fair for him to ask.'"
The model went on to explain that paparazzi have a bad track record of photographing women's underwear on purpose. "Paparazzi are known for trying to get pictures of girls coming out of their cars when they're in a dress or a skirt and there's tons of photos of different people on the internet where you can see their underwear and they do it purposefully to embarrass them," she continued. Still, she said that while she doesn't understand how these people are even allowed to take pictures of others without their explicit permission, she does know that it "comes with the territory."
"Every day when we pull out of our house, there's someone there waiting," she said. "I still try to set my boundaries with them as much as possible." And considering D'Amelio is one of the TikTok stars who constantly has paparazzi in her face asking questions about her relationship with fellow TikToker Noah Beck, Hailey dished out some expert advice as someone who's been in the public eye for most of her life. "I don't think that anybody should allow someone to disrespect them," she said, "but I think it's just about setting those boundaries with those people."