Escaping To Canada Actually Made June More Powerless On The Handmaid's Tale
In Gilead, June was a heroic figure with allies and acolytes. In Canada, she's just one person again.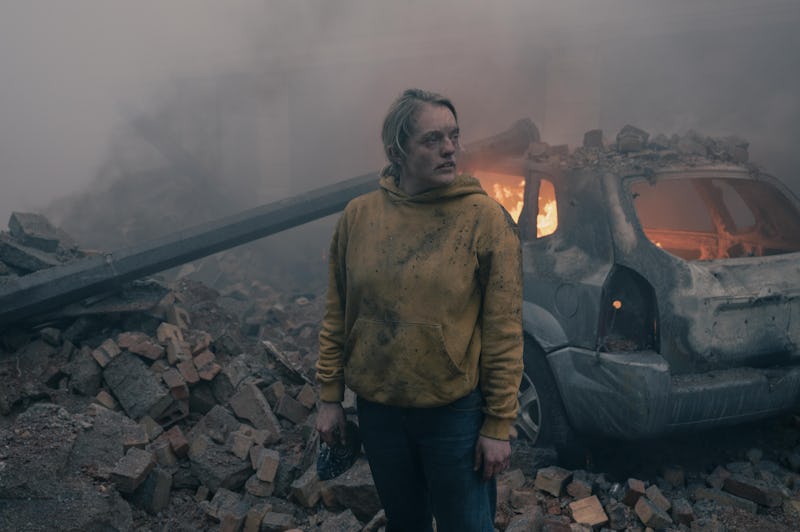 Sophie Giraud/Hulu
Spoilers ahead for The Handmaid's Tale Season 4, Episode 9. In the June 9 episode of The Handmaid's Tale, Nick takes one look at his lover — visiting from Toronto with their daughter — and observes, "Freedom agrees with you." June, who is there on a reconnaissance mission to find out whatever she can about Hannah, smiles and says thanks. Since arriving in Canada, she's grappled with the threat of permanent separation from her eldest daughter, testified in front of an international tribunal about the assaults she survived over seven years in Gilead, and struggled to negotiate reunions with her best friend and her husband. In the final moments of this week's episode, she learns that Fred Waterford has made a deal to escape prosecution. As she screams at U.S. diplomat Mark Tuello in rage, Nick's compliment replayed in my head: "Freedom agrees with you." I'm not sure June would say the same.
From the second that she made it onto Canadian soil, June's life expectancy shot up decades. She now lives in government-provided housing with the support of a democratic state to uphold her basic rights. She has healthcare. If the U.S. were still holding elections, she could vote in them. Inside Gilead, she had no rights. She was property in her own home. She was also, however perversely, more powerful than she is right now.
Take, for example, the predicament of her missing daughter. Even with backing from America's exiled government, it's the sources June cultivated inside Gilead who she reaches out to for the most up-to-date information on Hannah. She calls Joseph, who tells her that he'll send Hannah north in exchange for 10 of the kids who escaped on Angel's Flight. It's not much of a deal, but so far America's only assistance is the use of the satellite phone she calls him on. Eventually, Nick supplies a dossier he's been putting together ever since June escaped. He has pictures, school records, a last known address in Colorado Springs, and even the names of "friendlies" in Hannah's vicinity. The U.S. provides the safe house they meet in.
June had a limited amount of tactical power in Gilead, but it was well-suited to her incredibly narrow ends: finding Hannah. She could be deceitful and at times callous, but the moral calculus was always personal. The limit of what she could do was what she was willing to risk; usually, the answer was her life. In Canada, by contrast, June has democracy's full menu and even the political capital to get a seat at the table. Just last week, she faced the Waterfords in court. She expressed her grievances in a public forum without fear of retribution — a hallmark of the democratic experience. But democratic protections come at a price, and the moral calculus happens at the state level. June isn't the judge in Fred's case. In fact, as her handler Tuello lets slip, she's really more of a pawn.
Fred Waterford has struck a deal. In exchange for high-level intelligence about Gilead, the prosecution against him has been dropped. It seems this was the long game. June's testimony at the hearing scared him. That, combined with an unsympathetic visit from Commander Putnam — the timing, of course, determined by the Americans — convinced him to flip on the eve of trial. June is floored and fuming when she finds out. In Gilead, the worst was always about to happen. That it didn't was often a measure of June's personal effectiveness. Outside of Gilead, she's just one person again, separated from the network of allies and acolytes that made her powerful at all.
Still, June needs Mark Tuello and whatever is left of the American state. If there's a way back to Hannah that doesn't involve some foolhardy vigilante rescue op, it's through them. What's less clear is how much the Americans need June. She'll always be a hero of the resistance, but the dispossessed American government doesn't really need a poster girl. So where does that leave June? For now, 1500 miles from Hannah — much farther than she was on the edge of society in Chicago — and with fewer power brokers in her pocket than she had as a Handmaid.