Everything You Need To Know About Happy Valley S3
From the gripping storylines to the confirmed release date.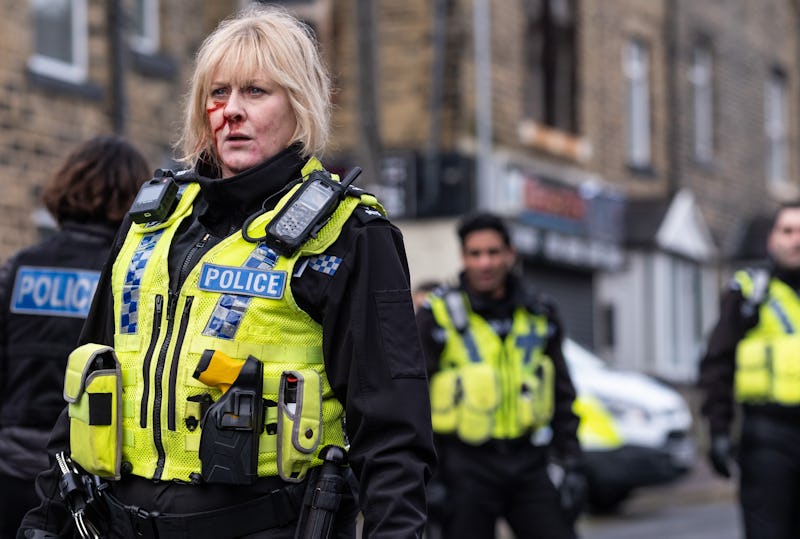 BBC
The BBC delighted fans when it confirmed that crime drama Happy Valley would return for a third and final six-part season, with Sarah Lancashire reprising her role as the show's lead, Catherine Cawood. Happy Valley originally aired in 2014 and 2016. Seasons 1 and 2, both written by Sally Wainwright, proved popular with critics and viewers alike. The show won several BAFTAs and its second series attracted a viewership of 9.3 million people, per the BBC. Below, find out everything you need to know about Happy Valley's final season, and get a first look at the hotly-anticipated drama.
Happy Valley Season 3 Cast
Speaking to RadioTimes.com in July 2022, Wainwright remarked: "Everyone's back — all the characters you'd expect to see are back. We're seven years on. The plan was to wait for Ryan to be older, so that he can make his own choices about whether he wants to have contact with his dad or not. So it really explores that."
Additionally, Siobhan Finneran will be back as Clare Cartwright, Con O'Neill as Neil Ackroyd, George Costigan as Nevison Gallagher, and Charlie Murphy as Ann. Other favourites reprising their roles are: Derek Riddell as Richard Cawood, Karl Davies as Daniel Cawood, Susan Lynch as Alison Garrs, Rick Warden as Mike Taylor, Vincent Franklin as Andy Shepherd, and Rhys Connah as Catherine's grandson, Ryan.
The Long Call's Amit Shah, White House Farm's Mark Stanley, and All Creatures Great And Small's Mollie Winnard are joining the cast this season in "pivotal roles" according to the BBC.
Happy Valley Season 3 Plot
Per BBC One's synopsis, the new series will see Sergeant Cawood get stuck into a gangland murder case after finding the remains of a body in a reservoir. But, of course, the show's villain is never far away from the action, as the synopsis explains that the discovery "sparks a chain of events that unwittingly leads [Catherine] straight back to Tommy Lee Royce."
While Catherine may have done her best to keep her grandson well away from his father in Series 1 and 2, Ryan is now 16 and "has ideas of his own about what kind of relationship he wants to have with the man Catherine refuses to acknowledge as his father." Catherine, who is on the cusp of retirement, is "still battling the seemingly never-ending problem of drugs in the valley and those who supply them." Classic Happy Valley, then.
Of the upcoming season, Wainwright told RadioTimes.com: "I think it's going to be good. I think it's going to be exciting. We've got some very good stories."
Happy Valley Season 3 First Look & Release Date
The series will premiere on BBC One and BBC iPlayer at 9 p.m. on Sunday, Jan. 1, 2023.
First-look images show a shocked-looking Catherine Cawood clad in her police uniform and sporting a bloodied face. Surrounded by uniformed colleagues, she appears to be on the street, perhaps at a crime scene.
The unrepentant Tommy Lee Royce can be seen in his police cell, sporting a rather gruesome-looking scar on his forehead, which appears to be stitched. Meanwhile, Catherine's grandson, and Tommy's son, Ryan (portrayed by Rhys Connah) is now a fully-fledged teenager.
A trailer shows audiences just how tense the upcoming episodes are likely to be. See for yourself, here:
This article was originally published on