This Haunting Of Bly Manor Trailer Teases Something Scarier Than Ghosts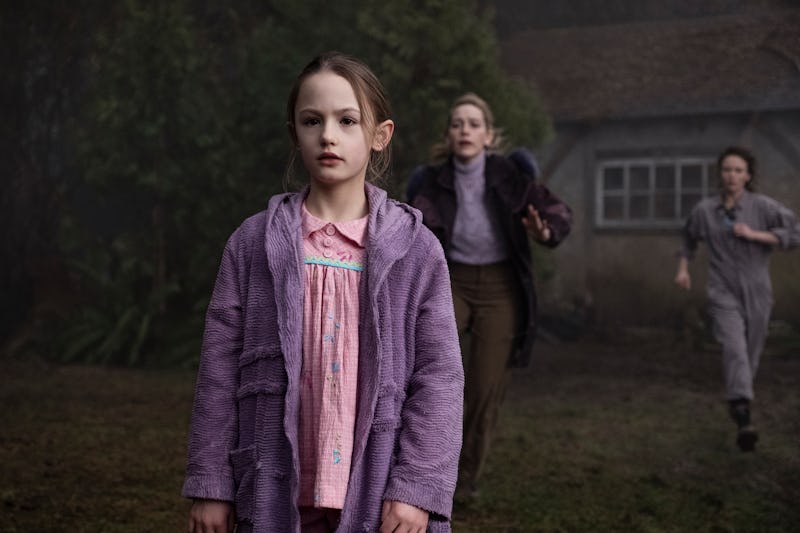 EIKE SCHROTER/NETFLIX
Home sweet home doesn't have the same ring to it when you know that said home is filled with ghosts — or worse: dolls. Netflix's new Haunting of Bly Manor trailer teases how the show will take on the horror movie trope of possessed dolls, and, uh, it's frightening to say the least.
The Haunting of Bly Manor is the second season of creator Mike Flanagan's Haunting anthology series, which premiered with the widely acclaimed Haunting of Hill House in 2018. The new season takes its inspiration from Henry James' famous novella The Turn of the Screw, which focuses on a governess who takes a job caring for the recently orphaned niece and nephew of a man who has no interest in raising them, and later becomes convinced that Bly Manor, the country house they're residing in, is haunted.
As seen in the trailer, Bly Manor sticks true to its inspiration, but as Flanagan told Syfy, he had to take some creative liberties with his source material and "remix" some of the storylines in order to make a compelling 10-episode season. "That way, I can hopefully honor the source material but do it in a way that's constantly surprising," he said. Bly Manor now takes place in 1987 and also pulls elements from James' entire catalog of ghost tales, giving the story a modern update — and some added terror that makes Hill House seem more appealing in comparison.
Although the storyline might be vastly different from Hill House, the cast certainly is not. Victoria Pedretti (who played Nell in Hill House, and also, the low-key sinister Love Quinn on YOU) returns as the governess/tutor Dani Clayton, who accepts the job of caring for the Flora and Miles Wingrave, played by newcomers Amelie Bea Smith and Benjamin Evan Ainsworth. Oliver Jackson-Cohen, Henry Thomas, and Kate Siegel are also set to return in new roles, as the wealthy uncle, the villainous Peter Quint, and a secret role, respectively. There will be some fresh faces as well, including Rahul Kohli as chef Owen, Amelia Eve as groundskeeper Jamie, and T'Nia Miller as housekeeper Mrs. Grose.
But of course, the true star of the show are those dolls, who will surely haunt your nightmares every night before the new season even premieres. Bly Manor will start streaming on Netflix on Oct. 9, so prepare everything you may need to survive a marathon.