Everything We Know About The HSM Series' Second Season
Get ready for some Beauty and the Beast covers and new cast members.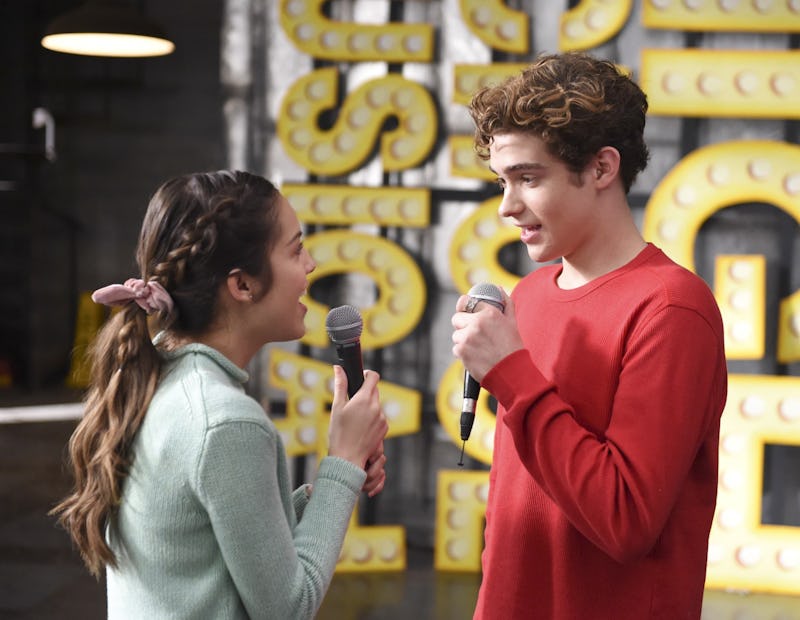 Fred Hayes/Disney+
The Dec. 11 holiday special was a good holdover, but it's about time High School Musical: The Musical: The Series Season 2 finally drops. It's been over a year since the first season brought the spirit of East High back to life with a new cast of high schoolers putting on their own school play — a rendition of High School Musical. It was all very meta. The freshman season ended with plenty of cliffhangers, so answers are in order. Since the series is due to return soon, here's everything we know about the next installment, including some potential storylines and new cast members.
When Will Season 2 Premiere?
According to People, the premiere date of High School Musical: The Musical: The Series Season 2 is May 14, 2021. That gives viewers one more month to rewatch the first series and prep for a new installment. The second season was originally scheduled for a late 2020 air date until the pandemic delayed things, Entertainment Tonight reported. That means the first "New Year's Eve" episode and the third "Valentine's Day" episode will arrive much later than planned. According to the show's Instagram bio, the show was still in production in February, which could mean all of the episodes may not drop at once.
What Musical Are The Characters Doing?
Contrary to what fans might assume, the second season musical won't be High School Musical 2. Instead, as Entertainment Weekly reported, the characters are putting on a production of Beauty and the Beast. However, EW noted that there would be more original songs and High School Musical covers in addition to the classic Beauty and the Beast tunes. That means there's still hope for a "Fabulous" scene.
The Season 2 Cast Is Changing
EW reported that Joe Serafini, who plays Seb, was named a series regular for Season 2. There are also several new characters coming, according to TV Line. Broadway actor Roman Banks will recur as Howie, a book-smart junior who works at the local pizza shop. Days of Our Lives star Olivia Rose Keegan is set to play a freshman named Lily, who seems sweet but is über competitive. Finally, Dancing with the Stars pro Derek Hough will play Miss Jenn's ex-boyfriend Zack, who starts teaching drama at North High, which poses competition to East High's own theater department.
By Feb. 2021, two new High School Musical: The Musical cast members were announced via Billboard. Asher Angel of Shazam! will play Jack, a student described as "charming" and "smooth-talking." Also joining the ensemble is Andrew Barth Feldman, a Broadway native known for Dear Evan Hansen and the recent Ratatouille: The TikTok Musical. Feldman has been cast as Antoine, a French exchange student. "The cast and I are excited for fans to see how Andrew and Asher expand our East High cinematic universe," executive producer Tim Federle in a statement to the outlet.
Other Season 2 Storylines To Watch Out For
Showrunner Tim Federle teased Season 2 in an ET interview and dropped some major hints about three characters. First off, don't worry about missing Gina (Sofia Wylie). Sure, she may have moved away, but the series will likely bring her back. Federle said, "It's hard for me to imagine doing season two without Sofia Wylie, so that's as much as I'll say on that topic."
Second, Nini (Olivia Rodrigo) will have to decide if she should leave for the new musical program that she got accepted to at the end of Season 1. Consequently, her relationship with Ricky (Joshua Bassett) may be tested. "I think that Ricky and Nini are on the beginning of a lifelong journey of whether they stay together or eventually part together, learning what it means to go through the valleys and hills of a relationship," Federle said.
The Season 2 Trailer & Sneak Previews
To tide fans over until the show returns, a glimpse of the new season was offered during the holiday special. Viewers were teased with, "Something in the Air," a brand-new musical number from the next installment. The entire cast is featured, roaming through the East High hallways in chunky sweaters and denim while singing in unison.
Since then, the series has also released video shorts on the official HSMTMTS Instagram page. "We knew that with shutdowns and new protocols around filming, season 2 would debut later than we'd originally anticipated. So creating these little in-between videos was a way to remind the audience where the characters are, right after the season 1 finale," Federle told Entertainment Tonight via email. "The videos feature the entire 11-person series regular cast and the action picks up right after opening night of High School Musical. Everyone has something (or someone) on their mind..." Most of the clips show characters FaceTiming one another to reveal what they've been up to since the events of season 1.
On April 8, Disney dropped the official trailer for the second season, and it looks like it'll be worth the wait.
Knowing all that Season 2 has in store, the "New Year's Eve" premiere episode can't come soon enough.
High School Musical: The Musical is streaming now on Disney+.
We may receive a portion of sales from products purchased from this article, which was written by our Editorial team.
This article was originally published on Dec. 10, 2020
This article was originally published on