Hilary Duff Revealed Her Third Child's Birth With The Most Subtle Instagram Post
The new baby is her second with husband Matthew Koma.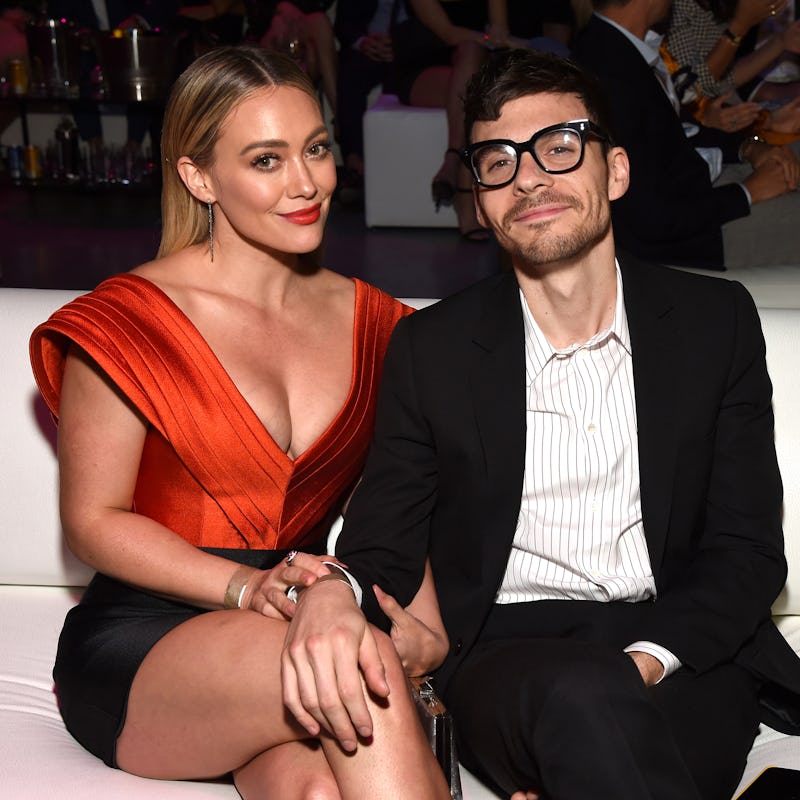 Michael Kovac/Getty Images Entertainment/Getty Images
With a little help from daughter Banks Violet, Hilary Duff revealed the birth of her third child in the most casual way. "I'm a big sister ....... marinating on how I feel about that!" Duff captioned a Friday, March 26 bath-time photo of her and husband Matthew Koma's 2-year-old. The Younger actor then waited a day to share additional details, and introduced her second daughter, Mae James Bair, born on March 24, in a follow-up post featuring a beautiful family photo.
Her famous friends could barely contain their excitement on social media. Responding to the first of the two posts, This Is Us star Mandy Moore wrote "love this!!" with four heart-eye emojis. Duff's Younger castmates also sent congratulations via her Instagram post's comments section. "Wait!!!! Banks is a BIG sis!??? Well then..Hope YOU and fam are doing well!!! Congratulations are clearly in order!" Debi Mazar wrote. "Curious if my prediction of a BOY was correct??" Meanwhile, Molly Bernard commented, "THIS. PICTURE. THE GASP I UTTERED KNOCKED ME DOWN."
Duff's second post was met with still more comments from fellow celebrities. "This photo," Ashley Tisdale wrote alongside two heart emojis. "Congrats beautiful." Arielle Kebbel seconded her comment, writing, "Beautiful family!!! Congrats," alongside more heart emojis.
From early on, Duff had planned to keep the baby's sex a surprise through the pregnancy, as People noted. "We had a gender reveal with Banks and it was such a fun memory," Duff, who's also mom to 9-year-old son Luca Cruz (with ex-husband Mike Comrie), explained to the magazine in December. "Unfortunately, during these times we felt it wasn't really appropriate. The way we are creating some excitement within the family is to wait to find out the sex on the baby's birthday!"
Even so, the Lizzie McGuire alum recently predicted she'd have another son. "Honestly, I'm just saying boy," Duff told Informed Pregnancy host Dr. Elliot Berlin in the podcast's March 18 episode. "I really don't have a strong feeling about it either way, which made me feel guilty for the longest time. I was like, 'I should know, it's inside my body. It's my baby, I should know.'"
Despite even dying her hair blue in February, Duff insisted it had nothing to do with the baby's sex ("I swear this doesn't mean I'm having a boy... my mom thought I was trying to tell everyone something!"). Her incorrect prediction, however, might have had something to do with her fears over having a second daughter. "I'm actually a little scared to have another girl because Banks was a tough cookie as a baby, but she's so great now, so I could see it," she added to Berlin. "But then, I don't know, in my mind I'm like, 'Maybe she's my only little princess and she's going to have her rough-and-tumble brothers.'"
Duff and her musician husband also used Instagram to announce they were expecting their second child together in October. "We are growing!!! Mostly me," Duff wrote in an Oct. 24 post. For his part, Koma captioned a post on his page, "lol quarantine was fun. Baby #3 - 2021," geotagging their location as "Pregnantville."
The pregnancy wasn't without some bumps in the road, however. Less than a month after announcing she was expecting, Duff revealed she'd been "exposed" to COVID-19 and had to quarantine away from her family in November. Now that the Komas' newest addition is here though, all seems to be going well — even if Banks isn't quite sure how to feel about her new sibling just yet.
This article was originally published on