The Trial Depicted In Anne Boleyn Is Actually Pretty Accurate
It seems Anne Boleyn's downfall really was as brutal as Channel 5 makes it out to be.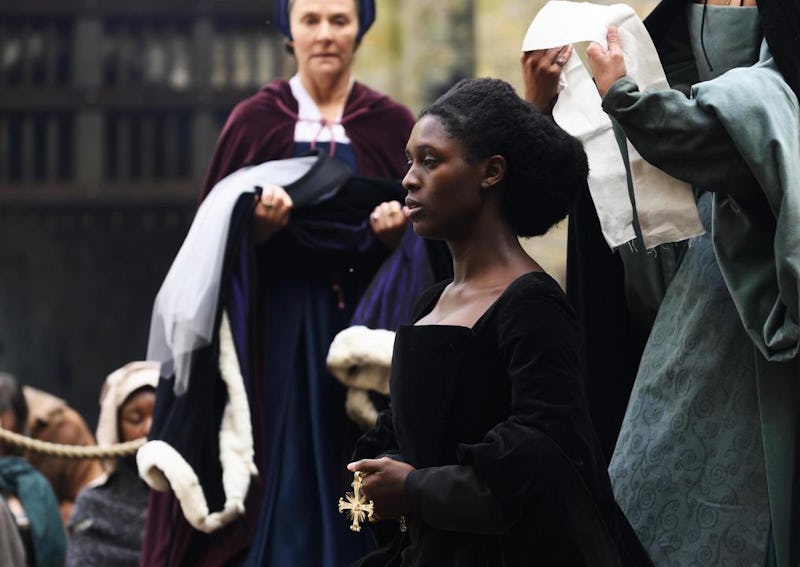 Fable / The Falen Falcon Ltd
Channel 5's brand new mini-series Anne Boleyn has had mixed reviews since it aired its retelling of Anne Boleyn, possibly the most famous of Henry VIII's six wives. While many are familiar with the Queen's downfall (and the common rhyme "divorce, beheaded, died...") the series aimed to offer a "fresh take on the story, told many times." Starring Jodie Turner-Smith as Boleyn, the final episode in the series saw the lead-up to Boleyn's dreaded execution, but how accurate was the portrayal of her trial?
While the series is a historical drama and considered a "re-imagining" of Anne Boleyn's story, the depiction of the trial contains a lot of truth.
By the third episode, we see the former powerful Queen imprisoned in the Tower of London due to accusations of high-treason, adultery, and incest with her brother George Boleyn (played by Paapa Essiedu) — all of which Boleyn denied. The show was certainly accurate on this, as Boleyn was indeed accused of these crimes back in the 1536 but it's understood the allegations were all part of the king's plot to rid himself of Boleyn and allow him to take up a new wife, Jane Seymour.
In the show, Anne Boleyn's trial was a bit of a spectacle, with crowds booing the Queen as she pleaded not guilty to all charges and calmly defended herself against the allegations made against her in court. Per the Anne Boleyn Files, the depiction is pretty spot on and Boleyn did speak at her own trial in front of many onlookers.
Records from that infamous court case noted that she "made so wise and discreet answers to all things laid against her, excusing herself with her words so clearly, as though she had never been guilty of the same."
Shockingly, in Anne Boleyn, the explosive trial sees the queen's ladies-in-waiting forced to testify against her, including her sister-in-law Lady Rochford. But how accurate is this?
Well, in the book Law as the Engine of State: The Trial of Anne Boleyn, it is confirmed that three women were said to be the main accusers of Anne Boleyn, and she was betrayed by a close friend, The Lady of Worcester. George Boleyn's wife Lady Rochford did also testify against her, and was said to be a "bitter and jealous woman, resentful of her husband's closeness to his sister."
As depicted in the series, Boleyn's fate was sealed by a jury, who unanimously voted guilty, sentencing her to death and stripping her of her titles. The dramatic episode also saw Boleyn learn the news of her own brother's execution, which would happen a few days before her own — another sad truth of Boleyn's tragic downfall.
Viewers may have been surprised to see that, following Anne's trial, Henry had offered her an annulment in exchange for her life. In the episode, she signs an agreement presented by the Archbishop and is optimistic her life would be spared and her daughter Elizabeth protected. Sadly, this was not to be.
In reality, Anne Boleyn and Henry VIII's marriage was indeed annulled a few days before her execution, though it's not known whether Henry offered it in exchange for her life. The annulment was intended to declare Elizabeth as "illegitimate" and stop her from seizing the throne but – as we know – their daughter actually grew up to become queen and one of the most iconic monarchs of all time.