Anne Boleyn & Her Brother's Relationship In C5's New Drama Is Pretty Accurate
Paapa Essiedu & Jodie Turner-Smith star as brother and sister in Anne Boleyn.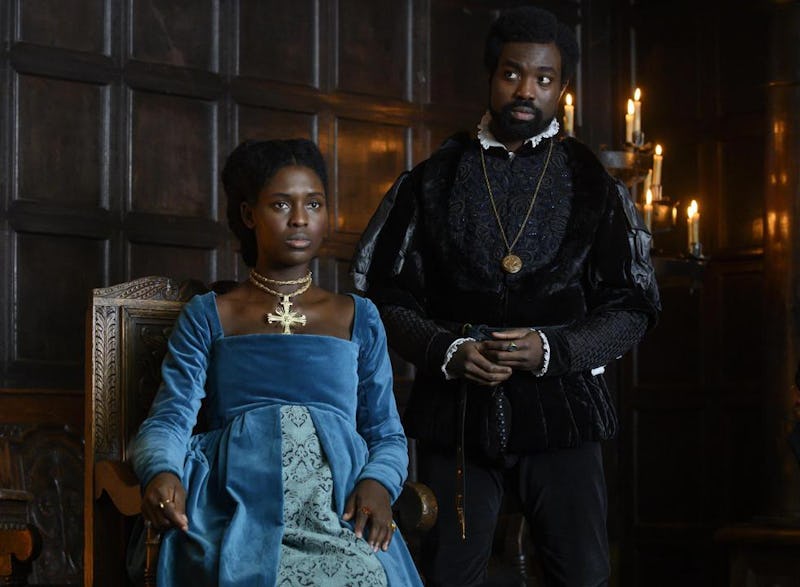 Fable Pictures Ltd/ The Falen Falcon Ltd / Sony Pictures Inc.
Channel 5's Anne Boleyn is set to tell the story of Henry VIII's second wife when it begins airing tonight (June 1) at 9 p.m. Starring Jodie Turner-Smith, the three-part thriller will explore the royal's final months from her perspective as she struggles to secure a future for her daughter. Viewers will also see Anne's brother depicted in the mini-series, but, for those keen to know the full history, did Anne really have as close a relationship with her brother George as we see on screen?
In the series, British actor Paapa Essiedu (I May Destroy You, Gangs of London) portrays George Boleyn, a courtier and nobleman and brother to Anne and Mary Boleyn. From the first episode, George acts as both a confidante and protective figure in Anne's life as she struggles to stand up to the powerful patriarchal forces around her.
While the historical drama has taken creative license in the retelling of Anne Boleyn's infamous downfall, it's commonly understood that Anne Boleyn did have a very close relationship with her brother during the 1500s and, per History Extra, they shared a "similar temperament" and were well matched when it came to "intellectual and aesthetic interests."
As history tells it, when Anne Boleyn failed to provide Henry VIII with a male heir, the siblings would both fall victim to a plot to rid the King of Boleyn to make way for another wife, Jane Seymour. Amidst accusations of high treason, Anne Boleyn was also accused of adultery with five men, including her brother George, and they were both beheaded in separate trials.
Ahead of Anne Boleyn's TV release, Paapa Essiedu explained George Boleyn's role is his sister's life as a royal.
"George is Anne Boleyn's brother and a confidante for her," Essiedu said, via a statement sent to Bustle. "We find ourselves at the beginning with Anne having been Queen for a few years now, George has been a member of the court and entrenched in that life since before she was queen, so I think he's just looking out for her and trying to protect her and make sure she makes the right decisions and continues to entrench her position within the court."
He added: "Anne and George are incredibly close. Within the court, George is the only person that Anne knows before she became Anne Boleyn. She was always part of the aristocracy, but there's a big leap between being Lady in Waiting or a Lady of the Court, to the Queen of England. He has been there the whole time and they have a bedrock of trust between them that makes their bond crucial – they need each other, Anne needs him and he needs Anne."
As well as Turner-Smith, Essiedu stars alongside Anna Brewster who portrays his wife, Lady Rutherford. Written by Eve Hedderwick Turner and directed by Lynsey Miller, Anne Boleyn aims to "challenge audiences' perspectives on who Anne Boleyn was, both as a Queen and a woman."
Anne Boleyn begins on June 1 on Channel 5 at 9 p.m.