The On My Block Spinoff Freeridge Includes A Few Familiar Faces
The shows are connected in more ways than one.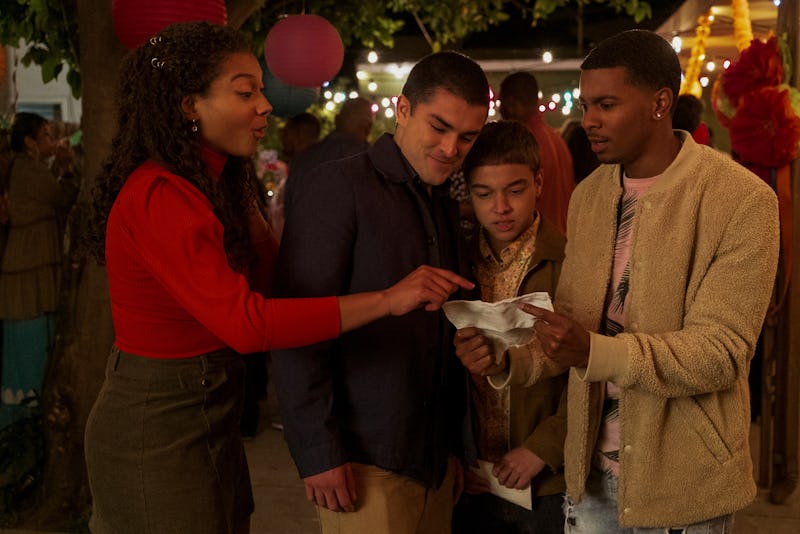 Kevin Estrada/Netflix
Netflix's Freeridge is finally here. Set in the same fictional Los Angeles neighborhood as On My Block, the spinoff introduces a new Core Four who, Netflix writes, get into their own "mind-bending mystery — and, perhaps, a little puppy love — as they happen upon a box that may just be cursed." The new show is closely connected to its predecessor and not just by location. It's been nearly two years since the original series ended, so now is a good time for a refresher. How did On My Block end, again?
The final episodes of On My Block saw big changes for the main characters. Cesar left the Santos and announced his plans to move to Portland to live with his niece and sister-in-law in the wake of his brother Oscar's death. Monse was Wellesley-bound, deferring for a year to write a book about her life so far. Ruby won prom king and got into Stanford, while Jamal accepted a secretive tech job with Noel Aroma. Ruby's Abuelita peacefully passed away in the final moments of On My Block, following her illness that the kids found out about in Season 4. However, she left her loved ones in a good place — with a new treasure hunt to bring them together one last time.
The On My Block finale was also a bookend moment. At Abuelita's celebration of life, a group of four younger teens excitedly observe the Core Four from behind a fence: a callback to when you first met Jamal, Ruby, Monse, and Cesar in Season 1. "Look familiar?" Ruby asks his friends. "It feels so long ago," Cesar says. "And like yesterday," Monse adds.
As it turns out, this scene was more than just a fun callback — it actually sets up Freeridge. The four actors behind the fence are Bryana Salaz, Keyla Monterroso Mejia, Ciara Riley Wilson, and Shiv Pai. Salaz, Monterroso, Mejia, and Wilson play Ines, Gloria, and Demi, respectively. However, the fourth member of the group, Cam, will not be played by Pai on Freeridge. Rather, Tenzing Norgay Trainor takes on the role in the new series.
A new Core Four isn't the only connective tissue between On My Block and Freeridge. Several members of the original show's cast appear in the spinoff — including Paula Garcés and Eric Neil Gutierrez as Geny and Ruben, Ruby's parents, and Eme Ikwuakor and Raushanah Simmons as Dwayne and Fran, Jamal's parents. Peggy Blow, who played Abuelita, is also back! As co-creator Lauren Iungerich told Netflix, Blow's new character "was her own original idea that she threw out on a whim." Hey, Abuelita did say she had an evil twin sister out there.