Explaining Why The Queen Made Philip A Prince In 1957
Wasn't he always a prince, you say? Yes and no.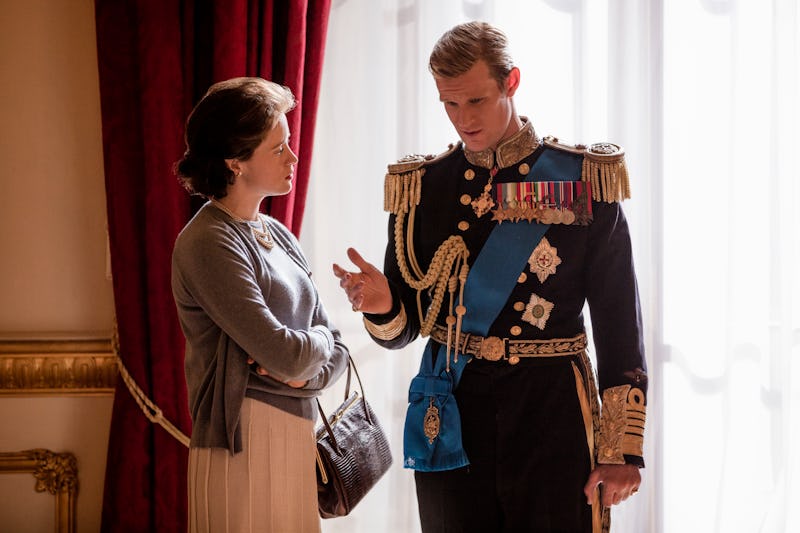 Robert Viglasky / Netflix
Netflix's historical drama The Crown largely focuses on the life of Queen Elizabeth, but her story can't be properly told without the inclusion of her husband, Prince Philip. In The Crown Season 2, the Queen's husband is given a new title, Prince Philip, Duke of Edinburgh. While the Queen has never explicitly revealed the reason why Philip was made a prince the Netflix show definitely offers some theories.
In the Netflix show, Elizabeth's husband is often portrayed as uncomfortable with the power imbalance between himself and the Queen, which perhaps isn't surprising given gender norms at that time together with his own royal roots. When Philip married Elizabeth in 1947, he was given the title of Philip, Duke of Edinburgh. In order for the couple to marry, Philip was required to renounce his existing princely titles, which he held as a prince of both Greece and Denmark. However, a decade after they wed and five years into her role as Queen, Elizabeth made Philip a prince in a 1957 coronation — specifically Prince Philip, Duke of Edinburgh. "The Queen has been pleased to declare her will and pleasure that His 'Royal Highness the Duke of Edinburgh shall henceforth be known as His Royal Highness The Prince Philip, Duke of Edinburgh," the palace said in a statement on Feb. 22, 1957, thus elevating Philip to the status he had abandoned years before.
The exact reasons for this change are unclear, but it is possible Elizabeth may have wanted to ease some of the frustration allegedly felt by Philip when she did not take his surname, Mountbatten, for her own name and that of her children after ascending to the throne. The History Channel describes that conflict as an "embarrassing battle" which Philip eventually lost, as viewers of The Crown's first season will remember. And the show certainly seems to suggest that his pride played a role in his eventual crowning.
"I am the only man in the country not allowed to give his name to his children," Philip said, according to a biography of Elizabeth by Sally Bedell Smith and reported by Vanity Fair. "I'm nothing but a bloody amoeba." Another point of contention in the dramatisation provided by The Crown is the fact that Elizabeth requests Philip kneels before her at her coronation — a suggestion he loathes. She may be the Queen, but she was also a woman in the 1950s, and the gendered inversion is portrayed as a difficult pill for Philip to swallow.
However, in real life, it seems that the pair have managed to find a routine that's kept their marriage intact for all these years. "Prince Philip is the only man in the world who treats the queen simply as another human being," Queen Elizabeth's former private secretary Lord Charteris, told Vanity Fair. "He's the only man who can. Strange as it may seem, I believe she values that."
Philip's own backstory is addressed in "Paterfamilias," episode nine of the second season of The Crown. As reported by Vanity Fair, Philip was actually born with more royal blood than Elizabeth was. Born in 1921 on the isle of Corfu, his parents were Princess Alice of Battenberg — great-granddaughter of the U.K.'s Queen Victoria — and Prince Andrew of Greece. He spent only a year in Greece as a child before the country's entire royal family was expelled during a coup, leading to a nomadic childhood that was beset by tragedy, including his mother's nervous breakdown, the separation of his parents, and his sister's tragic passing when he was just 16.
After his parents' split, Philip was shuffled between boarding school and different relative's homes, maintaining a scarce relationship with his mostly-absent father, the Telegraph reports. He finally appears to have found stability when he joined the British Royal Navy, which he served in from 1939 to 1953, fighting against German forces that included two of his brothers-in-law. He left the Navy in 1951, beginning his role as consort when the Queen ascended to the throne upon the passing of her father on 6 February, 1952.
This article was originally published on