Here's Where 'The Crown' Took Some Liberties With Prince Philip's Life Story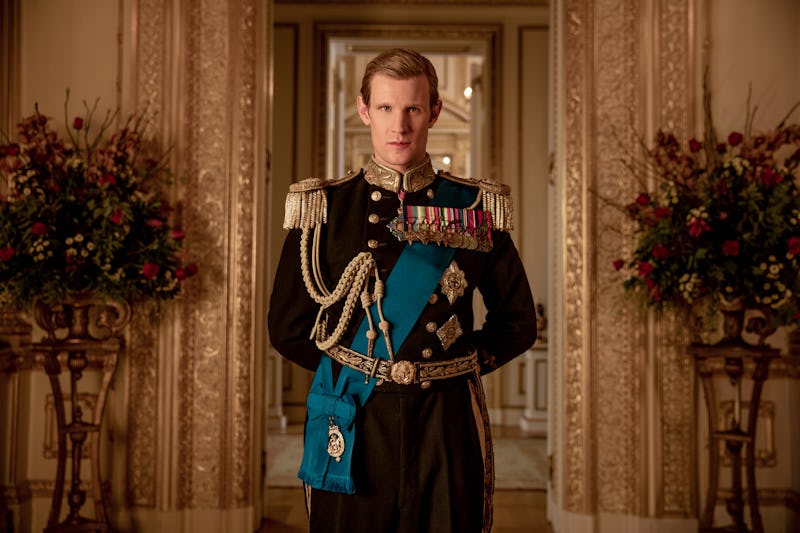 Robert Viglasky / Netflix
Fans of Netflix's original series The Crown know that although the scandals and drama seem like they could be entirely fictional, they are actually based on true events. So, how accurate is Prince Philip in The Crown Season 2? Queen Elizabeth's husband, Prince Philip, The Duke Of Edinburgh (played by Matt Smith), gets a lot of screentime this season. But how closely do his plots follow Philip's real life?
Even though The Crown takes its storylines from the real life and scandals of Queen Elizabeth during her reign, fans should remember that it is still a dramatized series, and the royal family is not involved in the process. However accurate it is, there are always going to be moments where things may be exaggerated slightly for the purpose of entertainment value. Per The Atlantic, the creator of The Crown, Peter Morgan, has made it a priority to keep the series historically accurate. After all, this isn't Morgan's first time bringing real history to life on screen. He has written films such as Frost/Nixon and The Last King of Scotland, which are also rooted in face. So he is well versed in the art of keeping things true to life, while also making them fun to watch for audiences.
Prince Philip's life story in particular is a fascinating one, because as a man who married the woman who'd become the reigning Queen of England, he found himself in a position of taking a backseat to his wife. Per Vanity Fair, Prince Philip was really required to walk several steps behind his wife, which is a point of great contention for his character in The Crown Season 1.
You could surmise that the real Prince Philip likely wasn't psyched by this particular rule, as he has reportedly spoken about other issues that arose regarding their power imbalance and his feelings of inadequacy at times. As reported in a Express UK article about Queen Elizabeth and Prince Philip's marriage, Winston Churchill advised Queen Elizabeth to refrain from passing on Philip's surname of Mountbatten to their children and instead, pass on the royal family's name of Windsor to maintain. Prince Philip was noted as saying in a biography about Queen Elizabeth by Sally Bedell Smith, "I am nothing but a bloody amoeba. I am the only man in the country not allowed to give his name to his own children."
In The Crown Season 2, Prince Philip's boyhood life comes into play. In flashbacks, the series shows him attending the Gordonstoun School in Scotland; according to another Vanity Fair piece, the real man was one of the first students at the school. There's also a depiction of Prince Philip being crowned, which is an interesting reminder that he actually wasn't a prince of the United Kingdom until Queen Elizabeth gave him that title in 1957. At the close of the season, Elizabeth confronts Philip about his friendship with Stephen Ward — according to the Daily Mail a "fixer" who introduced powerful men to women — when the Profumo Affair came to light. Per the Express, politician John Profumo had an affair with a young model named Christine Keeler, which led to much scandal and embarrassment. But historian Christopher Wilson told The Daily Mail that by portraying a friendship between Philip and Ward, "the show has crossed a line and stepped out of reality into fiction."
Any marriage can be complicated, but the relationship of Prince Philip and Queen Elizabeth is especially so, due to their uncommon dynamic. Although The Crown has taken their shared and Philip's own history and dramatized it for story's sake, certain storylines appear to be more accurate than others.