Amazon's New Horror Show Is Terrifying In More Ways Than One
Them follows the Emory family as they're tormented by horrors both real and otherworldly.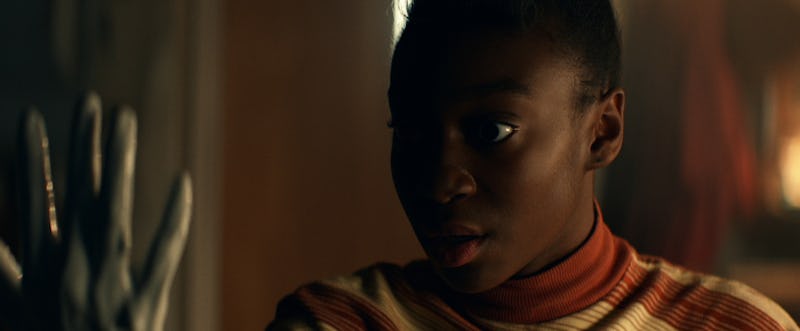 Amazon Studios
Little Marvin's script for Them was so scary, it haunted executive producer Lena Waithe for weeks after she read it. "He's written something that's provocative and terrifying," she explained of the new Amazon horror series during the 2018 Television Critics Association press tour, noting that the first season speaks to "how frightening it was to be Black in 1953." Similarly, Amazon boss Jennifer Salke billed Them as "edge-of-your-seat scary," adding that her heart "was still pounding" an hour after she heard the pitch.
Indeed, the horrors of Them are twofold. After the Emory family relocates from rural North Carolina to Los Angeles, California amid the Great Migration away from the Jim Crow South, they're met with terrors at every turn — both from supernatural forces within their seemingly idyllic new home and the brutal racism of their white neighbors and community.
For Little Marvin, it was important to draw a distinction between terror and horror within the series. "Terror is something that we've all experienced," he told Entertainment Tonight, adding that the show's team would often ask themselves, "What terrifies you more: That sound down in the basement that you can't explain or that neighbor at the end of the block who's been staring at your house every single day?"
Though Them contains plenty of jump scares — mostly at the hands (sometimes literally) of the ghostly Miss Vera and Black Hat Man — what's much more pervasive are the deep traumas experienced by the Emory family. Several episodes begin with disclaimers about graphic violence, including sexual violence and violence against a minor. (FYI: Episode 5 contains all three and is particularly disturbing to watch.)
As such, Them has drawn early criticism for perpetuating and exploiting Black trauma as entertainment. "The show is definitely horror, but the only viewers who may be scared, possibly even traumatized, are Black people," BuzzFeed's Michael Blackmon wrote in his review of the series, accusing the creative team of conflating Black trauma with horror. "Although there are supernatural elements at play — many of which were so convoluted I really did not understand what was going on — this kind of terror takes a backseat to the explicit racism, which operates, unoriginally so, as the real horror," Blackmon further opined. "In several instances, the show seems to think it's going for depth when in reality it's just reinforcing trauma. There's a scene of such gratuitous violence that I considered turning it off."
All things considered, Them certainly isn't for the faint of heart, but the jump scares are only a small part of what makes it scary (and potentially not for everyone).