Want To Apply For Floor Is Lava? Here's How It Works
Do you have what it takes to cross a lava-filled room to win $10,000?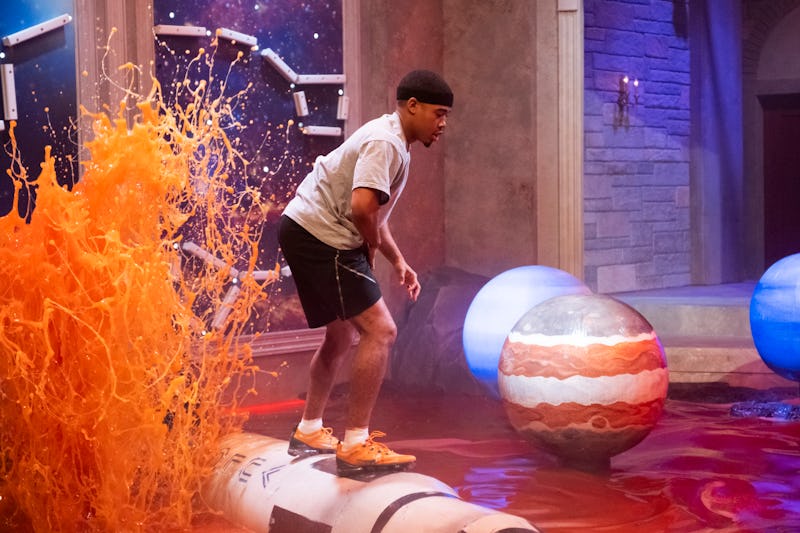 Patrick Wymore/Netflix
Unfortunately for reality-television-loving adventure seekers, it's too late to join the cast of Floor Is Lava Season 2. However, it isn't too late for Season 3, if you're interested. Netflix's outsize version of the precarious children's game returns for its second season on June 3, meaning a whole host of new contestants will be diving, leaping, and swinging their way to Netflix glory — and some prize money. If you've never witnessed this version of the imagination-based childhood game, it's essentially an escape room filled with liquid (not real lava) that contestants have to traverse without falling in.
If that sounds like something you might be interested in, it might be time to start getting ready for Season 3.
Where Can You Apply?
Besides working on your problem-solving skills and flexibility, there's a couple of things any interested readers should know before applying. The first of which is that you can't apply right this second. Netflix typically uses Backstage or Project Casting when casting for a show like Floor Is Lava, but right now, neither casting site yields results when searching for the show. According to Elite Daily, the application process for Season 2 extended from April to June 2021, meaning that the season took nearly a year to develop from casting to premiere. That also means that Season 3 will likely begin casting in the extremely near future, once buzz for Season 2 starts to pick up and equally eager and limber contestants ready themselves for the world's most convoluted room crossing. The second season was announced in April 2021, nearly a full year after Season 1 premiered in 2020, but don't expect as long of a break between seasons this time around.
How Do You Pick Your Team?
Floor Is Lava typically looks to cast contestants in teams of three, comprising members aged anywhere between 18 and 55. It typically helps to have some kind of gimmick or backstory to curry favor with viewers, like Season 1's group of teachers or the Verzi triplets who played up their "mama's boys" antics. While casting is a relatively open process, any potential cast members are required to be at least relatively athletic. In fact, the exact words from Season 2's casting call: "You don't have to be extremely athletic to apply, but it does help." To make sure future contestants can withstand the rigors of the show, those who receive callbacks are required to travel to Los Angeles for an on-set rehearsal.
What Do You Win?
For some, bragging rights might be enough incentive to try and conquer the reality competition, but don't worry, there's financial motivation as well. The grand prize is $10,000 in cash if you manage to survive every room you're tasked with crossing, thereby winning the episode in totality. Meanwhile, contestants are also given a $250 stipend for their two days of filming regardless of their overall success.