How To Stream The Little Mermaid
Halle Bailey stars as Ariel in Disney's new live-action remake.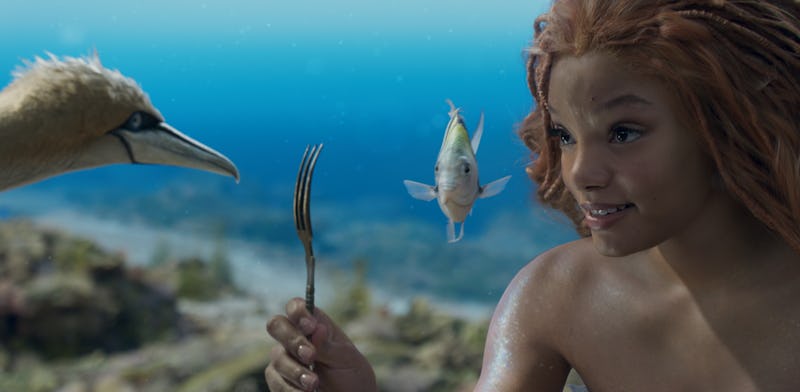 Courtesy of Disney
The minute Disney announced that a live-action remake of The Little Mermaid was in the works, fans of the beloved 1989 animated classic wondered, "Who's playing Ariel?" Fast forward seven years, and we now know that Halle Bailey — one half of the Grammy-nominated duo Chloe x Halle — landed the part, making history as Disney's first Black Ariel.
In an interview with Bustle, Bailey said her 14-year-old self would be shocked to learn she'd one day play a beloved Disney princess. "If somebody were to tell me, 'In five years, you're going to be Ariel,' I [would have been] like, 'Child, you lying. Stop lying,'" she said.
Fans are excited, too. It's impossible to deny that audiences can't get enough of Disney's live-action remakes; with The Lion King, Cruella, Pinocchio, and, most recently, Peter Pan and Wendy already in the can, it was only a matter of time before The Little Mermaid joined the list. Like in the original, viewers will see mermaid Ariel trade in her beautiful singing voice to become human so she can win the heart of Prince Eric in a sinister deal with sea witch Ursula (played by Melissa McCarthy) — though there are a few tweaks, including modified lyrics for "Kiss the Girl" and "Poor Unfortunate Souls," which were made to give the film a more modern feel.
But not everyone wants to trek to the theater to go under the sea. Below, how to stream The Little Mermaid.
Is The Little Mermaid Available To Stream?
For now, the only way to see Bailey transform into Ariel is by heading to a theater near you. But when it's time for the live-action remake to hit a streaming platform, it'll be Disney+.
While an exact streaming date is unknown, most of Disney+'s major titles take about 90 days before they become available. Given that the movie hit theaters on May 26, it's likely to hit Disney+ in late August — specifically on the 30th, since new movies tend to drop on Wednesdays. If you need something to hold you over until then, you can relive the magic of the animated original and its spinoffs on Disney+. (We won't judge you if you end up singing "Part of Your World" into your hair brush.)
As Disney+ announces its future streaming plans for The Little Mermaid, Bustle will update this post.
What Are Critics Saying About The Little Mermaid?
After years of anticipation, the critics' reviews are finally in! They're pretty mixed so far, but most agree that Disney's first Black Ariel is worth seeing, if nothing else. IGN's Alyssa Mora called Bailey's "Part of Your World" rendition "show-stopping," adding that her vocals will "send chills down the spine of anyone who's ever desperately wanted more." But she also says the film's other musical numbers fall short, the visual effects are underwhelming, and that its running time feels unnecessarily long. "Nothing that was added in to pad out its runtime to a whopping two hours feels entirely necessary," she wrote. "It's not that this version of The Little Mermaid is bad — it's arguably one of the better live action Disney remakes — it's that, beyond Halle Bailey's incredible performance as Princess Ariel, there's little here that makes as much of an impact as the same moments in the animated version."
While NPR's Aisha Harris also praised Bailey's performance and noted the significance of little Black girls everywhere seeing themselves reflected on the big screen, she ultimately couldn't overlook the film's many downfalls. "Yet while Bailey is charming and expressive, her interpretation of Ariel doesn't fully embrace the edgier, mischievous side of the character that came across so clearly in the 1989 version's animation and as voiced by Jodi Benson," she wrote. "Nor can a Black Ariel make up for subpar renditions of classic songs (the vibrant Oscar-winner 'Under the Sea' is dead in the water here) and the cringe-y addition of new songs by the studio's current go-to music man Lin-Manuel Miranda, which include a dull, forgettable ballad for Prince Eric and a ridiculous 'rap' for Scuttle and Sebastian called — wait for it — 'The Scuttlebutt.' Or the fact that the underwater scenes have a flattened sheen reminiscent of video games circa the early 2000s."