How To Stream Triangle Of Sadness
The class satire is nominated for three Oscars.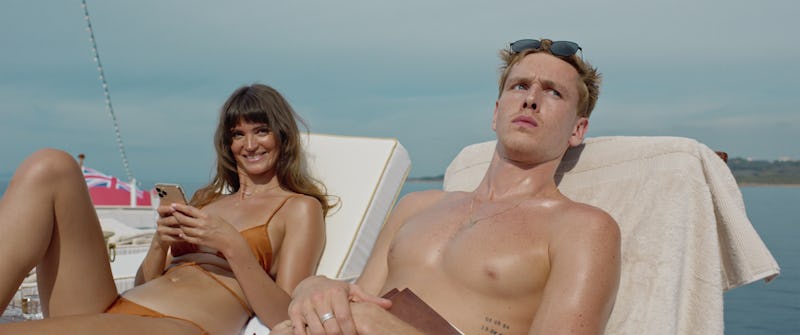 Courtesy of Neon
What happens when a couple of influencers score a trip on a yacht (along with dozens of paying customers, almost all out-of-touch rich people) and a brutal storm hits? Triangle of Sadness posits that complete chaos would ensue — including an infamous, 15-minute vomit sequence featuring shots of raw sewage and exploding toilets.
The film itself, on the other hand, has hardly been a disaster: The Swedish film is up for three Oscar awards: Best Picture, Best Original Screenplay, and Best Director. Whether it takes home any trophies at the 95th Academy Awards on March 12, 2023, it's still one of the most talked about movies of 2022.
If you didn't trek to the theater back in October when Triangle of Sadness premiered, the good news is that you can watch the Oscar-nominated film on multiple streaming platforms before the awards show. Below, how to stream Triangle of Sadness.
Is Triangle Of Sadness Available To Stream?
Triangle of Sadness hit theaters on October 7, 2022, but if you still haven't seen it, you still have a chance to see what all the buzz is about. It's since become avaialable on Hulu, thanks to the deal the streaming platform made with indie distributor NEON (which is behind Triangle of Sadness) back in 2017. The film is also available to rent or purchase on VOD platforms like Prime Video, Apple TV, Youtube Movies, Google Play, Vudu, and Redbox.
What Are Critics Saying About Triangle Of Sadness?
The film has received mostly positive reviews from critics since its theatrical run. The Wall Street Journal's Kyle Smith called it "one of the liveliest and most provocative films" of 2022. "Triangle of Sadness, which is the first film in English from the Swedish filmmaker, is a heady three-sided class comedy that nods to the surrealist and communist Buñuel's Discreet Charm of the Bourgeoisie and Lina Wertmüller's Swept Away but is far more insightful than either of those '70s art-house warhorses," he wrote. "Like Mr. Östlund's scabrous 2017 art-world satire The Square, Triangle captured the Cannes Film Festival's Palme d'Or. But don't go in expecting art-house intellectualism. The movie is as loaded with fun as it is with social implications. Its broad comedy about the modeling world plays like a deadpan version of Zoolander, and its third act has more primal drama than a season's worth of Survivor."
Entertainment Weekly's Leah Greenblatt praised the film's absurdity, which she predicts will inch Swedish filmmaker Ruben Östlund closer to American crossover success. "Östlund's sense of irony can sometimes veer toward the obvious or flat-footed; his targets — the self-regarding follies of the uber-rich, the inanity of social media, beauty as currency — are so broad and shiny that the occasional dip feels almost inevitable," she wrote. "But Triangle hits more marks than it misses, and in a somber, often underwhelming season of would-be arthouse hits, the movie is a bona-fide trip: not the funhouse mirror we need for these ridiculous times, maybe, but one we deserve."