What We Know About Dexter's 2021 Reboot Coming To The UK
Michael C. Hall has hinted about a potential season 10, too.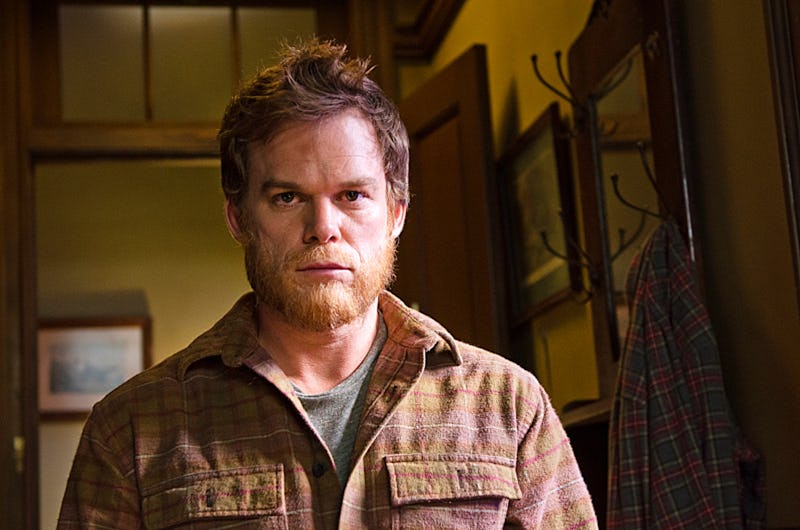 Showtime / 'Dexter'
After seven years off the air, hit serial killer drama Dexter is returning for a brand new series. Michael C. Hall will reprise his role of forensic scientist Dexter Morgan throughout the upcoming reboot, whilst original show-runner Clyde Phillips will return to oversee the drama's 10-episode run. The series originally aired on FX UK on this side of the pond, and if you can't wait to delve into the show's revival, here's how to watch Dexter in the UK.
As Digital Spy reports, the forthcoming Dexter reboot has been confirmed to begin airing in Autumn 2021. The series will air on Showtime in the U.S. and an exact air date is yet to be announced.
Details surrounding a UK air date have also not yet been confirmed, and it's currently unclear which UK broadcaster will pick up the new series. However, it's safe to assume we can expect more news regarding Dexter's UK return in the coming months. In the meantime, viewers can stream all eight seasons of Dexter on Sky Atlantic and NOW TV in the UK.
In a recently released teaser clip, a beardless Dexter Morgan is shown peering out of a log cabin window at a burning fire. He then turns to the camera with a menacing smile before the show's Autumn 2021 release date is revealed.
The series centres on forensic technician Dexter Morgan, who works for the fictional Miami Metro Police Department by day, and leads a parallel life as a vigilante serial killer by night — with a specific desire to hunt down murderers who have slipped through the justice system. Dexter originally aired for eight seasons between 2006 and 2013, and enjoyed ratings success throughout its entire television run, the Radio Times reports.
Speaking recently to NME, Michael C. Hall, who is set to reprise his leading role in the rebooted drama, said he is "looking forward to getting back into Dexter's shoes," adding that he is "reluctant" to confirm whether or not the show's revival will become Dexter's final chapter. "I'm reluctant to say 'definitely', you know? Let's see. What's plain now is that there's 10 new episodes," the actor commented.
Although details of the reboot's plot are still tightly under wraps, news of the show's updated cast have finally begun to emerge. Starring alongside Hall in the hotly-anticipated new season is The Shawshank Redemption's Clancy Brown, The Mandalorian star Julia Jones, Believe's Johnny Sequoyah, Underground star Alano Miller, The Blacklist's Jack Alcott, The Morning Show star David Magidoff, Spotlight's Michael Cyril Creighton, Lovecraft Country's Jamie Chung, and Manchester on the Sea actor Oscar Wahlberg, Deadline reports.
This article was originally published on