Here's How To Watch 'Insecure' In The UK & Why You Can't Afford To Miss It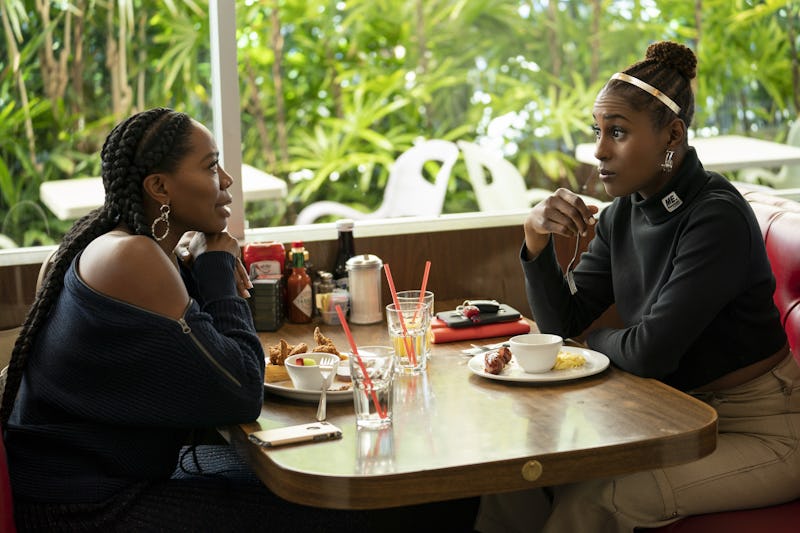 Merie W. Wallace/Courtesy of HBO
It's been just under a year since series two of Insecure concluded, and hasn't the Issa-less time since been excruciating? Issa Rae's incisive, often awkward, and always hilarious comedy drama, tracing the everyday travails and triumphs of protagonist Issa Dee, has accrued critical acclaim, a whole clutch of award nominations, and a vast and loyal fanbase — and it's finally back. US viewers were treated to the premiere on Sunday night, but thankfully Brits only had a few extra days to wait. Here's how to watch Insecure in the UK (and, if you've inexplicably missed the show so far, how to catch up).
Let's get straight to it: Insecure will premiere on Sky Atlantic on August 16th at 10.45 p.m., according to the Independent; you can also stream series one and two on demand. No Sky subscription? Panic not: it will also be available on NOW TV, where you can catch up with the first two series as well.
For the uninitiated, an introduction to the phenomenon that is Insecure: it's written and produced by Issa Rae, while Melina Matsoukas, director of Beyoncé's "Formation" video, directs and co-produces. Rae's described Insecure as "a show about regular black people being basic", one that eschews the archetypes black characters are so frequently slotted into on TV.
Rae plays Issa Dee, a young L.A. woman attempting to balance her career (at non-profit We Got Y'all), her relationships (with ex Lawrence and former flame Daniel), and her friendships (with best friend Molly, and close friends Kelli and Tiffany). Things are messy and complex, as millennial life so often is. "I just wanted to see my friends and I reflected on television, in the same way that white people are allowed, and which nobody questions," Rae told the Guardian, noting that shows with predominantly white casts are rarely scrutinised for their racial or political commentary. She added, "So much of the media now presents blackness as being cool, or able to dance, or fierce and flawless, or just out of control; I'm not any of those things."
Issa Rae's reach extends far beyond Insecure: she's developing three new shows for HBO, Sweet Life and Him or Her. The former, according to Deadline, is a "coming of age tale of the well-heeled teens" growing up in Windsor Hills, LA; the latter will depict "the dating life of a bisexual black man and the distinctly different worlds and relationships he finds himself in". According to GQ, she's also working on "an untitled drama written by The Turner House author Angela Flournoy". And another one: she's producing sci-drama The Awoken, according to the Hollywood Reporter, with ColorCreative.TV, the production company she set up with Deniese Davis.
And Rae's on screen, too: she stars in the upcoming film The Hate U Give, adapted from Angie Thomas' bestselling novel, plus you'll have spotted her in Drake's "Nice For What" video.
Here's yet another reason to watch Insecure: the soundtrack. Each episode is accompanied by a perfectly selected playlist, moulded by Issa Rae herself. "My music taste 100 percent influences the music on Insecure," she told Cosmopolitan. Episodes feature a blend of new and upcoming artists (many of them from L.A.), classic tracks, and zeitgeist-defining smashes, and the show has an uncanny knack of featuring songs and artists at the exact moment they take off ("We definitely work hard for that," music supervisor Kier Lehman told Variety.) Significant artists soundtracking the first episode? City Girls, Miguel, Rayvn Lenae, Saweetie, and Radiant Children.
You don't even have to frantically Shazam each song you like the sound of: the Insecure team helpfully update a Spotify playlist throughout the series. Please trust me when I tell you it is the only thing you'll be listening to from now on.
So there you have it: every way you can watch Insecure in the UK, from series one to the very latest episodes. Watch it. Adore it. Cry over it. Just make sure you don't miss it.