Here's How To Watch Love Island UK Season 10 In The US
Bustle exclusively confirms when the new season will premiere on Hulu.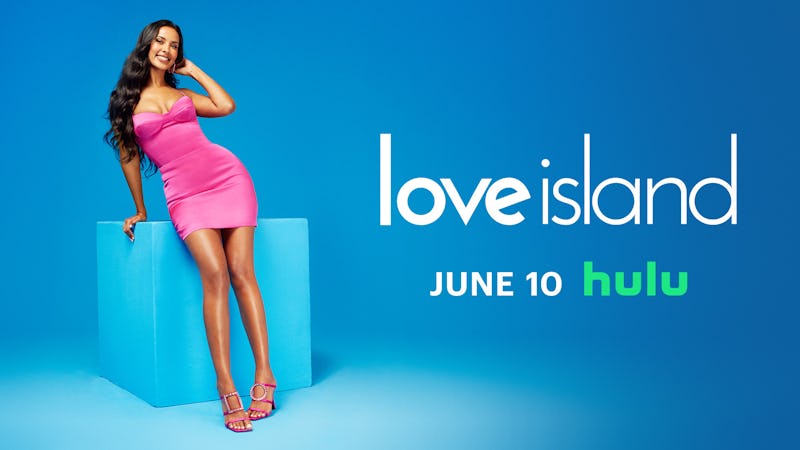 Hulu
Another season of villa drama is on the way. The milestone 10th season of Love Island U.K. will kick off summer on a steamy note — and some surprises may be in store. "I think you could probably tune in to Episode 1 and there'll be a few things you weren't expecting. We know the public are going to couple up the islanders," executive producer Mike Spencer told Radio Times, referencing the show's decision to let fans choose the season's first pairings. "But I think from the get go, the start of the show might be a little bit different."
Spencer also acknowledged that "the way people watch telly is changing," suggesting the show will continue to evolve with them. "I think it's now down to us as producers to switch up the format, keep it fresh, keep people on their toes," he said. "Expect the unexpected. That's the key!"
For domestic viewers, watching Love Island U.K. in the United States usually means one of two things: using a VPN (virtual private network) to access geo-blocked content, or simply watching the episodes on a delay via streaming. But that delay won't be quite as long this year! Here's everything to know about how to stream Love Island U.K. Season 10 in the United States — and what to expect from the latest installment.
Love Island UK Season 10 Hulu Premiere Date
As usual, viewers in the United States will be able to keep up with the villa drama via Hulu. However, there's been an exciting change to the viewing schedule — and you'll want to mark your calendar accordingly. While past seasons' episodes dropped on Hulu two weeks after airing on the United Kingdom's ITV2, they're actually arriving much sooner this time around. Bustle can exclusively confirm that the delay will be just five days. That means when Love Island U.K. Season 10 premieres abroad on June 5, stateside viewers only have to wait until June 10 to tune in. You will also be able to catch Love Island: Aftersun weekly on Fridays.
Love Island UK Season 10 Cast
ITV recently announced the Love Island U.K. Season 10 cast.
The islanders are:
André Furtado, a 21-year-old business owner
Catherine Agbaje, a 22-year-old commercial real estate agent
Ella Thomas, a 23-year-old model
George Fensom, a 24-year-old business development executive
Jess Harding, a 22-year-old aesthetics practitioner
Mehdi Edno, a 26-year-old communications manager
Mitchel Taylor, a 26-year-old gas engineer
Molly Marsh, a 24-year-old musical theater performer and social media creator
Ruchee Gurung, a 24-year-old beautician
Tyrique Hyde, a 24-year-old semi-professional footballer
Love Island UK Season 10 Trailer
Can't wait to get a glimpse of Love Island U.K. Season 10? The show dropped a first-look teaser on June 5.
The teaser previews the islanders' reaction to the news that fans already chose the season's first couples — instead of leaving that decision to the prospective partners themselves.