Hugh Jackman & Deborra-Lee Furness' Relationship Timeline Started With A Mutual Crush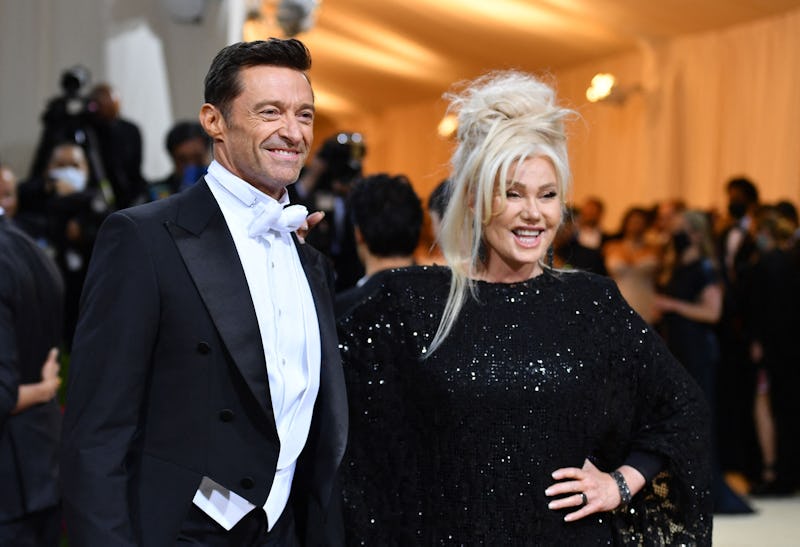 ANGELA WEISS/AFP/Getty Images
For the past several decades, Hugh Jackman has been singled out as one of the most talented, in-demand, and certainly handsome song and dance men in Hollywood. He can do everything, it seems, as one day he'll be anchoring a Marvel franchise as the excessively-ripped Wolverine, and then the next he's on a Broadway stage singing his heart out. The Emmy, Grammy, and Tony winner is busier than ever these days, headlining The Music Man revival, voicing a character on Netflix's Human Resources, and preparing for the release of his upcoming film The Son, the follow-up to the Oscar-winning The Father.
In between his many performances and award nominations, Jackman finds the time to be a doting father to his two children and husband to his wife, producer, director, and actor Deborra-Lee Furness. While younger audiences may be more familiar with his work, she was a star in their home country of Australia long before they met. She has remained a constant fixture in Hollywood for a long time, standing right by her husband's side.
Read on to learn more about the decades-long romance between Jackman and Furness and how they've managed to remain together for more than a quarter-century.
1995: They Meet At Work
In 1995, Jackman scored what would turn out to be his breakout role on the Australian TV show Correlli. It was his first major gig, and he ended up as one of the stars. By that time, Furness was already an established figure in the country's entertainment industry, as she had been working on both the small and big screens for 20 years.
Jackman once shared the story of their first meeting to People. A car picked the actor up, and Furness was in the front seat. She turned around to greet him, saying, simply, "Hi, I'm Deborra-Lee Furness, nice to meet you," and apparently that was enough for him to develop feelings.
1995: Mutual Crushes & A Dinner Party
In an interview on The Ellen DeGeneres Show, Jackman recalls how he knew he liked Furness immediately, and that caused him to act strangely. "I had a major crush on her. Everyone did," he admitted. He explained that he hosted a dinner party for 20 people, and he invited his colleague. While at the soiree, the star of the program asked Jackman, "What's the matter? Have I annoyed you? You're not talking to me anymore." The Wolverine actor revealed he had a crush on her, and she shared she had one on him.
According to a story the married couple told during an appearance on The Tonight Show Starring Jimmy Fallon, while at that dinner party, Furness received a call that the one and only Mick Jagger was outside in a limo, wanting to take her out. She turned him down on the spot, opting to stick with the host, telling the person on the other end of the line, "You can tell Mick that I'm having dinner with Hugh Jackman."
1995: They Break Up (Sort Of)
Speaking to the Aussies in Hollywood with Jenny Cooney podcast (via People), Jackman and Furness revealed that just three weeks into dating, things almost came to a close for good. "She kind of [broke up with me], a little bit," Jackman shared, but it wasn't actually the end. "I managed to talk her out of it, thank God," the Logan actor admitted. Furness explained her thinking during the chat, saying, "I had just made my New Year's resolution, I said, 'I am not dating any actors, and definitely not under 30,'" but she broke that rule for Jackman.
1995: He Proposes
Just four months into their relationship, Jackman knew he wanted to spend the rest of his life with Furness, and he popped the question. According to an interview he gave to Town & Country magazine, at first he thought he wouldn't ask her too soon, but that didn't last long. "I decided, I won't ask her to marry me for six months… Then after four months I thought, that's the most ridiculous rule!"
April 1996: They're Married
Jackman and Furness tied the knot in April 1996, just shy of one year after they first began dating. They wed 11 months into their relationship in Toorak, Victoria, which is near Melbourne. He wore his glasses, while she opted for white slacks instead of a more traditional dress. Furness paired them with an elaborate pearl necklace and a long train, according to images Jackman shared on Instagram.
1996-2000: Trying To Conceive
Immediately after they married, Jackman and Furness began trying to have children, as she was already 40 when they wed. Sadly, despite many attempts at conceiving, even with medical intervention, the couple ran into many issues. During an appearance on Katie Couric's now-canceled talk show Katie (via People), the Tony winner opened up about how "difficult" IVF treatments and the subsequent pregnancies were. "The miscarriage thing — apparently it happens to one in three pregnancies—but it's very, very rarely talked about."
May 2000: They Become Parents
While they weren't able to have kids via traditional methods, Jackman and Furness became parents a few years later when they adopted. In May 2000, Oscar Maximilian joined the couple, turning two into three. In his Katie chat, the Emmy winner revealed that while they initially attempted to conceive on their own, they were always open to welcoming a child into their lives via adoption.
"To be clear, Deb and I always wanted to adopt," Jackman explained. "We didn't know where in the process that would happen, but biologically, obviously, we tried and it was not happening for us."
Furness shared more details about the adoption process while on the Australian talk show Enough Rope With Andrew Denton (via Nicki Swift), explaining that Oscar's birth mother was close by throughout the pregnancy. "She stayed with us, with her 14-month-old. My mother was there, and we were all there," she admitted. Furness went on to explain why the couple decided to go that route, saying, "Here is this woman going to give me the greatest gift of my life, and I want to look after her."
Apparently, the parents-to-be were in the delivery room when Oscar was born. Furness shared during her time on the TV series that dad cut the umbilical cord, while she held the baby immediately after he arrived.
2004: The Tony Awards
In 2004, after proving his acting, singing, and dancing talents to countless theater-goers in The Boy From Oz, Jackman was awarded a Tony for Best Actor in a Musical. As he stood at the microphone, he was all smiles, and after a quick thank you to the people who voted for him, he jumped into the meat of his speech. "I'm going to start with the most important [person], my wife," he began, to much applause. "I love you! Couldn't have done this without you, and even if I could, it certainly wouldn't have been as much fun" the newly-minted champion admitted to the crowd. The camera then cut to Furness, who was beaming from the audience.
Coincidentally, Jackman was also hosting the Tonys that year, and about a year later, he earned an Emmy for doing so, which made the ceremony that much more special.
July 2005: Another Addition To The Family
In July 2005, People reported that Jackman and Furness had doubled their brood when they adopted a daughter named Ava Eliot. The exciting announcement was published on July 27, and their youngest had been born a little more than two weeks prior. Ava was reportedly born to a Mexican and German couple living in America, but now she's a member of the Jackman-Furness family.
December 2012: Serenading
Promoting a film can be a lot of work for actors, and making the rounds when it comes time to campaign for a major award is even more time-consuming. While he was pushing Les Misérables, Jackman asked Furness to be his date to a press lunch held in New York City. While there, he serenaded his wife with the standard "The Way You Look Tonight," with everyone in attendance watching. The actor told Ok! that doing so helped him score "some brownie points," in his words.
February 2013: The Oscars
For his performance as Jean Valjean in the film adaptation of the legendary stage musical Les Misérables, Jackman earned his first Academy Award nomination. Furness attended the ceremony with her husband, and while he didn't win (the Oscar went to Daniel Day-Lewis for his portrayal of Abraham Lincoln in Lincoln), the couple was all smiles on the red carpet.
April 2016: Another Honeymoon
In April 2016, Jackman and Furness celebrated 20 years of marriage, and they went all out to recreate their honeymoon. The pair jetted off to the Caribbean, which is apparently where they had gone two decades prior. While he was promoting a film, the actor spoke to The Daily Telegraph, and he shared the upcoming travel plans he and his wife had, saying, "It'll be just the two of us. We love the kids but they can rack off and find something else to do for a week."
June 2017: Meditation Is The Key
Jackman took part in an interview with People magazine that was published in June 2017, and when asked how he and Furness had been able to keep their marriage going for 21 years (at the time), he answered simply (at first), "Mediation!" The Grammy winner went on to explain further, "We meditate together. And sometimes we have friends over to do it, too. It's a lovely Sunday-morning thing. Everyone comes over, and then we have breakfast."
May 2018: Met Gala
Jackman and Furness attended the 2018 Met Gala together, calling the outing, "Date night on an epic level!" The pair opted for simple-but-stunning matching black outfits, and they were all smiles as they posed on the lengthy red carpet. They had donned similar looks the year prior at the same event.
July 2018: More Vacation Time
Just two years after reliving their honeymoon, Jackman and Furness went on another vacation, this time in Capri, Italy. Photos published by Just Jared show them having what appears to be a wonderful time on a boat, smiling and cozying up to one another.
October & November 2018: Red Carpets
Throughout fall 2018, Furness and Jackman attended a number of high-profile events, and each time, they posed with one another for photographers on the red carpet. The two showed up at the October opening of the Broadway play The Ferryman, then days later at the premiere of Jackman's new film The Front Runner. In November, they went to the Governors Awards and then the following day, while he was on stage being honored at the Santa Barbara Film Festival, Jackman teared up while praising his wife during his speech.
July 2019: Serenading On Tour
From May through October in 2019, Jackman traveled the world performing on his solo The Man. The Music. The Show. Tour, which took him to countries like the U.S., Canada, England, France, Ireland, Mexico, New Zealand, and, of course, his home nation of Australia. While headlining Madison Square Garden in New York City, a montage of photos of he and Furnes appeared on screen. Then, he found his wife in the crowd and serenaded her with Frank Sinatra's "All the Way," which was reportedly their wedding song.
September 2019: Global Citizen
Jackman and Furness teamed up to co-host the 2019 Global Citizen Festival in New York City, which benefits the nonprofit of the same name. The married couple had been involved with the cause for years, and they helped the show move smoothly between presentations and performances by musicians like Queen + Adam Lambert, Pharrell Williams, Alicia Keys, OneRepublic, H.E.R., and Carole King, who all headlined.
May 2020: "I've Been Directed By Her For 25 Years"
In an interview published by Australian magazine Stellar, Jackman took the opportunity to praise his wife on her directing skills, saying, "She is born to be a director. I've been directed by her for 25 years," which sounds like a bit of a joke. He continued to highlight how talented she is, adding, "She has an unbelievable eye, she's always right and she's incredibly decisive. Deb is so much tougher on me than any director I've worked with – there's no audition I've ever gone to where I haven't run it through with Deb first."
Around that time, Furness was busy directing episodes of the Australian soap opera Neighbours, according to her IMDB page.
July 2020: Lockdown Closeness And Emmys
In July 2020, Jackman was nominated for his fifth career Emmy for his performance in the HBO Max original film Bad Education. Shortly after he learned he was up for the biggest prize in TV, he spoke to Extra about the honor, his ongoing hilarious "feud" with Ryan Reynolds, and how the lockdown brought he and Furness closer together.
"Literally, my wife is dancing behind the camera as we speak…," Jackman began, jokingly. "We have never spent this much time together… Having this time without either of us working, being with the family…," the Emmy winner added, finishing the conversation by saying, "The results are in: Closer."
April 2021: 25 Years As Husband And Wife
Jackman took to Instagram on April 11, 2021 to wish his wife a happy twenty-fifth anniversary. The two were celebrating a quarter-century of marriage, and the actor wrote a sweet message to Furness for all to see, pairing it with a photo from their wedding. The snap came with the caption, "Being married to you Deb is as natural as breathing. From nearly the moment we met ... I knew our destiny was to be together. In our 25 years - our love has only grown deeper. The fun, excitement and adventure more exhilarating; the learning even greater. I'm forever grateful to share our love, our life - and, our family together. We've only just begun. Deb, I love you with all my heart!"
February 2022: The Music Man
One of the most highly-anticipated shows coming to Broadway in a long time, The Music Man revival opened in February 2022, and Furness was among the stars who turned up for the big first night. She posed for photos with friends Ryan Reynolds and Blake Lively, as well as several others. Jackman would go on to earn his second competitive Tony Award nomination for his performance.