I Went To The 'Jersey Shore' Friendsgiving & The Only Fake Thing Was The Tans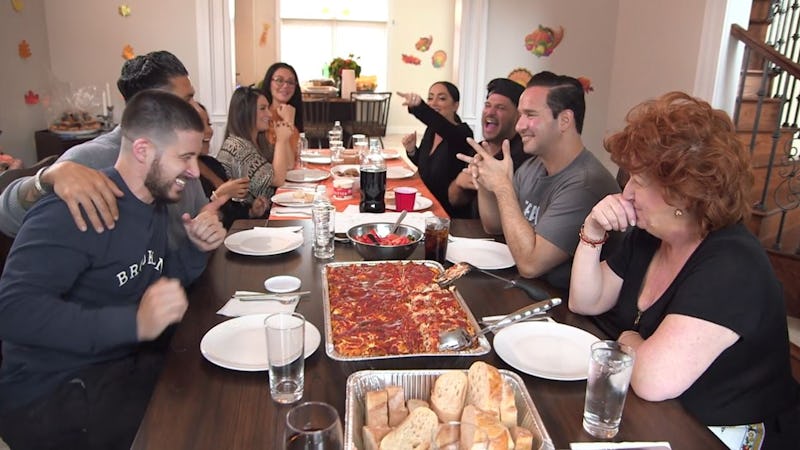 MTV
Vinny Guadagnino's mom will not sit down. I'm at Vinny's Staten Island home — his first one away from his mother, Paula — where MTV is filming a Jersey Shore Friendsgiving special. It's about 5 p.m. on Sunday, and Jersey Shore creator and executive producer SallyAnn Salsano tells me that Paula was up until midnight frying chicken cutlets, only to wake up and cook some more. Now, even as camera operators mill about and bright lights fill the kitchen, she's scurrying around putting food into containers and doing the dishes, even though MTV has a cleaning service coming in a few hours.
This was my first sign that Jersey Shore is much, much more real than I previously believed.
As someone who comes from an Italian family and split her childhood between Staten Island and New Jersey, I was ready to call bullsh*t on any forced, stereotypical Italian-American behavior. After all, some of it has to be spurred on by producers, right?
But over the course of the six hours I spend in Vinny's house, I come to realize that Jersey Shore just might be the realest reality show on television — and not just because Paula actually cooked 299 pounds of food for Friendsgiving. (That's not an exaggeration, Salsano did the math, which you can see in the Editor's Note below.)
We are who we are... We don't go home and, like, become doctors.
As soon as dinner begins, it's clear that this Friendsgiving special is going to be a challenge for the cast to film because it's actually produced. The two-hour special, which premieres on MTV on Thursday, Nov. 15 at 9 p.m. ET after a new episode of Jersey Shore Family Vacation, is essentially a clip show. Scenes from the dinner I'm watching from Vinny's basement-turned control room (which is decorated with posters of American Gangster and Reservoir Dogs, because of course) will be interspersed with some of the series' best moments. However, those clips need to be introduced, which is where the problems arise.
The producers are more involved in this special than a typical episode. Before I arrived, Salsano explains, they interviewed the cast members separately about what they're thankful for and are using that to guide the conversation towards a clip when needed. It may not sound like a ton of interference, but it's much more than the cast is used to, and that becomes obvious when it takes Nicole "Snooki" Polizzi at least four takes to introduce a segment about hookups. When she's done, Jenni "JWoww" Farley runs over to her seat and covers her in fake kisses.
"This is why we don't produce them," Salsano says after it takes the crew many, many attempts to pause the cast's natural conversation and laughter to introduce another segment.
Later, DJ Pauly D (aka Paul DelVecchio), echoes that sentiment. "We don't have a script," he says matter-of-factly. "Never had a script for 10 years, not even a little bit… not even a little bit. The only thing we have is a book that tells us the places that we're allowed to film. We tell the producers where we wanna go, we can't go alone, that's it."
That book, according to Salsano, is created by the producers who scout any location Jersey Shore plans to film in and ensure the show has permission to film there if they choose to. The businesses that say yes go into a binder you often see the cast flipping through on the show, when the cast figures out what they want to do each day.
Even something as seemingly over-the-top and forced as Vinny and Pauly's "bro-mmitment" ceremony from this season of Jersey Shore Family Vacation happened naturally. Salsano explains that they had wedding chapels in the Vegas binder, Jenni made a joke about how Vinny should marry the water bottle they'd put a Pauly sticker on, someone else made a joke about how they should just get married, and things just escalated from there.
If there are any misconceptions about Jersey Shore, the cast thinks it's that they party hard 24/7. "They're filming our summer vacation-type stuff," Pauly says. "People go home, sometimes they relax on the couch and watch TV. We do that, but they're not gonna show that, it's not good television. ... They film 600 hours for an hour of TV time."
But that doesn't mean they don't enjoy the few hours that make it into the show. "When it is time to rage, we are pros," Vinny says. And whether they're partying, eating Sunday dinner, fighting, GTL-ing, or anything else, whether the cameras are rolling or not, the cast is truly just being themselves.
"We are who we are," Vinny says. "That's what makes the show great. We don't go home and, like, become doctors." And that's absolutely true. From the cast constantly joking with each other and the producers, to Vinny and Pauly eating before they're supposed to, to Snooki taking leftovers for her kids' lunch the next day, to Uncle Nino waking up Jenni as she dozes on the couch, everything I see makes it clear just how real the people we see on TV actually are.
"We're not produced. Everything that happened that we were watching, that sh*t happened," Pauly says of the series highlights they've seen throughout the day. "It's hard to watch some of it," Deena Cortese adds.
Even the wildest moments are real, and Pauly believes that nights like those are just more relatable than people might want to admit. "I feel like people in life do that, they just don't put it on film," he says.
Yes, that means the fights are authentic too, but don't get it Fusilli-twisted — the love is even more real. "I don't know if the other reality show [casts] are as close as we are," Pauly says. "Like, I don't know if the Housewives do all that or whatever, but we experience things in each other's lives that's real life stuff. Weddings, family, babies, court stuff, like real life stuff that we're together for."
He adds, "It's been 10 years too, like you can't fake 10 years. I'm sorry, you can't do it."
The 2-hour A Very Jersey Friendsgiving special airs Thursday, Nov. 15 at 9 p.m. ET after a new episode of Jersey Shore Family Vacation at 8 p.m. ET.
Editor's Note: A previous version of this article stated that Vinny's mom cooked 137 pounds of food. She actually cooked 299 pounds of food. Here's what it consisted of, according to Salsano.
Antipasto meat platter – 8 lbs
Antipasto cheese platter – 10 lbs
15 loaves of bread – 12 lbs
Focaccia breads – 8 lbs
Mushrooms – 5 lbs
Potatoes – 20 lbs
Sweet potatoes – 10 lbs
Fennel – 5 lbs
Onions – 12 lbs
Broccoli rabe – 5 lbs
Eggplant – 12 lbs
Canned corn – 6 lbs
Creamed spinach – 4 lbs
Frozen peas – 4 lbs
Flour – 10 lbs
Butter – 5 lbs
Eggs – 5 lbs
Garlic – 2 lbs
Basil – 2 lbs
Breadcrumbs – 4 lbs
Olive Oil – 8 lbs
Lemons – 4 lbs
Ziti – 10lbs
Ricotta cheese – 6 lbs
Mozzarella cheese – 6 lbs
Tomato sauce – 12 lbs
2 24-pound turkeys — 48 lbs
Stuffing – 8 lbs
Beef roast – 10 lbs
Chicken cutlets – 15 lbs
Ground beef for potato pie – 5 lbs
Italian cookies – 5 lbs
Cannoli, sfogliatelle, and lobster claw pastries– 15 lbs
Apple pie and pumpkin pie – 3 lbs
Chocolate mousse cake – 2 lbs
Rainbow cookies – 2 lbs
Pignoli cookies – 2 lbs