Here's Everything To Know About The iCarly Reboot
It all goes down on June 17.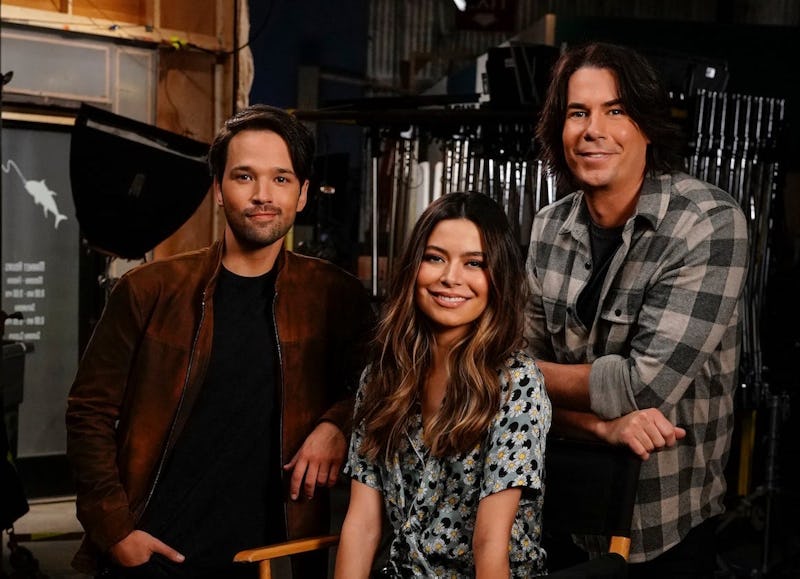 Viacom/iCarly
Wake up the members of our nation — iCarly is making a comeback, both in real life and on the actual show. An iCarly reboot is coming to Paramount+ almost a decade after the classic TeenNick series ended in 2012, following five hilarious seasons, meaning that today's most-followed TikTokers and YouTubers will now have to contend with Carly Shay, the original queen of the internet.
The original series followed Carly (Miranda Cosgrove), a Seattle high schooler who lives with her brother Spencer (Jerry Trainor). They came up with the idea to launch a comedy web show filled with skits, special guests, YouTube videos, and random dancing. With the help of her best friends, co-host Sam Puckett (Jennette McCurdy) and tech wizard Freddie Benson (Nathan Kress), she turns iCarly into a DIY project filmed in her brother's loft into a bonafide web show, gaining worldwide stardom while still dealing with the perils of high school.
The upcoming revival will stay true to the original series, adding material aimed at the show's original millennial viewers, but minus a couple beloved cast members. Here's everything you need to know about the highly anticipated iCarly reboot.
iCarly Reboot Trailer
The first iCarly teaser trailer, released on June 1, will make you feel as though nothing has changed at all — even without Sam. The trailer starts with Freddie's classic "in 5, 4, 3, 2" as Carly goes straight into her new and improved web show in the original loft, just like she had never left. With appearances from Nevel, Nora, and even Principal Franklin, as well the return of gags like Baby Spencer, the reboot will bring incite all the nostalgic feels plus a few new faces.
What Is The Plot Of The iCarly Revival?
The reboot takes place in the present day, nine years after Carly Shay left Seattle, and thus iCarly, to go live with her father in Italy. Now, after navigating love and college in her early 20s, Carly is back in Seattle and trying to figure out her next steps in life. She's moved into a new apartment in Spencer's building with a roommate, and Freddie just so happens to be back after going through some rough patches as well.
"Carly has gone through a lot over the last 10 years — all the characters have," Cosgrove told Entertainment Weekly in May. Spencer is now suddenly wealthy, even renovating his iconic loft (don't worry,  his unconventional art is still everywhere), and Freddie has "gone through a couple divorces." Inspired by their reunion, she decides to bring back iCarly and see if they've still got it. "We're exploring what her new show is," she said. "And even though it's iCarly, it's not the same as it was before. So we've been exploring a lot of different things with that, just like what a 26-year-old would really be doing if they had a YouTube channel nowadays."
Speaking to Page Six on June 14, Trainor explained that the revival is geared towards an older audience than the original Nickelodeon series. "We're going to toe that line, you know what I mean? It's not going to be super-raw," he said. "But yeah, there's going to be sexual situations. And you know, I say 'damn it' in the trailer, which had everyone in a tizzy, but you know, we're grown-ups."
Kress echoed his statements in the same interview. "This is an adult show and it's not specifically for kids," he detailed. "And that's been exciting for us — to just see where these characters from a kid's show would be and where they are in their life now, 10 years later. But in a very realistic, non-glossy way."
Who's In The Cast Of The iCarly Reboot?
Cosgrove, Kress, and Trainor are all reprising their original roles, but regular cast member McCurdy and Noah Munck, who played wacky scene-stealer Gibby and was credited as a main cast member later in the show's run, will be returning for the reboot. However, viewers will see the return of fan-favorite guest characters in the reboot, including Nevel Papperman (Reed Alexander), Nora Dershlit (Danielle Morrow), and Freddie's neurotic mother Marissa (Mary Scheer).
Joining the cast of the reboot is Jaidyn Triplett as Millicent, Freddie's tech-savvy stepdaughter, and Laci Mosley as Harper, Carly's new roommate and biggest motivator as she begins her comeback as web icon Carly Shay.
Why Isn't Sam (Jennette McCurdy) In The iCarly Reboot?
While Munck has not commented on his decision to not return, in March, McCurdy confirmed that she had quit acting a few years ago and expressed regret over her former roles, specifically playing Sam on iCarly and its one-season spinoff Sam & Cat. "I feel so unfulfilled by the roles that I played," she explained. "I did the shows that I was on from like 13 to 21, and by 15, I was already embarrassed. My friends at 15, they're not like, 'Oh, cool, you're on this Nickelodeon show.' It was embarrassing. And I imagine there's a very different experience to be had with acting if you're proud of your roles, and if you feel fulfilled by them."
Sam won't be completely forgotten though. In a recent interview with Entertainment Weekly, Cosgrove told the outlet that Carly's former BFF will definitely be mentioned throughout the season and the show will "definitely explain" her absence. She added, "We touch a lot on the whole relationship with Sam and where Sam's at in the pilot episode."
How Do The New iCarly Opening Credits Look?
On June 9, Paramount+ revealed the new iCarly opening credits, which got a modern makeover but will still give you all the nostalgic feels. The new opening now uses iPhones (or in iCarly world, PearPhones) to reflect today's technology, but the original theme song, Cosgrove's "Leave It All To Me," remains intact after she opted not to re-record the iconic track. But the most legendary part is a blink-and-you'll-miss-it moment when Cosgrove recreates the "interesting" meme from her stint on Drake & Josh. Yes, she truly understood the assignment.
When Is The iCarly Reboot Release Date?
The iCarly reboot premieres Thursday, June 17 on Paramount+, who will release the first three episodes at the same time. From then on, new episodes will premiere weekly on the streaming service. Just get out some tissues, prepare for random dancing, and leave it all to Carly.
This article was originally published on