Priya From Indian Matchmaking Has A Thing For Topknots
After divorcing her first husband, Priya's ready to find her soulmate.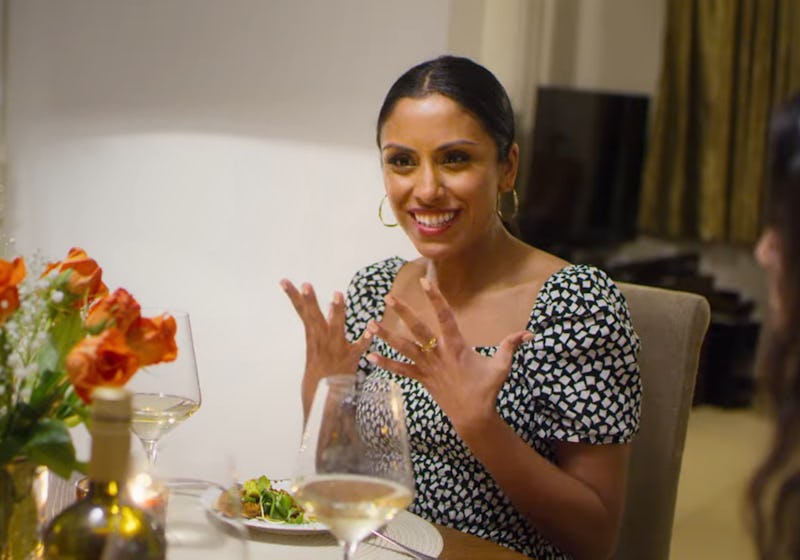 Netflix
The long awaited third season of Indian Matchmaking has arrived, and matchmaker Sima Taparia, aka Sima Aunty, is back to help singles find love. This time around, Priya Ashra — a client viewers only briefly met at the end of Season 2 — is one of Sima's main clients.
The 35-year-old is a clinical pharmacist and private chef based in London, and is working with Sima two years after getting divorced. Her ex was actually her first boyfriend, she shared in Episode 1 of the new season (which dropped April 21), and they got married at the age of 27. "When you get together with someone at the age of 19, and you're with them for 11 years, I think I just did what I thought was expected of me without really questioning what marriage was," she said.
Priya once worried that potential partners would see her as "broken" because she was divorced, but she's since gained new perspective about her past. "With divorce, you associate a lot of shame, you associate a lot of guilt with it," she explained. "Before, I used to be someone that used to hide that I was divorced when I was dating. But now, I'm just like, you know what? This is part of my story, so I'm gonna share it."
Outside of her dating life, Priya regularly hosts supper clubs in London. Her Instagram — @priya.ashra — also documents a lot of traveling, hanging out with family and friends, and the occasional throwback photo, of course.
As for Priya's criteria? Back in Season 2, she told her friends what she's looking for in an ideal partner — and what she's not looking for, including dragon T-shirts and overly groomed eyebrows.
Priya does love a guy with a topknot, one ear piercing, a nice smile, and who is at least 6 feet tall, though. And "youthful looking." She went on to say in the episode, "I don't ask for too much. I don't think I ask for too much at all." She described her own flaws as her rigidity and that she "might jump to conclusions sometimes."
This article was originally published on