Invincible's Flawed Protagonist Has Daddy Issues
Omni-Man and Invincible have powers similar to Superman.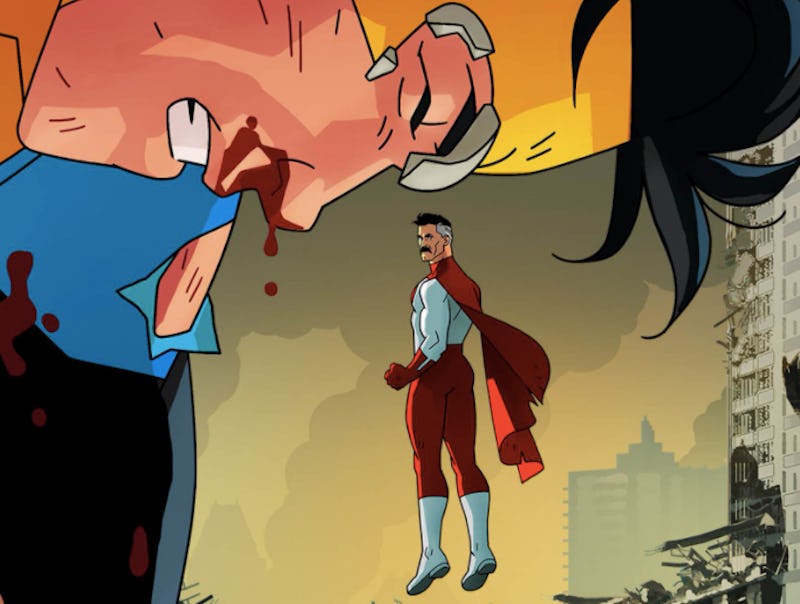 Amazon Prime/Invincible
In the new Amazon Prime series Invincible, the origin story of eventual superhero Mark Grayson (Steven Yeun) is inextricably tied up in his relationship with his father — who just so happens to be the superhero Omni-Man. The series is based on the Invincible comics, which follow Mark as he grows into his superhero identity while fighting evils both across the universe and close to home.
Ever since Mark's father Nolan Grayson (J.K. Simmons) sat him down as a child and explained that he was a member of the super-strong Viltrumite alien race, living on Earth as Omni-Man in order to protect innocents and preserve the peace, Mark has been waiting for his own powers to manifest. Soon after his 17th birthday, those powers finally do arrive while Mark is taking out the trash at his part-time job at a fast-food venue. Both Omni-Man and Invincible (Mark's superhero alias) have Superman-like powers, which include super-strength, super-speed, the ability to fly, increased durability, and accelerated healing abilities. Although Mark takes a bit to master his powers, his abilities grow over time, and by the end of the Invincible comics 144-issue run, he's become one of the most powerful beings in the universe.
Similar to the Invincible comics, the Amazon Prime series doesn't shy away from exploring the complicated father-son dynamic between Nolan and Mark. To flesh out that relationship, Simmons and Yeun often recorded lines while in the same room, an experience Simmons said made their recording sessions feel more like a play than a traditional TV voiceover session. The father-son themes were "a big aspect of what drew me to it," Simmons said, "and Steven and I both refer to now being fathers and obviously being sons. That's always a relationship that I'm interested in looking at."
It can be difficult living up to your family's expectations as a normal kid — let alone when your father regularly saves the President before breakfast. "Mark is struggling with expectations and reality and I think that's something we all can relate to," Yeun explained about his Invincible character. "He's probably been dreaming about this and wanting this thing and he's already built this strawman and this massive behemoth that he has to overcome."
This isn't the first time Yeun, who was just nominated for the Best Leading Actor Oscar for his role in Minari, has worked with Invincible comic creator and writer Robert Kirkman. Kirkman, of course, is notably responsible for creating and writing The Walking Dead comics that were eventually adapted into the popular TV series that gave Yeun his big break. So after Kirkman called Yeun to ask him to read part of the Invincible script, the two were already on solid footing to bring this comic world to life together. "It literally took me like two seconds," Yeun said. "[Kirkman] was like, 'Do you want to do it?' ... I'm like, 'Yeah.'"
"I think that's what's refreshing about Invincible as a comic," Yeun said, speaking about the unconventional nature of the superhero tale. "We're getting to a truer representation of that, staring into the ugliness that is life and, in that way, not lionizing superheroes, and I like that. I like that we're not in this place where we're asking the audience to rest their humanity and their survival on these superheroes but also take a look at the ugliness in which they also live."