Amazon's Invincible Is Getting Two More Seasons
The Steven Yeun-led show won over viewers.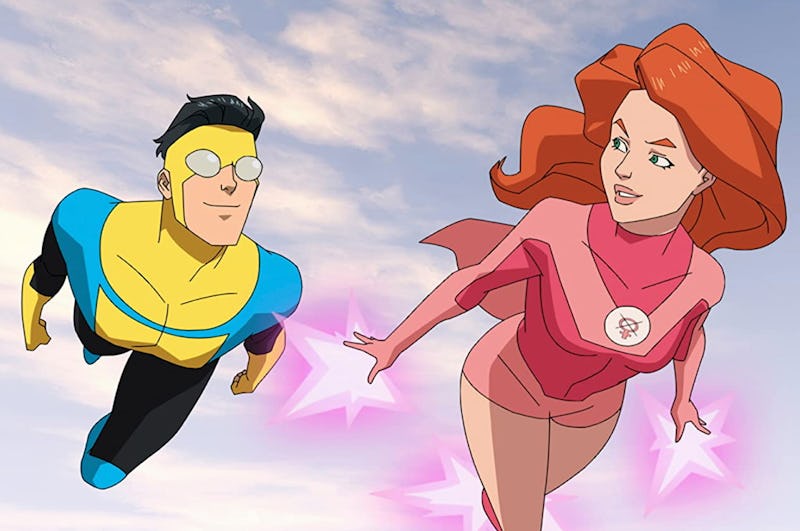 Amazon Prime Video
Good news, Steven Yeun fans: Invincible has been renewed for Seasons 2 and 3. In a Twitter video, creator Robert Kirkman called Yeun to deliver the good news. "We're gonna make two more seasons," Kirkman said. "Hopefully we're gonna make a hundred more seasons!"
The fact that the show was renewed ahead of its Season 1 finale is a testament to its popularity. "Invincible is a crowning example of how a fresh and edgy approach to the superhero genre can resonate with audiences," Vernon Sanders, Co-Head of Television at Amazon Studios, said in a press release. "We're so glad that Invincible, one of our earliest investments in the adult animation genre, has accomplished just that."
Based on a 144-issue comic series by The Walking Dead creator Kirkman, Amazon Prime's Invincible follows the story of Mark Grayson (Yeun), the 17-year-old son of the Superman-like Omni-Man (J.K. Simmons) and a human woman, Debbie (Sandra Oh). At the start of the show, Mark can barely fend off his bullies, and he dreams of being just like his dad once his powers kick in — but the end of Episode 1 reveals that his dad is a brutal villain, not the benevolent hero he pretends to be.
It's a shocking twist, but Kirkman told Indiewire that now is the "perfect climate" for Invincible to air because it relies on people knowing all the usual superhero tropes. "Invincible presents itself as is a traditional superhero story and then it reveals itself to be something very different, more complex, scary, and dramatic," he said. "Because everybody is aware of the Marvel Cinematic Universe and the DC Extended Universe, you can sit down and watch Invincible and be pleasantly surprised that it offers something different."
The series debuted to critical acclaim and quickly became a fan favorite online for its subversive storytelling. Here's everything we know so far about Invincible Season 2.
Invincible Season 2 Premiere Date
The release date for Season 2 is not yet set, and it's unclear how long Invincible would normally take to produce. For reference, the project was initially announced in June 2018, per The Hollywood Reporter, but didn't air until 2021.
Kirkman told The New York Times that the COVID-19 pandemic factored into how long it took to bring the show to viewers. "It definitely cost us some time because we had a team in Los Angeles, a team in Vancouver and a team in South Korea, and they were all working together in offices," he explained. "Everyone had to stop and make sure that they had the technology available to shift from working in the office to working from home."
At this rate, it's likely that fans will have to wait until at least Spring 2022 for a second season. Most streaming platforms take around a year to produce a season, and Amazon's The Boys, another comic book show (but in live action) took about 15 months to air Season 2.
The Invincible Season 2 Cast
It's still too early to tell which cast members will return, but it's a safe bet that Steven Yeun, J.K. Simmons, and Sandra Oh will reprise their roles as the Graysons. Other characters who factor heavily in the comics and who will likely return for Season 2 include Allen the Alien (Seth Rogen), Amber (Zazie Beetz), and Eve (Gillian Jacobs).
The Invincible Season 2 Trailer
We don't currently have a Season 2 trailer, but you can always begin reading Invincible online while you wait! It looks like Season 1 will end with Mark confronting his father, which in the comics then leads into a whole new plot line about an alien invasion.