Curtis "Cousin Eddie" Smith Claims Alex Murdaugh Made Him A "Fall Guy"
They allegedly conspired in a botched suicide-for-hire plot.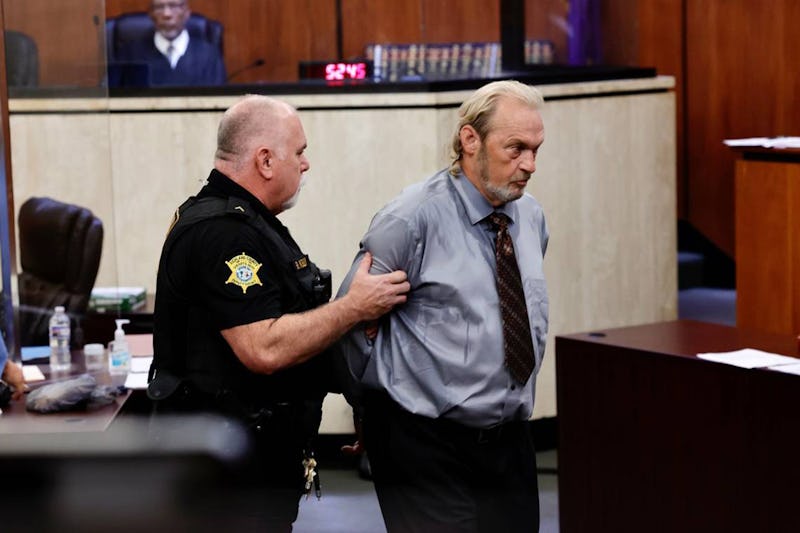 The State/Tribune News Service/Getty Images
Netflix's new true-crime docuseries, Murdaugh Murders: A Southern Scandal, promises to shine a light on a once prominent family's "century of corruption, power, and cover-ups" in South Carolina's Lowcountry region. One such scheme involved now-disbarred attorney Alex Murdaugh and his distant cousin, Curtis Edward "Eddie" Smith. Three months after the June 2021 killings of his wife, Maggie, and 22-year-old son, Paul, Murdaugh claimed a stranger shot him in the head while he was changing a tire on a rural roadside. A state law enforcement spokesperson confirmed to The New York Times that Murdaugh had suffered "a superficial gunshot wound to the head" on Sept. 4 and was admitted to a local hospital with non life-threatening injuries.
About a week later, however, Murdaugh admitted to his attorneys that he'd paid Smith as part of a botched suicide-for-hire plot, so that his surviving son, Richard "Buster" Murdaugh Jr. could collect on his $10 million insurance policy. The South Carolina Law Enforcement Division (SLED) arrested Smith on Sept. 14, charging him with assisted suicide, assault and battery of a high aggravated nature, pointing and presenting a firearm, insurance fraud, and conspiracy to commit insurance fraud. Smith, who denied collaborating with Murdaugh, was released on $20,000 bail.
A month later, Smith gave several interviews to such outlets as The New York Times, CBS News, NBC News, and the New York Post, further refuting Murdaugh's claims. According to Smith, who worked as a handyman and logger, Murdaugh called him on the morning of September 4, 2021, and asked him to meet him in his work truck on a Hampton County road without explaining why. Once Smith arrived, he said that Murdaugh handed him a gun and asked him to shoot him in the back of the head. Smith claimed that he refused, but as he grabbed his friend's arm the gun went off. After Murdaugh signaled he was OK, Smith said he drove off and disposed of the firearm.
"I don't know if betrayed is even the word for it," Smith told The New York Times in October 2021. "I thought of him as a brother, you know, and loved him like a brother. And I would've done almost anything for him. Almost."
In November 2021, a Hampton County Grand Jury indicted Smith on multiple charges, including false claim for payment, filing a false police report, conspiracy, and pointing and presenting a firearm at a person, assault and battery of a high and aggravated Nature, and assisted suicide. In a separate Colleton County Grand Jury indictment, Smith — whom Murdaugh's lawyers alleged was their client's longtime drug dealer — was also charged with possession of methamphetamine with intent to distribute and possession of marijuana.
Further investigation revealed more crimes, and a state grand jury indicted Murdaugh and Smith in June 2022. Smith's charges included four counts of money laundering, three counts of forgery, trafficking methamphetamine 10-28 grams, one count of unlawful possession of a Schedule II controlled substance, and possession of marijuana. Prosecutors alleged that Murdaugh wrote Smith approximately 437 checks between 2013 and 2021 totaling about $2.4 million for money laundering purposes. The two were also accused of an alleged conspiracy regarding the distribution and purchase of Oxycodone.
A judge revoked Smith's bond in August 2022 and ordered him to jail after prosecutors alleged that he'd violated terms of his release agreement, including that he misrepresented his financial information and violated his house arrest travel restrictions. Smith was handcuffed in the courtroom, and is currently under protective custody at the Lexington County Jail.
Months later, Murdaugh, who was charged in the double murder of his wife and son, presented Smith as an alternative suspect. In an October 2022 court filing, Murdaugh's legal team cited Smith's alleged failed polygraph test as supporting evidence, per South Carolina's The State. However, Smith's lawyer countered that he has an "ironclad" alibi. "Eddie Smith continues to be a victim of Alex Murdaugh and his deeds," attorney Aimee Zmroczek said. "If you look at this case since the murders, there has been a desire on the part of Alex Murdaugh to insinuate Eddie Smith is somehow involved. This is a continuation of that."
As speculation that Smith could testify against Murdaugh ramped up, Zmroczek further asserted her client's innocence. "Eddie Smith was a common man now in an uncommon situation," she said in a January 2023 statement to South Carolina's FITSNews. "His lawyer, a man whose family he respected, dragged him into this world to use him as a patsy. One of the many fall guys Murdaugh is stepping on to try and keep his feet clean. Eddie is a hard blue-collar worker and a people pleaser who now finds himself broken, stuck in jail, and the target for a crime he didn't commit."
If you or someone you know is experiencing suicidal thoughts, call or text 988 to contact the 988 Suicide & Crisis Lifeline, which provides free 24/7 support. You can also reach out to the Trans Lifeline at 1-877-565-8860, the Trevor Lifeline at 1-866-488-7386, or to your local suicide crisis center.