Fair Warning: ITV Thriller Too Close Will Creep You Out For Weeks
But how true is the story?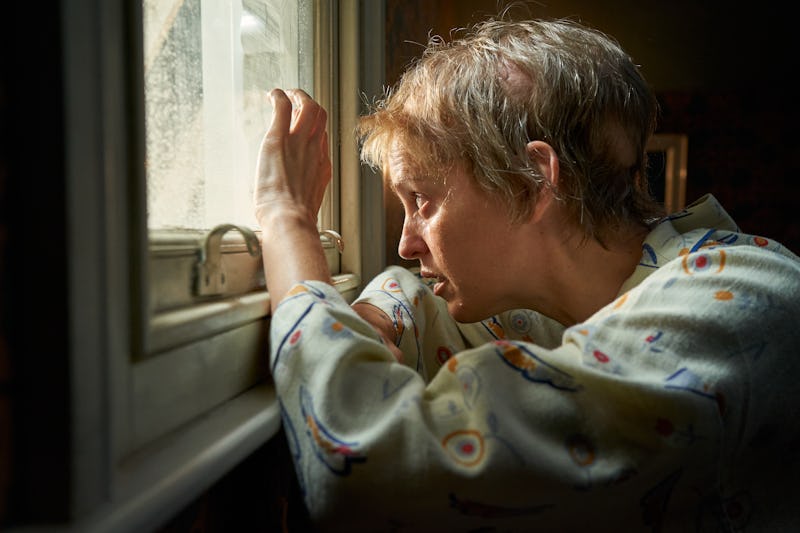 SNOWED IN PRODUCTIONS FOR ITV
ITV's brand new psychological thriller Too Close has been tipped as a "haunting" and compelling watch when it airs tonight (April 12). The mini-series stars Chernobyl actor Emily Watson as Dr. Emma Robertson, a forensic psychiatrist who strikes up a dangerous relationship with Connie Mortensen (played by Denise Gough) a woman accused of a heinous crime but claims she can't remember a thing. The thrilling new series is written by author and actress Clara Salaman but is Too Close based on a true story?
The new series is in fact based on the 2018 novel of the same name published under the pseudonym Natalie Daniels. While Too Close isn't based on a true story, its dark and challenging themes are a product of some eerie research. Spoilers ahead, but the Too Close plot is seriously dark — which author Clara Salaman admits.
"I'd always been fascinated reading about women who try to kill their children. Medea," said Salaman to ITV. "I've thought, 'Where the hell do you have to be in your head to think the best option is to kill your children? How have you got to seeing the world like that?'"
As the official synopsis states, the three-part series will see Dr. Emma Robertson try to "uncover the truth" and learn what triggered Connie — the "yummy mummy monster" — to commit such despicable behaviour.
However, per the synopsis, as the two become dangerously close, "their sessions become a complex psychological game with confusing undercurrents."
"Too Close is the journey of a breakdown," explains Salaman. "Small incremental steps. Then one more little thing comes along and breaks you. I am interested in what unites us all. What happens to Connie could happen to anyone of us. There are themes of isolation and resourcefulness. Plus, forgiveness.
"I did a lot of research and I did consult people," she adds. "But I wrote it first. Because I didn't want to stop my flow of the story I wanted to tell. And then I did all of the research. Surprisingly, aside from some specifics, I didn't have to change too much."
Filmed in London, Too Close also stars Si Robertson, Thalissa Teixeira, and Karl Mortensen.
Too Close will air on ITV from April, 12. 2021