Sophie Turner's Joan Charts The Rise Of A Famous British Jewel Thief
And Turner will star as the titular role.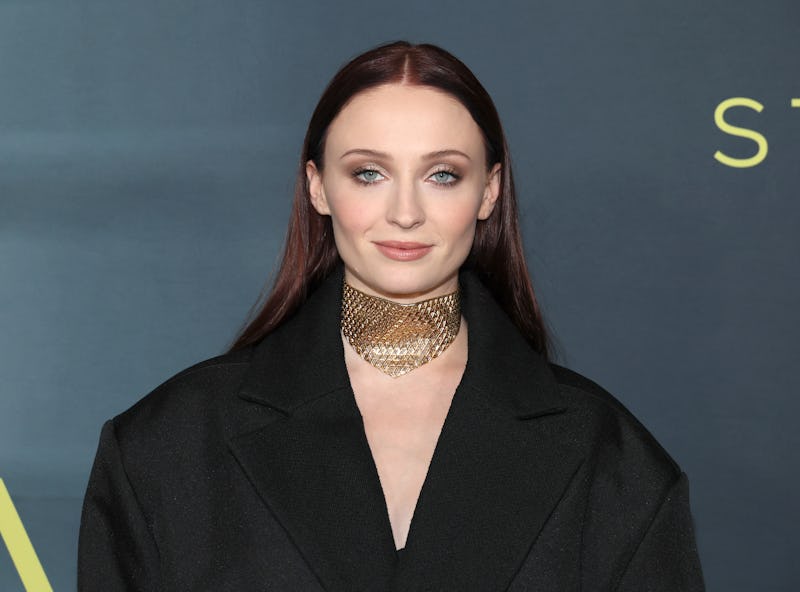 Dia Dipasupil/WireImage/Getty Images
It's been a while since we've seen Sophie Turner on our screens (apart from her Oscar-worthy cameo appearance in Do Revenge) but the actor is set to return to television in ITV's highly-anticipated new series, Joan. Turner is best known for her portrayal of Sansa Stark in HBO's smash hit fantasy series Game of Thrones, but, in her latest role, the actor will be swapping Westeros for 1980s London. But is Joan based on a true story?
Her character is known for exploiting the criminal underworld and even earns her the nickname of "the Godmother." After seeing Turner play the quietly ruthless Sansa Stark in Game of Thrones, fans are pretty excited to see the actor take on yet another powerful role that treads the line of morality. But is Joan based on a true story?
Well, in short, yes it is. The drama is rooted in reality and Turner's character is based on IRL diamond-thief-turned-author Joan Hannington. The London-born thief was a well-known figure in the criminal underworld and even earned herself the nickname "the Godmother." In 2004, Hannington released a memoir charting her journey titled I Am What I Am: The True Story of Britain's Most Notorious Jewel Thief and the ITV series is a television adaptation of this bestselling book.
In her memoir, Hannington explains that she grew up with little money and was one of six children. She had never seen riches until her godmother – a woman named Eloise – gifted her a crystal bracelet. She credits this piece of jewellery as the start of her "path to great riches... illegally." After dropping out of school at 13, Hannington married Ray Pavey, a convicted armed robber at the age of 17 and gave birth to their daughter Debbie a year later.
By the time Debbie turned four, Pavey was in prison and Hannington had lost her home and was forced to put her daughter into foster care. Her first major, solo robbery was of a car so she could drive to Debbie and see her. She was given a two-year probation order for this and, after a period of recovery, Hannington found a job at a jewellery store in the West End area of London.
Here, she began stealing diamonds to free her daughter from foster care and provide her with a good lifestyle. "I grabbed a handful of diamonds and swallowed them, it seemed the simplest way to hide them," she wrote, "Twelve hours later, once nature had taken its course, I sterilised the gems in a bowl of gin and astonishingly they were never missed." Hannington said she then sold the diamonds for over £10,000.
A few weeks later, she met her future husband Ronald Hannington, who was an antiques dealer but made most of his earnings by stealing and selling precious oil paintings, antiques, and furniture. He taught her how to steal cheques and change her appearance at auctions to bid for high-ticket items. However, diamonds remained her biggest draw. In one particular instance, Hannington shares that she went to a shop with a replica of a ring she wanted in her pocket and when the shop assistant looked away, she swallowed the original diamond ring and replaced it with her fake one.
Together, Hannington and her husband had luxury cars, mink coats, and diamonds worth thousands of pounds and continued to rake millions in steals. However, this all changed when her husband got killed in a heist shortly after they had their first child together, Benny JR. Hannington wanted to create a new, safer life for her son. The jewel thief sold all their possessions and started afresh in Islington. That's when she wrote her autobiography, where she clearly explains, "I feel no guilt for my crimes. I saw myself as a businesswoman and mother. I did it to ensure a good life for me and my family."
Per ITV, the screenwriter on Joan, Anna Symon, worked closely with Hannington to capture the essence of the memoir and to ensure it stays true to her reality. To keep the locations accurate as well, the series will be filmed in London in Spring 2023 — along the same trails that Hannington worked — and is set to release later in the year, exclusively on ITVX in the UK.