Jonathan Majors Has One Special Lady In His Life
The Creed III star is the father to a 9-year-old.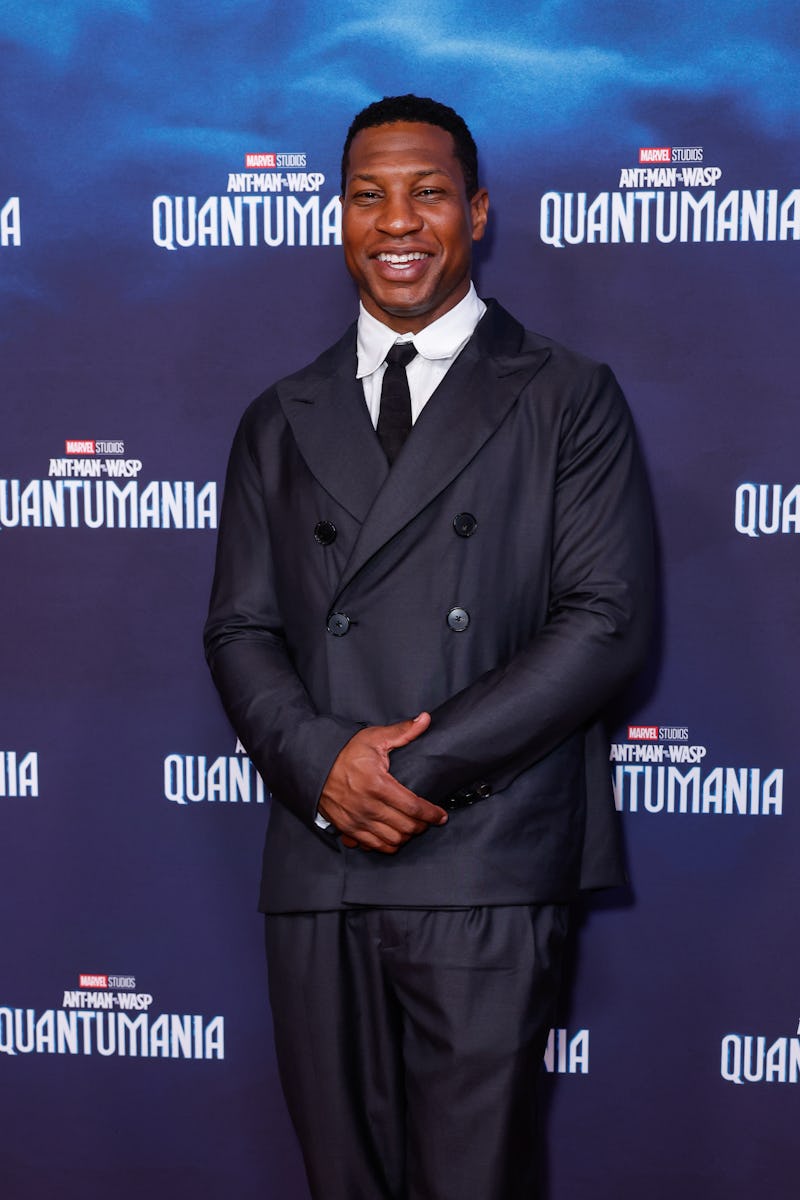 Hanna Lassen/WireImage/Getty Images
He may be playing a ruthless boxer in Creed III, but offscreen, Jonathan Majors is more of a lover than a fighter. Claiming to "fall in love every day" and "cry probably a few times a week," the actor told The Cut that he wants to star in a romantic comedy, too. "Life is so beautiful. Love is everywhere," he explained in an interview published on Feb. 14, naming The Notebook, Love Jones, Blue Valentine, and Love & Basketball as his personal favorite rom-coms. As for his own romantic relationships, Majors largely keeps his personal life private, though he's offered hints and discussed dating more generally over the years.
In his interview with The Cut, Majors even shared romance advice, along with a roadmap to his heart. The meal he'd cook to impress his date? "I'd probably bake a chicken, do some homemade frites where I buy the potatoes and chop them up, a green salad, and a good wine," the 33-year-old actor revealed.
He also dished on a surefire way to fall in love in 48 hours: "Send a text message with a song. My song of choice would be "Come Over," by Aaliyah. Then only wear sweatpants. You then have to watch Love Jones–slash–Love & Basketball. After that, the song you should be playing is "Whenever Wherever Whatever," by Maxwell. The next day, send them another song by Maxwell with "I thought you'd like this." And it works both ways. If a woman did that to me, I'd lose my mind."
It seems he doesn't have a 100 percent success rate though. While discussing his friendship with Creed III co-star and "best buddy" Michael B. Jordan at the Los Angeles premiere of Ant-Man and the Wasp: Quantumania on Feb. 6, he mentioned that "girl troubles" is sometimes a topic of conversation. "We support each other on a day to day, so, if it's Marvel it's Marvel that day, if it's girl troubles, it's girl troubles that day — whatever, whatever. He's my brother," Majors told Entertainment Tonight.
There already is a special lady in his life though: his 9-year-old daughter. In Ebony's February 2023 issue, Majors talked about teaching his girl self-worth, that her emotions belong to her, and that "no man can make you do anything or feel anything." Immediately afterward, he hinted why he's seemingly single. "Like her father, she's not easily impressed," he added. "Yeah, I mean, big-head boys are going to have a hard time dealing with her. I feel bad for [them], because then you have to deal with her and me."
While speaking to The New York Times in 2020, the Lovecraft Country actor dropped a major hint that he was single by describing a solitary period after the coronavirus pandemic shut down production on his Netflix film, The Harder They Fall. "It's just been me and my dogs," he said, noting that he chose to remain on location in New Mexico to wait out the pause in production. "Lots of exercise, lots of reading. Nietzsche. Lots of Sam Shepard because I'm out this way. I've always really valued isolation. But that rubs up against my deep need for intimacy. I've found myself talking to people on the phone longer."
Majors didn't elaborate on exactly who he'd been having long chats with, but he made it a priority to see his daughter whenever possible. In the same interview, the Dallas native mentioned taking a 10-day trip to Atlanta where the 9 year old lives with her mother, whose identity he hasn't revealed. The Emmy nominee has only said that his daughter is biracial and was born after he graduated from the University of North Carolina School of the Arts in 2012, but before he enrolled at the Yale School of Drama, which he graduated from in 2016.
It remains unclear exactly what kind of relationship Majors has with his daughter's mother, but they seem committed to co-parenting. Also in 2020, he told W Magazine about an interaction they had around the time former Minneapolis police officer Derek Chauvin killed George Floyd, who had a daughter around the same age. Majors said she called him and asked him to speak to their daughter, who was "frustrated" and "angry" because her hair wouldn't "fall down" and instead "goes up."
So, he hopped on FaceTime. "You have a crown," he explained to her. "That's why your hair goes up. Your hair, your crown, came from daddy, came from his mama, came from his father, came from his sister. Sometimes that crown can get you in trouble in this world, and it's not right. And some people want to take that crown from you."
If or when Majors begins dating someone, they'll have a special little girl to impress.
This article was originally published on