Mare Of Easttown Is Based On This Small Pennsylvanian Town
The new HBO series stars Kate Winslet as a detective investigating a murder case.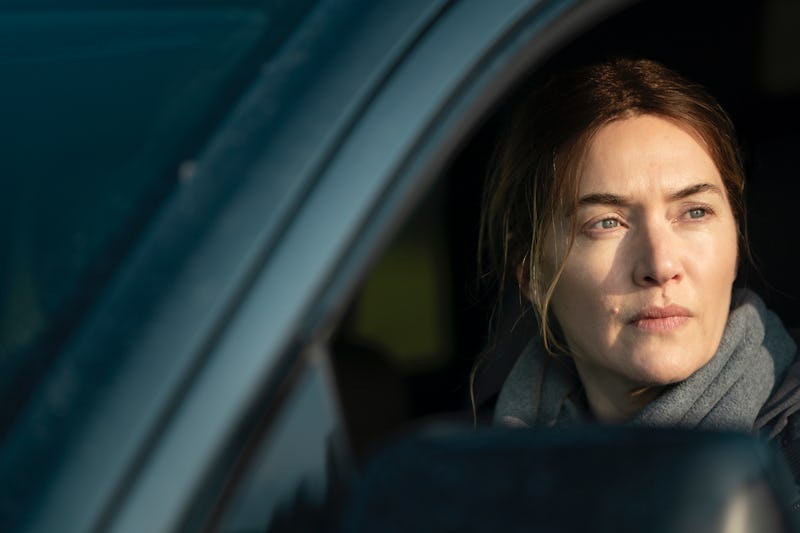 Sarah Shatz/HBO
Kate Winslet is on the case in HBO's new crime drama Mare of Easttown. Playing small town detective Mare Sheehan, she's sent to investigate a murder at the start of the show. Mare was once hailed as her town's local basketball hero, but she's now better known by a string of family tragedies and her failure to find a missing local girl from a previous case. "Doing something great is overrated," Mare says bitterly in the show. "Because people expect that from you all the time."
Though Mare of Easttown is not based on a true story, creator Brad Ingelsby wanted Mare to reflect the real people he was surrounded with while growing up in Pennsylvania's suburbs. He told Philly Mag that he didn't know many people in law enforcement like Mare, but that he did know a lot of former athletes. "My dad was a basketball player, my brother played for Notre Dame, and I know a lot of people who played minor-league baseball," he explained. "So I am very interested in what happens after the 'glory days,' and Mare is very much after those days in her life. What does it look like when you arrive at a dead end?"
Having lived in L.A. for a while, Ingelsby finally wanted to tell a story about his hometown — a place called Berwyn, located in Pennsylvania's Easttown Township. The real Berwyn only has a population of around 3,500 people, but Mare of Easttown's Berwyn is more of an amalgam of different cities.
"We did shoot some of the show in Easttown, as well as in Coatesville, Aston and Drexel Hill, but we really captured more of a blue-collar vibe than you get in the real Easttown," Ingelsby told Philly Mag. He added that he's sure he's going to get "some real grief from actual Easttowners" over things he got wrong in the show. But he did ensure that they filmed at some recognizable locations, like "the VFW bar in Sellersville, Girard College, Wissahickon Valley Park, and Pastorius Park in Chestnut Hill." He also said that they made sure to include plenty of Wawa coffee and Eagles references, along with other nods to "Delco" (Delaware County).
Winslet, a British actor, spent a lot of time with native speakers to really nail down the Delco accent and affectations. Per The Philadelphia Inquirer, her dialect coach, Susan Hegarty, recorded the voices of about 40 local people, and Winslet would listen to them every morning before filming. She also had a Chester County police detective on speed dial, who would advise her how to deliver certain lines. "My whole thing with Mare was being as real as possible. I didn't want to do the TV version of a cop show, or a TV version of a cop," Winslet told the Inquirer.
Ultimately, Ingelsby said he hopes that people appreciate how Mare of Easttown pays homage to his hometown. "We did a lot of research," he explained to CBS 3 Philly. "I wanted to tell a story about where I grew up and how I grew up. I certainly grew up with a lot of these characters in this part of the country. I wanted to portray these people with a lot of empathy."