The iCarly Castmate Miranda Cosgrove Always Turns To For Dating Help
"I always call him after a bad date or after something's gone awry."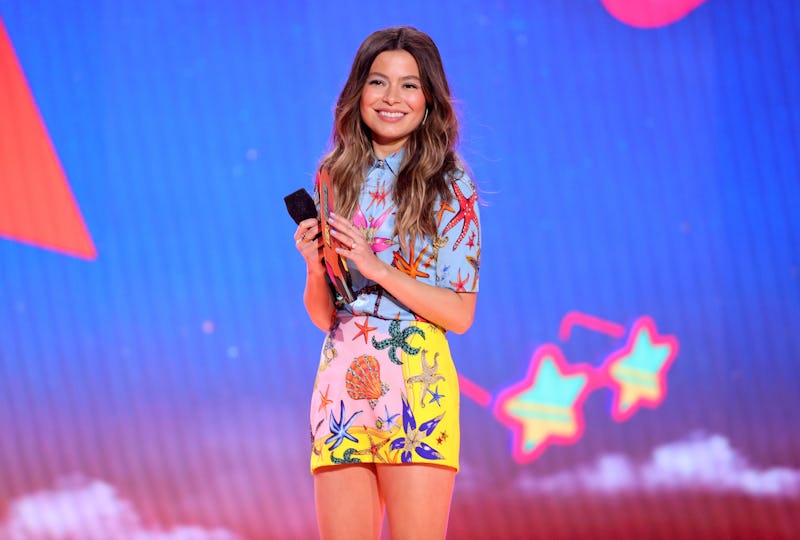 Rich Fury/KCA2021/Getty Images Entertainment/Getty Images
Much like her iCarly character Carly Shay, Miranda Cosgrove has experienced plenty of romantic woes. And also like her character, she turns to Jerry Trainer — who plays her brother Spencer on the show — to solve them. "He's always trying to help me with my bad dating stories," Cosgrove told E! in a recent interview. "I always call him after a bad date or after something's gone awry ... [Our dynamic on the show is] all super natural because it's pretty much like real life."
Cosgrove is less forthcoming about her love life with the public. Though she's been in the spotlight since she was young, she's actively tried to keep her relationships as private as possible. Any time she was linked to someone, she would quickly shoot down dating rumors. In the late 2000s, for example, she reportedly dated fellow Nickelodeon star James Maslow from Big Time Rush (who was also her first onscreen kiss) and Nat Wolff from The Naked Brothers Band. However, Cosgrove referred to both of them as only friends. She was also said to be dating Max Ehrich — yes, the man who would eventually become Demi Lovato's ex-fiancé — after they worked together on iCarly in 2010, but she again said their relationship was strictly platonic. "We are really good friends. We really are," she said at the time. "We're [both] very young. Why be tied down?"
Some people also thought Cosgrove was dating Noah Centineo after she posted a photo of herself with him on Instagram in 2013, but he's now in a relationship with Kylie Jenner's BFF Stassie Karanikolaou.
Prior to her recent E! interview, the last time Cosgrove shared anything about her love life was in 2011 interview with Seventeen magazine. Without elaborating on who she was talking about, she spoke of a recent heartbreak. "I've only had one serious boyfriend, but we dated for three years," she said of her ex, whom she would only identify as someone she met at work. "We broke up not that long ago. He's the one guy I really, really liked. People say they have that one person they never forget – I feel like that. Even though we don't talk too much anymore, he'll be the one who got away."
At the time, she said she wasn't ready to date again because she wasn't completely over her mystery man. She's started dating again in the years since, but it doesn't seem like it's going all the well for her based on what she told E!. For now, she can channel those struggles into iCarly — at least until she inevitably gets back together with her neighbor Freddie (Nathan Kress).
On the original iCarly show, Carly and Freddie were the main will-they, won't-they couple, but at the start of the reboot, they weren't together. "Neither of our characters' love lives are going very well on the show," Miranda Cosgrove told TV Line. "[Freddie's been divorced twice and] Carly doesn't have kids and has never been married, but every time she tries go on a date, it ends poorly."
But there may be hope yet for #Creddie. Cosgrove told TV Line that since Carly and Freddie are both single and friendly with each other, it's possible they'll reunite later on. "You never know!" she teased.