Stassie Steps Out
She loves being "Kylie Jenner's Best Friend," but there are some things you have to do alone.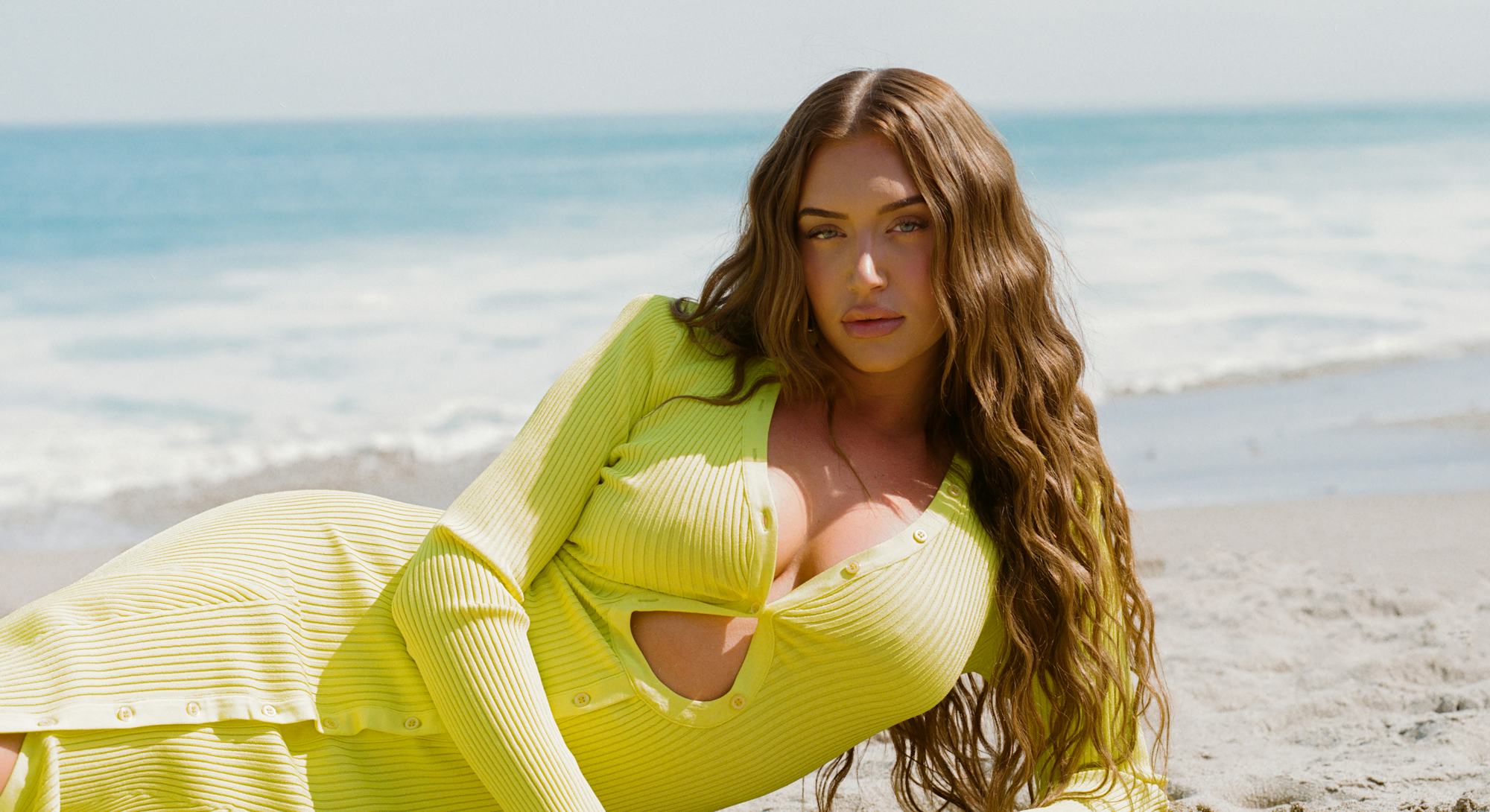 Stassie Karanikolaou has going out down to a science. If she and her girls want to be somewhere by 8, they'll start glam at 3. Yes, it's about looking Instagram-perfect, but it's also about setting their collective intention. "We always get ready together so it just starts the night out right," says Karanikolaou, who's better known to her fans as "Stassie Baby," a nickname born of her Instagram. The 24-year-old influencer's requisites for manifesting the perfect evening include a vodka soda with a whole lemon squeezed into it, her favorite YouTube hip hop playlist — "it's almost like [Spotify's] RapCaviar, but a little bit less aggressive" — and baking in enough time to capture plenty of social content.
"We get our TikToks [and] photos in before we leave the house because we don't know if there's going to be a cute photo spot at the restaurant," she explains. "So we've got to get the photos before as backup." This is when things take a chaotic turn. The ring light will get tossed around between whoever's on their TikTok grind; each friend will take a turn playing Instagram boyfriend for another, some better than others. The whole evening can quickly get derailed if somebody's unhappy with their photo bounty and needs a redo. Out of her friends, Karanikolaou says, Kylie Jenner and influencer Victoria Villarroel take "really good photos of me. I know who I go to first." Once the assets are secured, "We call our little Uber, and we go to dinner," where "the shots really start flying." They make decisions about the rest of the night on the fly, she says. "I like to live in the now."
There is no "I" in famous, and for Karanikolaou celebrity has always been a team sport. Throughout our Zoom conversation her phone lights up with notifications from her circle of mega-influencer friends, some of whom have a group chat named "The Main Act." Its members, who include Villarroel and her sister Sofia, Sydney Carlson, Kelsey Calemine, Noelia Ramirez, Olivia O'Brien, Drew MacDonald, and Carter Gregory are the kind of supernaturally attractive, eternally Instagram Faced 20-somethings you find in the VIP section of LA celebrity haunts like Nobu or The Nice Guy. For the past decade, Karanikolaou has been known primarily as a fixture of this group. When she got press, it was for her proximity to the people the paparazzi actually follow — Jenner, of course, and Noah Centineo, whom she was rumored to have dated when the success of To All the Boys I've Loved Before had anointed him Hollywood's hottest bachelor. There was even an (unsubstantiated) tabloid report that the two wed in Vegas. (Karanikolaou: "I did not get married.")
One of the few times the spotlight swiveled to her was for the who-don't-I-know flex she brought to the "I'm Busy" TikTok challenge, where participants FaceTime friends only to tell them they're too busy to talk. For Karanikolaou's rendition she called on everyone from Jack Harlow, to Charlie Puth, Blake Griffin, Pete Davidson, and even Drake. ("Me and my friend were sitting on the couch doing this for an hour. It was so entertaining.")
But last week, when Karanikolaou's 24th birthday party drew attendees like Hailey Bieber, Dixie D'Amelio, Winnie Harlow, and Kehlani, a GQ article bravely asked, "Who is Stassie Baby?" After years of being known only as "Kylie Jenner's best Friend," playing the safe, supporting role to one of modern celebrity's most intriguing main characters, Karanikolaou is ready to answer the question.
My mom struggles with addiction, so that was a big thing. We have a very distant relationship. I've seen her maybe a couple times in the past few years.
For Zoom, she trades her usual bodycon Mugler fits and fully beat face for a mostly makeup-free, athleisure look. It's the first time she's speaking publicly about her personal life — the real one, off Instagram — and she flips her hair behind her shoulders, then back in front, then back again. She's avoided self-disclosure so successfully until now that rumors about her past have occasionally emerged to fill the void. So to start, she wants to set the record straight about her upbringing.
People are quick to assume she comes from Calabasas-level wealth, she says, but she describes a middle-class childhood in Woodland Hills, one of the San Fernando Valley's more nondescript suburbs. "My mom struggles with addiction, so that was a big thing. We have a very distant relationship. I've seen her maybe a couple times in the past few years." Her dad worked 16-hour days as a key grip and leaned on Stassie's aunt and grandma for child care. "He did whatever he could to provide the best life that he could for me and my sister," she says. "He was there."
With her family life fractured, she found solace in friendships. "My friends have always been my rock," she says. "My friends are my family that I was able to choose." She first met Jenner at a Barnes & Noble, then the two reconnected at a friend's house in middle school. The pair had a sleepover that same night and have been inseparable ever since. "We know too much about each other. We're stuck with each other forever," Karanikolaou says.
Karanikolaou outlines her core commandments for friendship as the following. "Obviously never post photos where someone looks bad. Never go to an ex's party without making sure we don't care first," she explains. In Hollywood, where friendships come and go, Karanikolaou says the secret to lasting bestie-ship is "brutal honesty." "Tell me if my makeup looks bad. [Or] If someone does something that upsets you, [don't] just brush it off. Speak up and be like, 'Hey, just so you know this hurt me a little bit.'"
I've known this girl since I was literally 13. If you think that [because] we don't post a photo together for a month we're not friends, you're insane.
If sisterhood is the lifeblood of the Kardashian's ecosystem, best friendship is almost as essential. Each sister has her definitive bestie: Khloé's is Malika Haqq, Kourtney has Sarah Howard, and Kim's counterpart is the more limelight-shy Allison Statter. These figures serve as their aesthetic twins, photo shoot partners, and brand collaborators. (Howard is the chief content officer of Poosh, Haqq helped run Dash after the sisters retired from retail, and Statter has her very own KKW x Allison collection.) Karanikolaou and Jenner's friendship has eclipsed all others in its significance to fans, while managing not to mix business with pleasure. (The two don't have so much as a lip kit collab.)
Anytime Karanikolaou is linked to a new romantic interest, articles spring up about "how Jenner feels"; if they're not photographed together for a while, tabloids will begin to speculate that they're on the rocks. (The dramatic end of Jenner's friendship with Jordyn Woods didn't help.) As this story was being reported, a blind item began surfacing on Instagram questioning why "Kylie wasn't at her birthday party." Jenner later posted an Instagram story from Karanikolaou's real party, debunking the theory. "It's nuts because I'm like, 'I've known this girl since I was literally 13.' If you think that [because] we don't post a photo together for a month we're not friends, you're insane," Karanikolaou says.
But isn't there something radical about the public giving a female friendship as much emotional space, and scrutiny as a romantic relationship? It feels refreshingly reflective of the way many women in their 20s now organize their lives, where their relationships with other women are as meaningful and at times maddening as any romance. "Literally," Karanikolaou says. "We're going to move to a farm together and get married."
What most people don't realize about her relationships with Jenner and "The Main Act" is the degree to which those friends support and shield her. Despite her party girl persona, Karanikolaou says she experiences social anxiety. She's never gone on a first date with someone she doesn't know because, "My anxiety won't let me sit down to talk to one person that I'm not close with." She prefers partying with "like 10 of my girlfriends" because of her difficulty being around new people. That wariness might be left over from her rocky upbringing, she says. Strangers tended to ask questions about her home life that she didn't want to answer. "I felt like I had to hide it because I didn't want anyone to feel bad for me," she says.
Quarantine only heightened her social anxiety. While she and fellow influencers were filling our feeds with snapshots of not-so-socially-distanced gatherings — like the trip she took to Turks and Caicos to celebrate Jenner's daughter, Stormi's, third birthday — at home, Karanikolaou says, she and her friends were plagued with the same isolation-induced depression as the general population. "I'm sitting in my bed crying, but I'm posting a photo of me on a beach," she recalls. That's when she realized: "We need to start being real about the things that are happening behind the scenes, because if not, then how are we helping anyone? What's the point of all of this?"
That is, in fact, how she decided to do this story. "I'm not just a face and a body that everyone sees online. I have a lot of things that I deal with," she says. She does the usual things to cope with her anxiety, beyond worrying about her anxiety: journaling, working out, leaning on her dad. Starting to think about a future that includes but also reaches beyond the friend-family she has so carefully constructed. "Now that I'm being open about [my past] I feel like I can just be myself… Even in this interview."
Part of being herself is telling me that she is ready to capitalize on her 10.5 million strong Instagram following and build her own brand. She's working on a hospitality project that's currently under wraps. "It's one of the most inspiring things ever seeing my best friend build a whole empire," she says of Jenner's Kylie Cosmetics, valued at $1.2 billion in 2020. But Karanikolaou doesn't just want to be along for someone else's ride. After years of being Stassie Baby, "Entrepreneur Stassie is 2021 and 2022," she says, although her reasons for going out on her own differ from those of the youngest Kardashian. "Being able to take care of my family is something that really drives me," she says. "I want to take all the stress I can off of them."
But first, Karanikolaou really wants to join Calemine and Ramirez outside by her pool. They were prepping her for our call, asking her mock questions like, "So, what do you do," and "What are you working on right now?" While she was charmed by their effort, Karanikolaou concedes that it wasn't all that helpful. This time, she has to go it alone.
Top Image Credit: David Koma dress, Talent's own jewelry
We only include products that have been independently selected by Bustle's editorial team. However, we may receive a portion of sales if you purchase a product through a link in this article.
Photographer: Pavielle Garcia
Hair: Rikki Gash
Makeup: Elizabeth Seropian
Bookings: Special Projects