Naomi Ackie Has The Sweetest Things To Say About Her Co-Stars
The actor is starring in season three of Master Of None this month.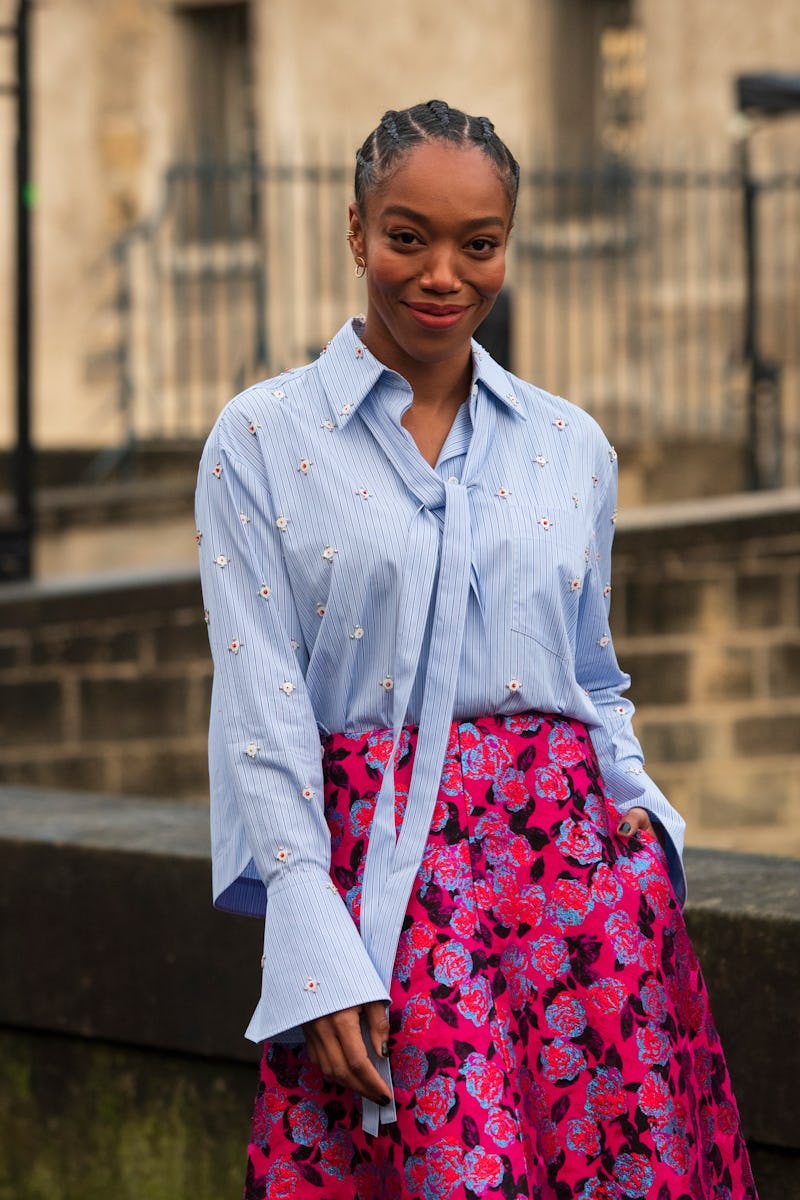 Kirstin Sinclair/Getty Images Entertainment/Getty Images
After four years, Aziz Ansari's celebrated series Master of None is back on Netflix. For season three, the romantic comedy-drama will follow Lena Waithe's character Denise and her wife Alicia, played by Naomi Ackie. The new series will chart the couple's life together and their emotional journey through IVF. It's an entirely different change of pace for Ackie, who many last saw as Stormtrooper Jannah in Star Wars: Episode IX The Rise of Skywalker, and the British actor's upcoming romantic role may lead some to ask, is Naomi Ackie dating anyone off screen?
Between her role in Master of None and an upcoming portrayal as Whitney Houston in a new biopic, it's safe to say Ackie remains firmly in the spotlight at the moment. However, by contrast, the British actor very much keeps her personal life on the DL. From what I can tell, the 28-year-old steers clear from social media too — so no Instagram stalking for potential other halves.
However, while the actor, originally from London, doesn't speak publicly about her dating life, she is very effusive when it comes to her friendships. For example, Ackie speaks highly of her Star Wars co-star John Boyega, telling Vanity Fair that her "best days" on set were spent with him.
Back in December 2019, Ackie also spoke to Bustle about her blossoming friendships with Star wars co-star Kelly Marie Tran. "I had never, in previous films, met someone who was so on my wavelength," Ackie revealed at the time.
In 2021, Ackie's portrayal in Master Of None is already receiving critical acclaim. Instead of focusing on Aziz Ansari's character, season three sees award-winning actors Waithe and Ackie portray married couple Denise and Alicia, respectively, and the difficulties of achieving IVF in a queer partnership.
For Ackie, the script felt super authentic, and she puts that down to the show's writers and her co-stars, Waithe and Aziz, whom she speaks very highly of also. Chatting to Variety about the new series, she said, "Because I don't feel that far away from Alicia as a person and the environment was so real — we had doctors around to tell us how you would put in the injections, what a woman would be feeling at particular times — and the script is so expertly written by Lena and Aziz, I couldn't help but kind of just be taken on that journey."
Season three of Master of None begins streaming on Netflix on May 21.