Fans Are Convinced Taylor Swift's "It's Time To Go" Is About This Former BFF
The "crook who got caught" might be a former member of Swift's squad.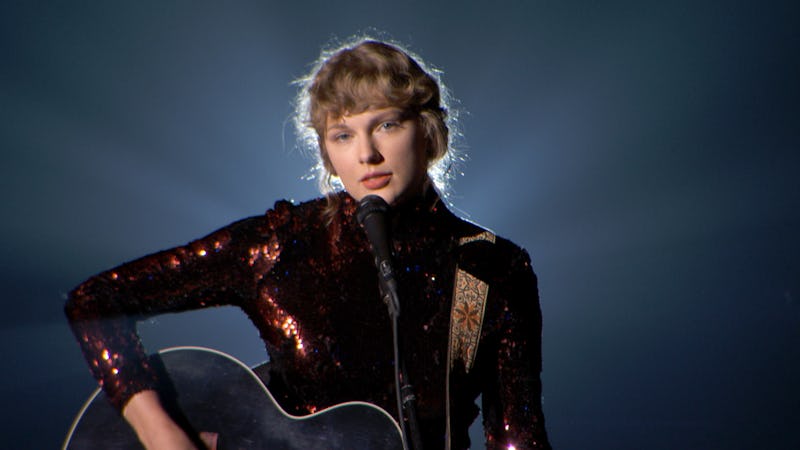 ACMA2020/Getty Images Entertainment/Getty Images
Just when it seemed there were no more Evermore lyrics left to decipher, Taylor Swift dropped two bonus tracks. The pair of songs — "Right Where You Left Me" and "It's Time to Go" — originally appeared on Evermore's physical deluxe version, but their Jan. 7 online release opened up the art of dissecting each of Swift's words to the masses. In this case, the 10-time Grammy winner made it easier by releasing official lyric videos the same day, and Swifties were quick to latch onto the theory that "It's Time to Go" is about Karlie Kloss, her former BFF and a member of the pop star's old squad.
"When the words of a sister, come back in whispers, that prove she was not, in fact, what she seemed," Swift sings in the track's first verse, which dropped the most clues. "Not a twin from your dreams, she's a crook who was caught." One fan shared the lyric and attached photos of Kloss with her manager Scooter Braun, who's notably Swift's nemesis, along with a screenshot of the model praising Kim Kardashian, another one of Swift's foes. Someone else chimed in to say that their theory "makes sense," pointing out that the media referred to the women as twins back in the day and zeroing in on that word in particular. (Glamour posted this article in 2014, for example.)
Other fans pointed to the obvious references to Braun and Big Machine Label Group founder Scott Borchetta, with whom Swift has had a well-publicized feud and battle over ownership of her music. "Fifteen years, fifteen million tears, begging til my knees bled," she sings. "I gave it my all, he gave me nothing at all, then wondered why I left. Now he sits on his throne, in his palace of bones, praying to his greed. He's got my past, frozen behind glass, but I've got me." Fans online think that Kloss' ongoing professional relationship with Braun very well could have been the betrayal that connected her to the song.
Add to the evidence file that the other bonus track, "Right Where You Left Me" begins like this: "Friends break up, friends get married / Strangers get born, strangers get buried." Several fans believe the two songs are part of the same narrative and that this line is a clear reference to her reported friend breakup with Kloss. (Others have pointed to an actual "Kaylor" breakup.) Although the pair has never confirmed a falling out, Swift famously did not attend Kloss' wedding to Joshua Kushner in 2018, hence the "friends get married" bit. "Strangers get born," then, could also refer to Kloss' current pregnancy, some guessed.
Whether or not Kloss is actually the "crook" Swift was referring to, the world may never know.