The Nevers Brings The Victorian Era To Life Like You've Never Seen
It's a superhero period piece.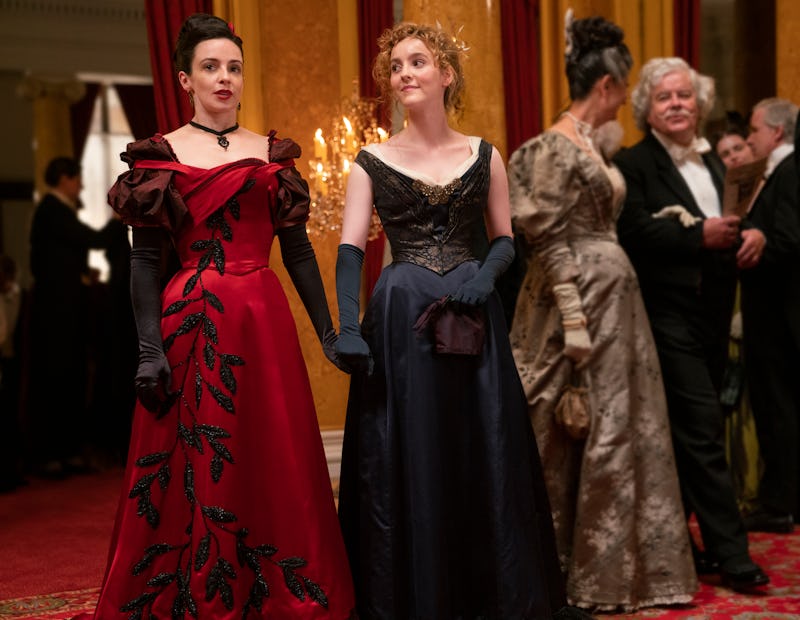 Keith Bernstein/HBO
HBO's The Nevers blends the customs of the Victorian era with the stuff of science fiction when in 1896 a strange event in London leaves hundreds of citizens with special powers. It sounds like it could be the plot of a steampunk novel, but The Nevers isn't based on a book. The idea comes from Joss Whedon, who's known for creating shows like Firefly and Buffy the Vampire Slayer. (Whedon has since stepped down from his roles on The Nevers after allegations surfaced of workplace harassment on some of his other projects. Explaining his decision to step down, he said in a statement, "I am genuinely exhausted, and am stepping back to martial my energy towards my own life.")
The Nevers explores what happens when people who are traditionally undervalued in that Victorian society (women, Black people, etc.) gain superpowers. The title refers to how the public looks at the people who have received these new abilities.
"They, themselves are not called [the Nevers] in the show. It's a phrase that's meant to evoke a sort of reaction to their oddity, to what is considered unnatural. The idea that you should never be like this, you should never have existed," Whedon told IGN in a 2018 interview. "But to me, it's one of those things where you take something negative, and you wear it as a badge of honor, basically. Certain things could never happen — they're happening. And the people they're happening to are taking their place in the world."
He added in that interview that he'd been wanting to do a Victorian-era project for a while. "I just love that era; I love that stuff; it's fascinating to me," he said. "Particularly the end of the century, when the world was just about to shift radically." He said that he wanted to tell a sort of Dickensian story about many characters in the era, almost like a superhero period piece. It's not the first time he's attempted to dip into the 1800s for a story. IGN reported that he'd spoken in 2015 about writing a comic about a superhero in the Victorian era. It's not dissimilar to what The Nevers became, while the comic has yet to materialize. "I don't know what'll happen with [the comic]. If they cancel each other out, I don't know yet," Whedon told IGN.
It's possible that if a lot of people watch The Nevers, a tie-in comic book or novel could be in the future. There are a ton of books about Buffy the Vampire Slayer now, although that show was also not based on a novel to begin with. And in the meantime, there are other stories fans can check out that evoke similar themes or settings as The Nevers. The whole idea of individuals with strange powers coming together evokes comic books and graphic novels like X-Men and the Umbrella Academy. Gail Carriger has also written several steampunk novels that Nevers viewers might like. There's Soulless, a paranormal romance novel about a woman without a soul, and Etiquette & Espionage, the kickoff to a YA series about a finishing school that isn't quite what it seems. And perhaps soon a Nevers tie-in novel will add to the genre about women who don't mind breaking the rules of the Victorian era.