Uhtred From The Last Kingdom Is Loosely Based On This Real Warrior
The BBC-Netflix series blends historical fact and fiction.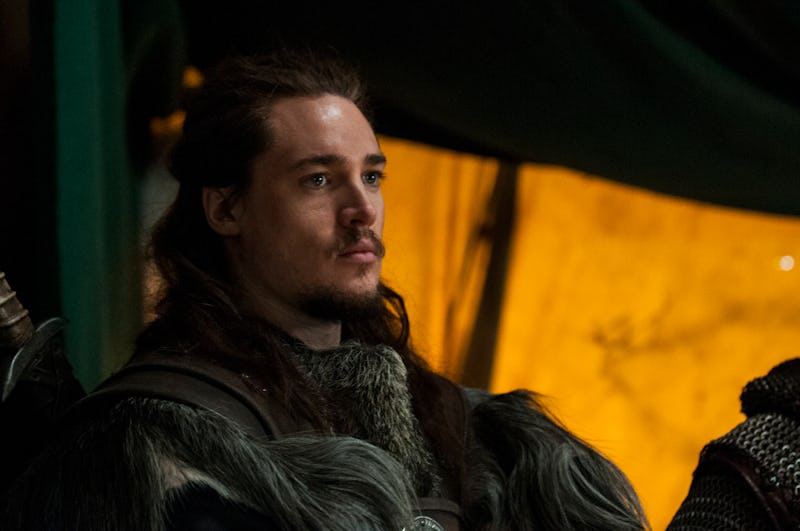 Kata Vermes/Netflix
If you've ever logged into Netflix looking for a Game of Thrones-esque action show, you've probably heard of The Last Kingdom. Now heading into its fifth and final season, The Last Kingdom follows the Northumbrian Uhtred of Bebbanburg as he defends his medieval home and family in 9th century England. It's based on Bernard Cornwell's novel series The Saxon Stories and offers a blend of real life history and fiction. But while the series does explore a number of real battles and occurrences that happened when England was still a series of independent kingdoms, the lead character — Uhtred — is only loosely based on a real person. "Uhtred [was] a significant person in Northumbria in the early 11th century so there certainly was a historical Uhtred, just not in the 9th century," early medieval history professor Ryan Lavelle explained to Den of Geek in 2020. "Most of the Northumbrians in this period had to have some kind of Danish connection in order to survive, so it's likely he did."
In a 2015 profile for The Guardian, Cornwell said that The Last Kingdom was inspired by the exploits of real Saxon king Alfred the Great, who Uhtred serves under in the show. "Even though Uhtred didn't exist as I have written it, there is always that big story (of Alfred and his son Athelstan) in the background," Cornwell explained. He added that he was particularly inspired to create Uhtred due to his own personal connection to history: Cornwell was adopted, and when he met his real father, William Outhred, for the first time, he learned that their family tree went all the way back to the 6th century.
"I saw this name Uhtred. He said they lived at Bamburgh castle. Once I realized I was descended from this man who was the Lord of Bebbanburg, that was it. I had to write a book about the creation of England," Cornwell told The Guardian. "Most historical novels have a big story and a little story, and the big story is the true story. I didn't see a way into that little story until I met my real father."
In the show, Uhtred is a Northumbrian Saxon nobleman's son from Bebbanburg who is orphaned as a child and raised by the Danish warlord who defeated his father. The series, in part, explores his persistently split loyalties between his Saxon heritage and his Danish upbringing. What starts out as a straightforward mission to reclaim his ancestral homeland soon becomes a sprawling epic as Uhtred finds himself in the Kingdom of Wessex, the lone Anglo-Saxon kingdom standing up against the invading Viking settlers. Alfred the Great has dreams of uniting England as a single nation — which his grandson achieved in real life — and Uhtred is Wessex's best warrior.
As Professor Lavelle said, there was a famous historical figure named Uhtred the Bold, who was the Earl of Northumbria — but he was born about 100 years after the actual Alfred the Great died, so they wouldn't have known of each other. In addition to that timing issue, Uhtred's family is very different on television than it was in real life. The Last Kingdom sets Uhtred up to be both Danish and Saxon in order to have him bring the two peoples together — but in reality, Uhtred the Bold wasn't raised by Danes and definitely didn't fight with them.
Throughout the seasons, there are a number of real events that happen through Uhtred's eyes but that gloss over his own role in them in order to show the real history. For example, according to History Extra, Uhtred plays an important role in Season 1's battle of Cynwit in Devon, but The Last Kingdom attributes the victory to Odda the Elder, in accordance with what happened in real life.
"I do play merry hell with history at times, but I always admit to it," Cornwell told The Guardian. "I think you have to. Historical fiction is a gateway to real history, and I think you owe it to the reader to say, 'Look, you can find out more by following these clues.'"
It's that blending of truth and fiction that made Uthred so fun to play for actor Alexander Dreymon. "Even though he is super cheeky and he can totally be a d*ck, he's very truthful, very loyal, very trustworthy," Dreymon told Syfy in 2018. "He's being tested from both sides again and again and being distrusted, [but] the truth is that he does do what he says, and is a man of his word."
This year, audiences will finally get to see a resolution to Uhtred's story. Season 5, which is based on the ninth and 10th books in Cornwell's 13-part series, will follow Uhtred as he's charged with training King Edward's first-born son Aethelstan as a warrior, ultimately realizing that his destiny is not just tied to Bebbanburg but to the future of England itself.
This article was originally published on