Jack From The Circle Isn't Afraid To Be This Season's Villain
He's willing to do whatever it takes for that $100,000 prize.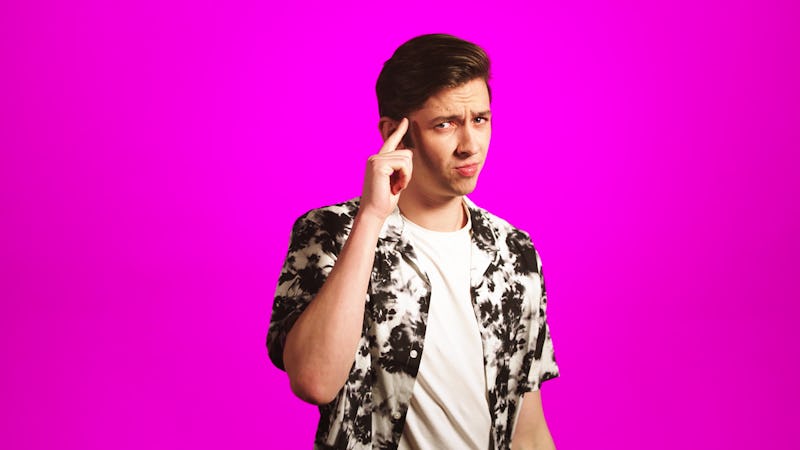 Courtesy of NETFLIX
Don't make the mistake of underestimating Circle Season 2 contestant Jack Atkins because he's young: according to a recent tweet from Netflix, he "isn't afraid to go down as the biggest villain in The Circle history."
Though the 20-year old college student introduces himself on the show as a "bit of a nerd" who likes to "geek out" on things, he also says he wants to play a very "strategic, cutthroat, and manipulative" game. However, he's worried the rest of the cast will see his "big, goofy ass" and know he's cunning. So, he decides to enter The Circle as his friend Emily, a 21-year-old sorority girl. "She's cute, short, sweet, easy to talk to. Everyone's gonna love her," Jack explains. "I think people will be like, 'That's a face I can trust.'"
In order to pull of the role, Jack said he did extensive research — namely, marathoning "chick flicks" and Selling Sunset. "I think I'm the ultimate wolf in sheep's clothing," he continues, adding that he's willing to lie, cheat, or steal to win that $100,000 prize. "When it comes to strategy, there's no f*cks given. Morals get outta here. I don't wanna see ya."
Will that approach be worth it in the end, or will such an aggressive strategy come back to bite him? We'll have to watch and see. In the meantime, here's what else to know about Jack. Er, Emily.
Jack's College Is Far From His Hometown
Jack is currently attending the University of Chicago, where he is set to graduate in 2022 with a degree in economics. The 20-year-old grew up in New Haven, Connecticut and has at least one brother.
Jack's Instagram Is Pretty Sparse
Jack's Instagram page looks similar to any typical college student — he has just 1,700 followers, and most of his photos show him with friends hanging out or drinking (he also appears to be a member of UChicago's Delta Upsilon frat). Jack doesn't have many pictures on his Instagram: he has only 21 posts in total, dating to his first day of college in 2018. But the photos he has posted make it clear that he loves to travel. Prior to the coronavirus pandemic halting most international travel, he'd taken a trip to South Africa, where he took photos in Cape Town and at a South African game resort. More recent photos show him on the water — either at a beach or on a boat.
See how he fares on The Circle when Season 2 premieres April 14.