Where To Follow All Of The New Circle Season 2 Competitors
The hit series returns on April 14.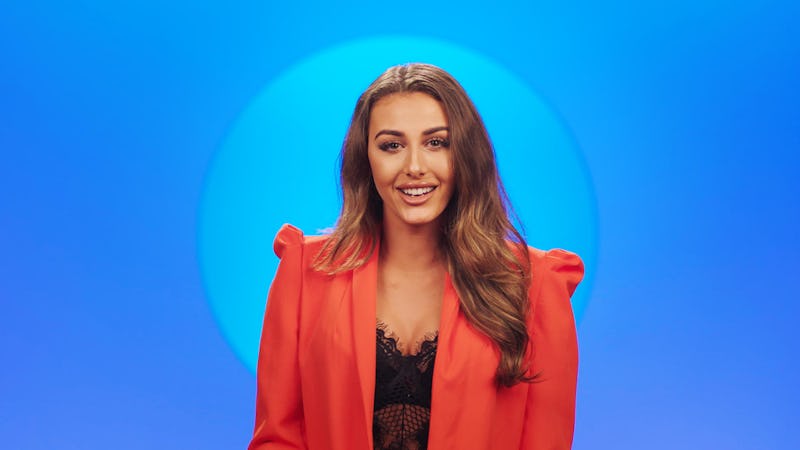 After spending the last year stuck inside, perpetually scrolling through social media, it's time to sit back and watch a cast of players do the same on Netflix's The Circle. The hit reality series follows a group of contestants isolated in small apartments as they communicate with one another through a social media platform created specifically for the show. Players give each other rankings after their conversations, with the highest-ranked players becoming "influencers" and the lowest-ranked getting "blocked" — and possibly sent home. However, it's a reality competition, which means there are many twists and turns, including that players can catfish one another in order to earn higher rankings and hopefully take home the $100,000 prize.
Season 1 of The Circle came into subscribers' lives on Jan. 1, 2020, and after a year-plus wait, Season 2 will premiere on the platform on Wednesday, April 14. It'll continue to air on Wednesdays, with the finale dropping on May 5, but Netflix reality fanatics shouldn't fret — another one of the streamer's hit competition shows, Too Hot To Handle, will return for its own Season 2 the following week. The two shows airing back-to-back is fitting as the cast of The Circle Season 2 includes Chloe Veitch, who competed on Season 1 of Too Hot To Handle.
As for the rest of the cast, we don't know much about them just yet. But considering how important crafting a social media persona is to the competition, let's take a look at the cast of The Circle Season 2 cast's Instagram accounts.
Chloe Veitch
With 1.4 million followers to her merit thanks to her Too Hot To Handle fame, Chloe Veitch is already an expert on cultivating a social media personality. Her Instagram page includes many posed photos of herself at events, going shopping, or spending a day at the beach.
Deleesa Unique
A self-described "Mompreneur," Deleesa Unique's Instagram grid features many photos with her daughter Toni, as well as posts supporting social causes like Black Lives Matter and images from responsibly-masked outings. She also has multiple YouTube channels for beauty, family, and prank-related videos and a clothing boutique called Be Unique Shoppe.
Lee Swift
The eldest cast member this season, 58-year-old Lee Swift's Instagram page reveals that he's not only a published author, but he writes under multiple monikers, including Kris Cook — who has an IG page of his own — and ghostwriting with Lana Lynn, among others. According to his account, Swift identifies as gay and is preparing to release a romance novel titled Gabe's Story.
Courtney Revolution
Contestant Courtney Revolution's Instagram page labels him a "Digital Creator" and co-host of a podcast titled Overheard In The Pantry. His grid includes photos with his friends (including YouTuber Ricky Dillon), promotional posts for his various creative endeavors, and sponsored posts for Durex condoms — specifically XXL ones.
Jack Atkins
The Circle player Jack Atkins' Instagram account only features 20 posts, but there's still a lot to learn about him. Per his bio, Atkins graduates from the University of Chicago in 2022, and he belongs to the school's Delta Upsilon fraternity. Many of his photos feature him posing with his fellow frat boys or in front of grand outdoor landscapes.
Savannah Palacio
Contestant Savannah Palacio appears to already be an influencer in her own right, as her Instagram page currently boasts over 215,000 followers. Her well-lit, aesthetically-pleasing posts include many OOTDs and selfies, and they often promote beauty, wellness, and lifestyle products.
Bryant Wood
With 479,000 followers and counting, cast member Bryant Wood has already cultivated a strong and spiritual social media brand. Wood's Instagram page reveals that he teaches meditation around the world, co-founded a lifestyle brand called Modern Nirvana, and regularly attends spirituality-focused events, including a recent week-long Ayahuasca retreat.
Terilisha
Simply identifying with a single name, contestant Terilisha's Instagram page informs us that she's a recording artist, songwriter, and actress who released an EP of original music titled The Blue Heart in 2019 that's amassed over 200,000 streams on Spotify. Her grid features selfies, promotional posts for her music, and footage from various performances.
Stay tuned for the rest of the contestants' Instagram pages (including maybe Lance Bass?), which will be added to this post as Netflix reveals their names. And be on the lookout for which contestants decide to catfish as someone other than themselves!