Jamie Dornan & Amelia Warner's Super Sweet Relationship Is Total Couple Goals
They like to keep their family life on the DL.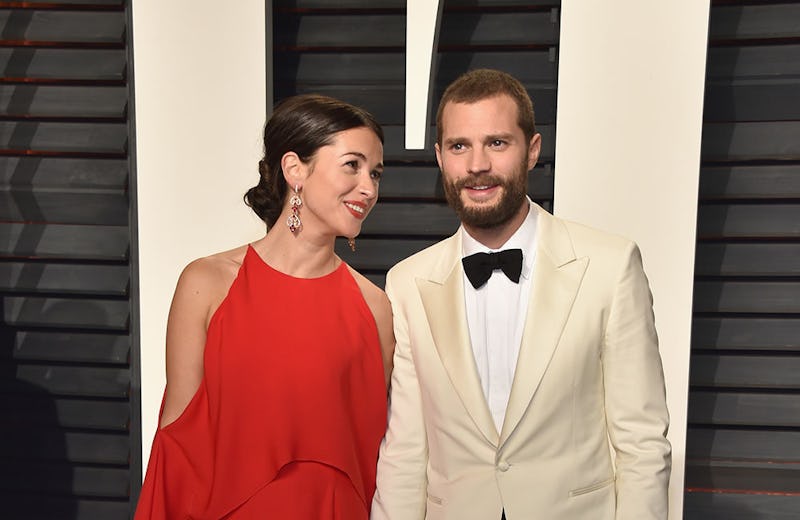 Pascal Le Segretain/Getty Images Entertainment/Getty Images
Jamie Dornan may play a total commitment-phobe in the Fifty Shades of Grey series, however the reality couldn't be farther from the truth. It turns out that the Irish actor is a happily married family man and it's a big departure from his character Christian Grey; though IMO it's a different kind of sexy and I'm totally here for it. Jamie Dornan and Amelia Warner's relationship seems relatively low-key and private though the The Fall actor has opened up about their romance in the past.
According to the Independent, Dornan has been in a relationship with British musician Warner since 2010, and the pair married in 2012. Their love story began back in 2007 when Grazia claims they met at a party. Once a couple, they later moved in together in Notting Hill. (My inner Notting Hill fangirl is seething with jealousy.) He revealed he was completely and utterly enamoured with her from the moment they met.
Dornan told the Belfast Telegraph, "I was smitten with her from the start, I really was. I'm more in love with her today than I was at the start."
The couple have three daughters. Dulcie is six, Elva is four, and in March 2019 the couple announced the birth of Alberta. In a post after the birth of their third daughter, Warner wrote, "so proud of these three glorious girls, it's an honour being their mummy... Feeling incredibly lucky today."
Dornan got his first acting break in Shadows in the Sun in 2009. However, it's likely you know him best as the brooding Christian Grey from the Fifty Shades franchise. His role definitely came with a lot of mixed attention. However, Warner revealed that the couple have been able to avoid any negativity tied to the franchise for the most part.
She told the Independent, "Nothing has really changed in our lives since Fifty Shades. The biggest change for us was having kids. We now live in the Cotswolds, rather than London. We are very removed from all the hype. I don't see that stuff in the papers."
In fact, she doesn't see much of Fifty Shades as all, as she explained to the paper that she hasn't watched any of the films that made her husband a household name but that's "not to say [she] won't".
In all honesty, she's probably too busy with her own career in the music industry, where she performs under the name Slow Moving Millie, to pay much attention to the press. She had a pretty hectic 2017, as she released a new EP called Visitors and also created the soundtrack for the period drama Mary Shelley starring Elle Fanning, Maisie Williams, and Douglas Booth. She also created the music for the 2011 John Lewis ad, where she covered The Smiths' "Please, Please, Please let me get what I want."
During lockdown Warner released her EP "Haven." It came out on June 2020 and she wrote and produced it at home during her third pregnancy. Speaking to the Sunday Post about the release Warner said, "I was in a different form of quarantine, I guess, the quarantine of having just had a baby, when you're in this funny existence of not being quite in the world, you're inhabiting your own world. Also, we'd just moved house a week before we had her. It was a really special time and I felt this overwhelming sense of being in the right place and being home."
Prior to tying the knot with Jamie Dornan, the Independent reports Warner was previously (kinda) married in a "non-legal ceremony" to another familiar Irish face — Colin Farrell. Their 2002 relationship didn't last long however, as they broke up four months later.
If you had any doubt that Dornan was a pretty involved dad, he opened up on The Ellen Show about the preparation for his eldest daughter Dulcie's birthday parties. He revealed that she was pretty partial to Winnie the Pooh and that they'd had a couple of parties themed around the gang in the Hundred Acre Wood, which sounds like it was more fun for him than it was for her TBH.
"So I'm Tigger every year," he told the host, who then pulled up a massive photo on the screen behind them of Dornan dressed in a Tigger costume."
He clearly had a lot of fun at Dulcie's bash and kept the party going long after the guests had left, as he admitted, "I'm drunk in that picture. That's not early on, that's after the kids have gone."
Sadly however, Dornan has had to hang up his Tigger outfit as Dulcie's apparently moved on from Winnie the Pooh. He explained that for fifth birthday, she had chosen a disco theme after finding a very retro light in the Dornan household and became obsessed with it. TBH after Mamma Mia: Here We Go Again, I'm all for a revival of the genre and I stan this disco queen's taste.
He doesn't seem super jazzed though, as he joked, "We're all going to gather around a light and eventually bring in a cake."
I mean, I get it. It's not quite on the same level as getting drunk in a Tigger costume. He admitted glumly, "I was quite said about [the end of the] Winnie the Pooh thing. I quite enjoyed that."
Dornan hung up his riding crop and blindfold, as the Fifty Shades of Grey franchise came to an end with Fifty Shades Freed in 2018. Since then he's taken on a variety of roles, proving he's not about to be type-cast. He played Paul Conroy in A Private War in 2018, in the same year he starred opposite Peter Dinklage in the TV Movie My Dinner with Hervé. In Aug. 2020 his will they/won't they rom-com with Shailene Woodley Endings, Beginnings will be released and if you can't wait until then The Fall, the crime thriller that Dornan starred in for three seasons is coming to Netflix UK.
You can watch The Fall on Netflix UK from August 1.
This article was originally published on