Jennifer Aniston Loved Mariah Carey's Old "Rachel" Hairstyle Throwback
The Friends star thought the singer nailed the iconic '90s look.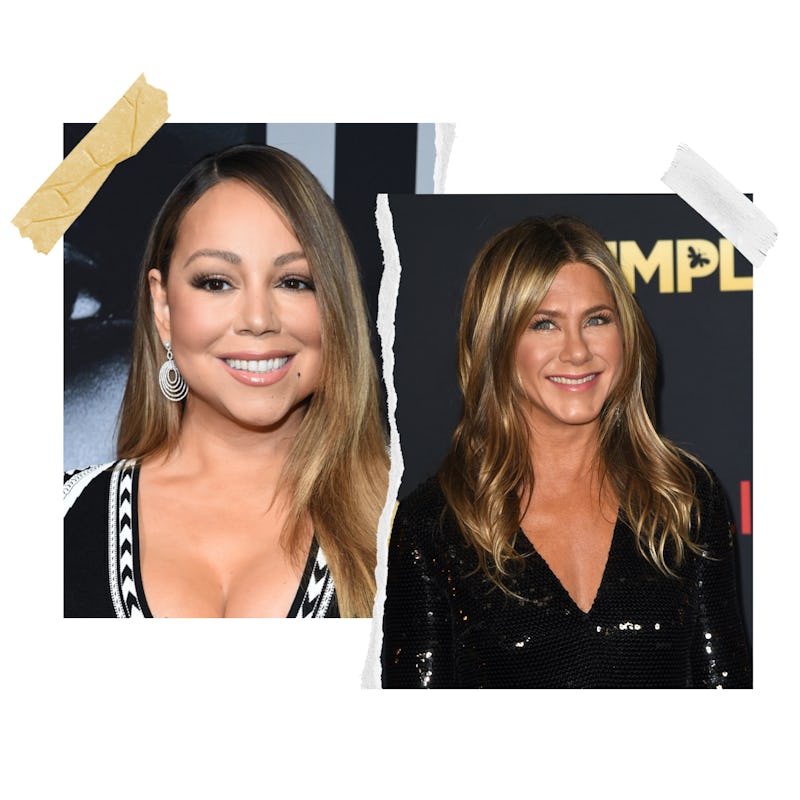 Kevin Winter/Getty Images Entertainment/Getty Images/Jamie McCarthy/Getty Images Entertainment/Getty Images
Who didn't try this iconic hairstyle in the '90s? "The Rachel" hairdo was in the spotlight again on Friday, May 28, when Mariah Carey posted a throwback photo on Instagram of her "sad attempt" at it. The Butterfly singer may have been unimpressed with her former look, but it won Jennifer Aniston's approval. The Friends star commented, "LOVE IT" with a fire emoji, as spotted by Comments By Celebs.
"The Rachel" was the layered bob hairstyle Aniston's Friends character had during the first season of the television show. The look became popular in the 1990s following the massive success of the series. Carey's throwback to the once-ubiquitous hairdo came just a couple of days after Friends: the Reunion aired on HBO Max. The special, which was hosted by James Corden, brought back the entire original cast, including Aniston, Courteney Cox, Matt LeBlanc, Lisa Kudrow, Matthew Perry, and David Schwimmer to discuss behind-the-scenes moments, memories, and secrets from the show.
It's clear that Carey wasn't the only one feeling nostalgia for "The Rachel" following the Friends reunion, as her friends and fans chimed in on the singer's post. Little Fires Everywhere star Kerry Washington wrote, "Nailed it!!!!!!!!!," while another fan commented "SAD? this s one of my favorite hair looks!"
While Aniston approved of Carey's attempt at "The Rachel," her own mixed feelings about the hairstyle have been well-documented over the years. The Friends star's longtime hairstylist Chris McMillan invented the look, telling The Telegraph in 2016 that the actor originally had "really long hair with a fringe" until he suggested growing out the bangs and getting highlights. "It was a really fun cut and different to anything else around at the time," he said.
Aniston, on the other hand, looks back on the hairdo less fondly. In 2011, the Morning Show star didn't mince words about "The Rachel" in an interview with Allure. "I love Chris, and he's the bane of my existence at the same time because he started that damn Rachel, which was not my best look," Aniston told the publication. "How do I say this? I think it was the ugliest haircut I've ever seen."
In 2018, Aniston noted "The Rachel" is difficult to pull off without McMillan's professional help during the InStyle Awards, according to People. "I got that haircut and was like, 'Wow this is amazing,' and then I was totally left with this frizzy mop on my head, because I had no idea how to do what he did," she said. "Nobody seems to know how to do what Chris does." Still, it didn't stop a generation — including Mariah Carey — from trying to emulate the look.