These 10 Set Secrets From The 'Friends' Reunion Will Change How You View The Show
Matt LeBlanc's prank on Courteney Cox was so savage!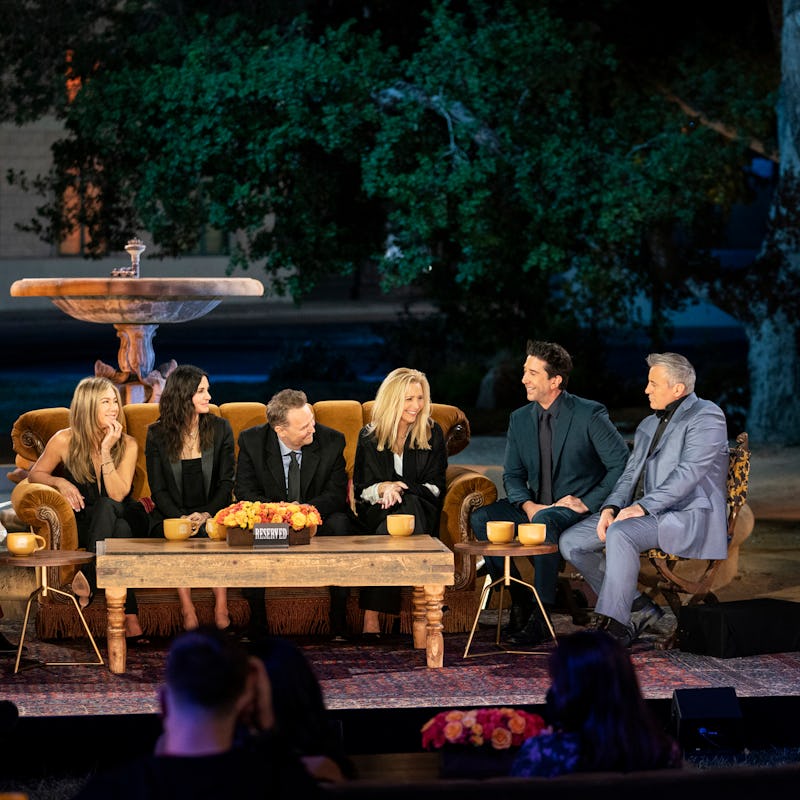 HBO Max
Seventeen years ago, NBC aired the final episode of Friends — you know, the one where Rachel got off the plane, and Chandler and Monica brought home (surprise!) twins. A lot of time has passed since the series finale, but you wouldn't know it by the way the cast strolled onto the set for the much-anticipated HBO Max Friends reunion special. The world they stepped back into was far from a "hot set," of course. Instead, the original sound stage, Stage 24, had been carefully reconstructed over the course of three weeks to capture the one-of-a-kind environment the friends called home for 10 seasons — but the cozy purple walls, apartment decor, and Central Perk vibes felt as familiar as ever.
The heartfelt reunion marked the first time the entire core cast of Jennifer Aniston (Rachel), Courteney Cox (Monica), Lisa Kudrow (Phoebe), Matt LeBlanc (Joey), Matthew Perry (Chandler), and David Schwimmer (Ross) had all been in the same place in almost a decade, as Schwimmer told People. Naturally, the tears flowed. And fortunately for us, so did the secrets and inside jokes. Here are some of the most surprising behind-the-scenes secrets revealed during the Friends reunion on HBO Max, including a real-world crush, a clever way of memorizing all that iconic dialogue, and more.