Jessenia From BiP Is Still Close With Some Women From Matt James' Bachelor Season
You'll remember her as the contestant who had a tense two-on-one with MJ.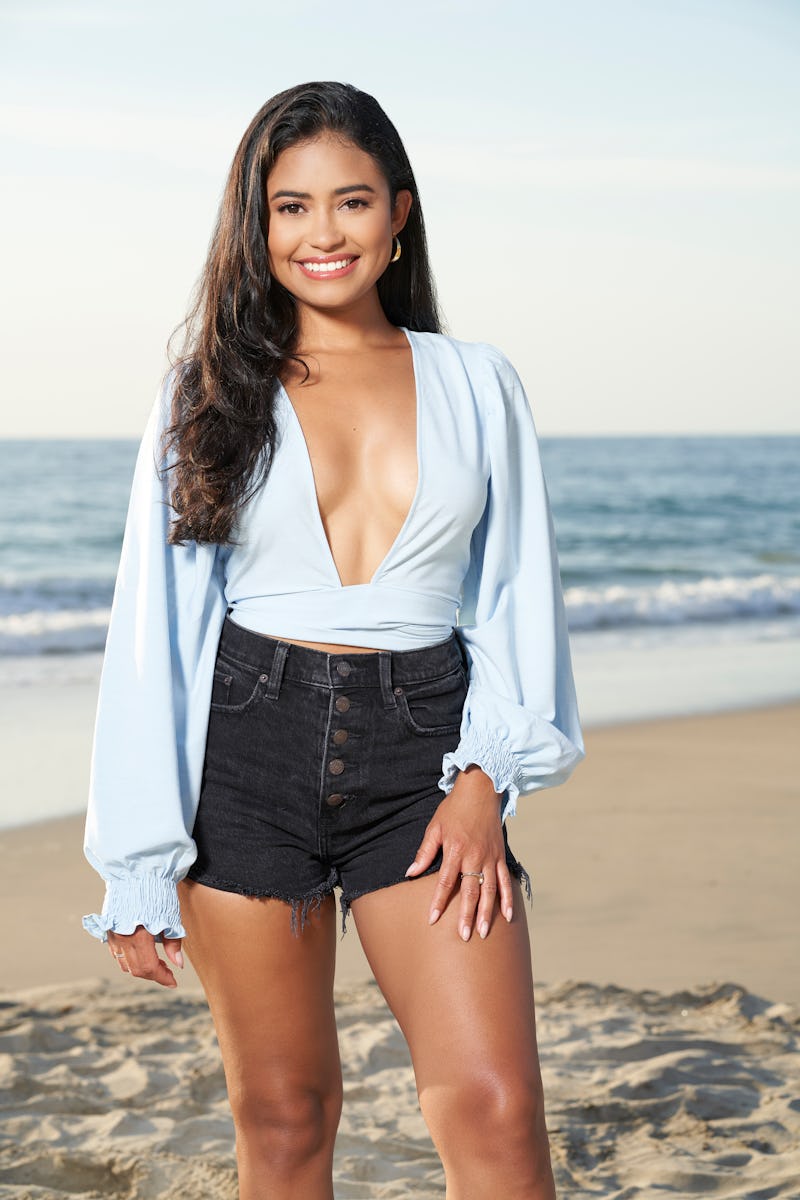 ABC/Craig Sjodin
Bachelor contestant Victoria Larson may have listed her job title as "queen," but her co-star Jessenia Cruz actually is one. She competed in pageants in her native state of Texas, receiving the title of Miss El Paso in 2016. But don't expect her to win Miss Congeniality: she's opinionated, honest, and not afraid to ruffle some feathers, having gotten involved in "more than a little drama" while competing on Matt James' Bachelor season.
Jessenia's biggest confrontation was with MJ Snyder, who she accused of bullying new cast members. Their friction came to a head prior to the Week 6 rose ceremony, when Matt sat the two down to hash it out. Though MJ went home after the impromptu two-on-one, Jessenia later got alone time with Matt, who eliminated her too because he wasn't feeling a spark.
Now, Jessenia will look for love once again on Bachelor in Paradise Season 7, premiering on Aug.16. (The BiP trailer hints that she and Ivan Hall will hit it off). Here's what else to remember about the 28-year-old.
Jessenia's Job & Interests
Jessenia graduated from the University of Texas at San Antonio with a bachelor's degree in communication and media studies. According to her LinkedIn page, she now works as a social media director. Beginning in February 2020, she listed herself as a sole proprietor of a San Antonio social media marketing company contracted with Syndicate Media Group and Team Keto LLC. She previously did social media for Camilla Crown, LLC and GAL Fashion, and also served as an Abercrombie & Fitch brand rep from 2013 to 2016.
Outside of work, Jessenia loves to do escape rooms and write short stories. Her first language is Spanish, but she's currently learning French. Fun fact: she's ambidextrous.
Jessenia's Pageant History
After finishing as third runner up in 2015, Jessenia was crowned Miss El Paso 2016 as well as Miss Photogenic. "There are no words that could describe how amazing this moment felt," she wrote on Instagram, reflecting on her time in the role. "My year as Miss El Paso is one I'll never forget. I have learned so much about myself, and with the support and guidance of those closest to me, I have grown immensely, and I know I will continue to grow."
Jessenia's Instagram
Jessenia's Instagram used to be devoted to her pageant days, but more recently, she's been showing off her travels to places like New York City and San Diego, which she visited with current Bachelorette Katie Thurston and a number of other women from Matt James' Bachelor season.
While the season was airing, Jessenia and 24 other contestants who identify as Black, Indigenous, or persons of color (BIPOC) released a statement addressing Rachael Kirkconnell's past racist behavior, Chris Harrison's controversial interview with Rachel Lindsay, and the franchise's general mishandling of race."Rachel Lindsay continues to advocate with 'grace; for individuals who identify as BIPOC within this franchise," the statement read in part. "Just because she is speaking the loudest, doesn't mean she is alone. We stand with her, we hear her, and we advocate for change alongside her."
Following the Women Tell All special, Jessenia reflected on her Bachelor experience in a March 4 Instagram post. "Being part of this show is by far one of the most exciting, fun, and nerve-wracking moments in my life, and I'm happy I got to share those moments with these amazing women," she wrote. "But I won't lie, it was also one of the hardest times I've been through. My best moments and not-so-best moments, like every person has, displayed on TV for everyone to see. 'Reality' TV will always remain a mystery to those who only get to see it through the screen, and I hope you all take the time to get to know us as time goes on. The drama is dead and done, and although they're not all pictured here, I have love for every single woman I met on this journey."
Indeed, she's remained close with several of her former castmates, most recently sharing a photo of a reunion with Bri Springs and Chelsea Vaughn in New York City on July 22.
What Jessenia's Looking For
In her Bachelor bio, Jessenia said that her significant other must love dogs, because she has three of them. She also noted that she "loves a man who takes initiative, is adventurous, and who will keep life exciting and unpredictable," adding that she wants to find a travel partner "who will also indulge in a fabulous staycation."
As for turn-offs, the one thing she "cannot stand is a man who will not get off their phone, especially if it's during date night." In an interview with the website Bachelor Nation, she said that she learned on The Bachelorthat "wearing your heart on your sleeve isn't so bad, even when you're at risk of getting hurt." The best way for a man to get her attention on the beach? "Make me laugh! (Or bring me a good margarita.)"
This article was originally published on