Meet The 32 Women Competing On Matt James' Season Of The Bachelor
Among them are a "queen" and socialite.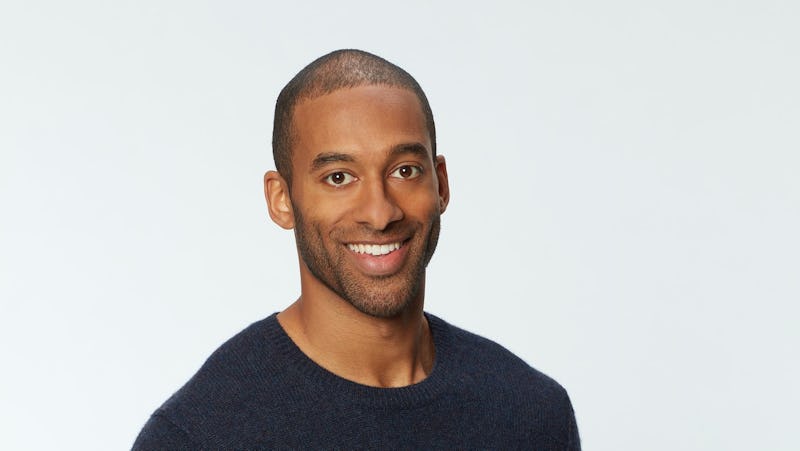 ABC/Craig Sjodin
Just a few weeks before Matt James begins his capital "J" Journey to find love on The Bachelor, ABC has officially revealed the 32 women vying for his heart. Series host Chris Harrison announced Matt's Bachelor contestants in a live video on Friday, Dec. 11, explaining that Matt being a "newbie" on the show had its pluses and minuses throughout filming. "On night one, I had to tell him what a rose ceremony was and ... how to give out a rose," Harrison said. "There were [a lot of] genuine, sweet moments because he just didn't know what to do [sometimes]."
Nonetheless, announcing Matt — who was originally slated to compete on Clare Crawley's Bachelorette season before being picked early as Bachelor — so far in advance led to a record number of applicants. "We have never had such a big response," Harrison added.
ABC initially cast Matt because he's best friends with Tyler Cameron, who made it to the final four on Hannah Brown's Bachelorette season. And he already has a clear idea about the type of woman he'd like to see his BFF end up with on the show. "I think what you're going to look for is someone who kind of resembles his mother," Tyler said during an episode of The Bachelor: The Greatest Seasons — Ever! in June.
"His mother is one of the sweetest ladies, very loving, caring, compassionate, ready to serve others, help out in the community." He continued by adding that Matt needs "someone who is ready to get on the ground with Matt and change the world, because that's what Matt is going to do. Matt's going to change the world. And [he needs] someone that's going to take on that challenge with him."
Meet the 32 women hoping to be that person below.
Abigail
Abigail is a 25-year-old client financial manager from Beaverton, Oregon. She's the first hearing impaired person to ever be featured on the Bachelor franchise, and Harrison teased that she "makes a very strong first impression on Matt."
Alana
Alana is a 26-year-old photographer from Toronto, Canada, who Harrison said reminds him of Season 11 Bachelorette Kaitlyn Bristowe. "I'm not going to say the boldest, but [she] definitely [had] one of the boldest entrances of the season," Harrison teased. "I'll just give you a hint: Lady and the Tramp."
Alicia
Alicia is a 24-year-old professional ballerina from New York City, New York, who dances for the acclaimed Dance Theatre of Harlem. Harrison teased that she has a "truly amazing" family story that sounds like it was "ripped out of a novel."
Amber
A 30-year-old nursing student from Costa Mesa, California, Amber is a single mom to a 13-year-old. Her life revolves around her son, so this is her opportunity to "really step out and find love," Harrison said. She also likes to say "meow" instead of "excuse me" — as in, "Meow, can I steal Matt for a second?"
Anna
Anna is a 24-year-old copywriter from Minnesota who's currently living in Chicago. Harrison described her as being a cross between Hannah B. and Trista Sutter. "Really sweet girl. Big, bubbly personality," he said.
Bri
Bri is a 24-year-old communications manager from San Francisco, California. She's a straight shooter who tells it like it is and catches Matt's eye early.
Carolyn
Carolyn is a 30-year-old journalist from Los Angeles. She's been engaged twice so "I guess you could say she knows what she's looking for at this point," Harrison said. She's also "not your average Bachelorette contestant"; she has a lot of tattoos and loves punk music.
Casandra
Casandra is a 25-year-old social worker from Newport Beach, California, who Harrison hinted wears a "bold" costume on night one.
Chelsea
Chelsea is a 28-year-old runway model from Brooklyn, New York. "[There are no] swipe up codes for Chelsea,' Harrison said, shading some of the Instagram influencers who have come out of the franchise. "She's the real deal, and also one of the realest women."
Corinne
Corrinne is a 22-year-old marketing manager from Pomfret, Connecticut, who works at her family's restaurant. She overcame some serious medical issues as a child and is healthy now, but has an interesting backstory, according to Harrison.
Emani
Emani is a 25-year-old realtor from Albuquerque, New Mexico, who Harrison described as a "true free spirit."
Illeana
Illeana is a 25-year-old health food developer from New York City, New York.
Jessenia
Jessenia is a 27-year-old social media marketer from San Antonio, Texas. She's a former pageant girl who's opinionated, honest, and not afraid to ruffle some feathers. Harrison said she finds herself in "more than a little drama" this season.
Kaili
Kaili is a 26-year-old hostess from Chicago, Illinois. Her work in the club scene apparently gets her embroiled in a pretty big dramatic moment. Harrison called her "one of the boldest" and also "one of the coldest" women this season.
Katie
"I don't never know if we've ever had a woman quite like Katie," Harrison said of the 29-year-old bank marketing manager from Renton, Washington. She's a Bachelor superfan who "makes her presence known" from the moment she steps out of the limo by bringing Matt a prized possession from home. "Katie is going to give the [show's] lawyers a heart attack with what she brings," Harrison teased.
Khaylah
Khaylah is a 28-year-old health care advocate from Durham, North Carolina, not far from Matt's own hometown in Raleigh. "She brings that familiar hometown vibe that Matt really found comforting," Harrison said, adding that Khaylah is an introspective woman with a lot of depth.
Kimberly
Kimberly is a 28-year-old airline recruiter from Seattle, Washington.
Kit
Kit is a 21-year-old socialite from New York City, New York. Her mom is a famous fashion designer, and Harrison said she has a very Carrie Bradshaw on Sex and the City vibe; she had boxes of clothes shipped to the place they were filming.
Kristin
Kristin is a 27-year-old attorney from Jersey City, New Jersey. Though Harrison said she's very sweet and "doesn't have a mean bone in her body," he also cautioned people shouldn't go up against her. "This woman is as sharp as a thorn on a rose."
Lauren
A 29-year-old corporate attorney from Miami, Florida, Lauren is "one of the more quiet and soft-spoken women, but really knows how to turn it on when it counts."
Magi
Magi is a 32-year-old pharmacist from Adwa, Ethiopia. Harrison called her the "American dream," adding that she's "sweet" and "impossible not to love."
Mari
Mari is a 24-year-old marketing director from Odenton, Maryland. She's also a former pageant queen, and she's close with Alayah from Peter Weber's Bachelor season. "[She] fid her best to steer clear of drama, but she didn't do a good job of that," Harrison said.
Marylynn
A 28-year-old event coordinator from Studio City, California, Marylynn is "no stranger to tears" and is "one of the most emotional women" in the franchise, Harrison said. She also finds herself in one of the season's biggest feuds early on after some unexpected roommate drama.
MJ
MJ is a 23-year-old hairstylist from Hudson, Ohio, who's bold, competitive, and extremely comfortable in her own skin. She also has a "fun" and "unusual" phobia that comes into play at some point.
Pieper
Pieper is a 23-year-old graduate student from Happy Valley, Oregon. She's a very smart, cerebral woman who's slow to develop feelings for Matt, but once she gets there, she's all in.
Rachael
A 24-year-old graphic designer from Cumming, Georgia, Rachael is a "down to earth southern girl" who's "sweet as cotton candy but also very competitive."
Saneh
Harrison teased that Saneh, a 25-year-old IT consultant from Denver, Colorado, has one of the "greatest limo entrances of all time."
Sarah
Sarah is a 24-year-old broadcast journalist from San Diego, California. Fun fact? She's also a trained fire dancer. Harrison said that she hits it off right away with Matt, but hinted it might be hard for them to keep the spark going.
Serena C.
Serena C. is a 24-year-old flight attendant from San Francisco, California.
Serena P.
Serena P. is a 22-year-old publicist from Toronto, Canada, who has immediate chemistry with Matt. Harrison said that though she's a physically tiny person, she's still a "force to be reckoned with."
Sydney
Sydney is a 28-year-old marketing specialist from Nashville, Tennessee. She prides herself on being blunt, but is also a "true romantic at heart."
Victoria
"I'm not going to oversell this, I'm not going to deep into this, I'm just going to say you're going to enjoy queen Victoria," is all Harrison had to say about this 27-year-old from Los Angeles, California, who yes, really listed "queen" as her job title.
This article was originally published on