Everything To Know About A Potential Jewish Matchmaking Season 2
Netflix has yet to renew the Indian Matchmaking offshoot.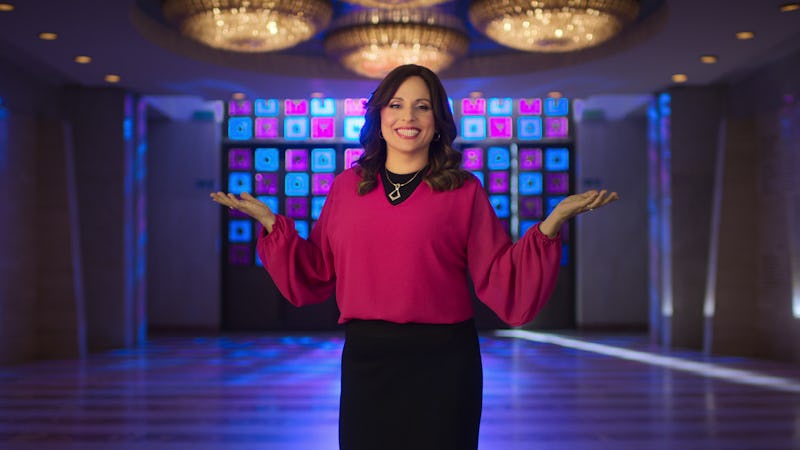 Courtesy of Netflix
After helping 200 couples get to the chuppah, Aleeza Ben Shalom brought her skills to Netflix's Jewish Matchmaking. In the first season of the new Netflix reality series, the expert matchmaker and dating coach flew from Israel to several locations across the United States, pairing her clients with their potential bashert, or soulmate, to varying degrees of success. Though Netflix has yet to renew Jewish Matchmaking for Season 2, it could be a promising sign that its sister series, Indian Matchmaking, just released a third season. Both shows share producers, too.
While promoting the show, Aleeza explained what she brought to the show and why Netflix subscribers would connect to the second iteration of the Matchmaking format. "Getting people to agree to go out on a date is one thing. Supporting a person in the dating process is another," the Philadelphia native, who now lives in Israel, told People in May. "This show will resonate with viewers not only because of the endearing people and entertaining episodes, but because of the takeaways, insights, and advice I share that you can put in your pocket."
The mother of five only got interested in a matchmaking career after she got married and moved abroad. "I knew that matchmaking existed, but I thought it was an old thing that bubbies would do in Yentl or Fiddler on the Roof," Aleeza shared in an interview with Netflix's Tudum. "But the more I learned and the more I got into the community, I realized this exists in the real world and lots of people do this — men, women, rabbis and regular people doing real, modern-day matchmaking. I was like, 'Oh, well this is really fascinating.' This is to me the most important work of the entire world."
As you await Netflix to announce the show's future, here's everything to know about a potential Jewish Matchmaking Season 2.
The Jewish Matchmaking Season 2 Cast
If the series follows in the footsteps of Indian Matchmaking, viewers should expect some cast members to return for a possible second season. The possibilities include Dani Bergman, Harmonie Krieger, Ori Basly, Noah Dreyfuss, Fay Brezel, Nakysha Osadchey, Stuart Chaseman, Cindy Seni, and Noah Del Monte. If the show is renewed, Aleeza would almost certainly continue to serve as the matchmaker. However, any official casting announcements remain forthcoming.
"Jewish Matchmaking depicts the universal search for true love," executive producer Aaron Saidman explained to People. "The show is a funny, heartwarming, and always unpredictable journey that unfolds right in front of our cameras. As we do in Indian Matchmaking, we take an ancient tradition and document it in a modern context. Sometimes there's undeniable chemistry between two singles, and sometimes it's just awkward ... and hilarious."
The Jewish Matchmaking Season 2 Potential Premiere Date
The first season of Jewish Matchmaking filmed for most of the second half of 2022 before premiering the following May, meaning the show takes about a year to produce. Because the more recent Indian Matchmaking seasons dropped about a year apart, Jewish Matchmaking could reasonably return sometime around May 2024.
This post will be updated as more Jewish Matchmaking Season 2 details become available.