Joaquin Phoenix & Rooney Mara's Relationship Timeline Is Just As Low-Key As They Are
They recently welcomed a baby boy and named him after Phoenix's late brother.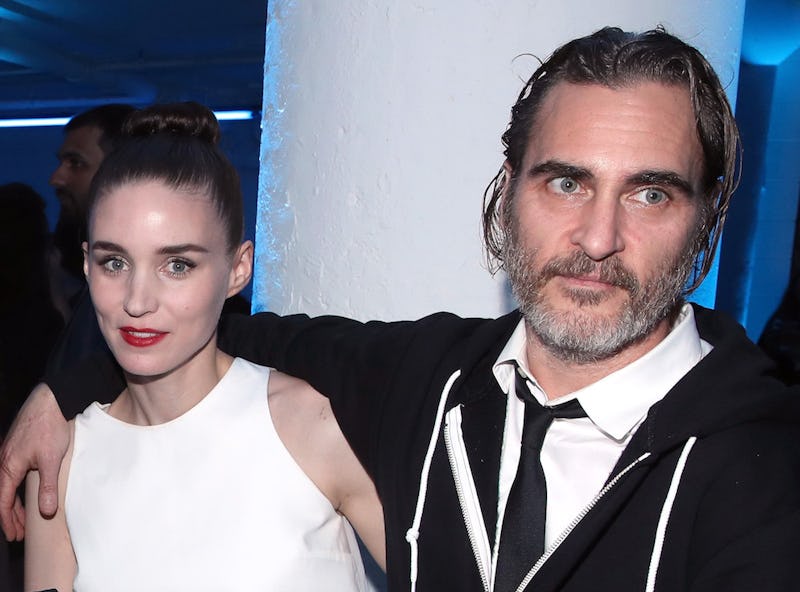 Randy Shropshire/Getty Images Entertainment/Getty Images
While much is known about the film careers of Joker star Joaquin Phoenix and Carol actor Rooney Mara, their relationship timeline is more low-key. Both actors have been linked for about seven years now, when they first met on the set of Spike Jonze's 2013 science-fiction romance Her, as reported by Entertainment Tonight. In the film, Phoenix and Mara played characters who were childhood sweethearts amid a divorce. However, rumors of Phoenix and Mara's relationship didn't emerge publicly until a few years later in 2017, as per Page Six.
In 2017, Phoenix and Mara starred in the biblical drama Mary Magdalene, which was only released in the U.S. in April 2019. Mara played the film's title character, while Phoenix took on the role of Jesus. The two reportedly fell in love while on set, according to various tabloid reports at the time, including Page Six. During this time, however, the two didn't speak publicly about each other in the press. Since then, they've been spotted out and about together, and have even made rare joint appearances at film festivals and red carpets.
Fast forward to present day, and the two are engaged and parents. From their first meeting to their engagement and baby news, below is a loose timeline of Phoenix and Mara's relationship.
2013: They First Met
Phoenix and Rooney presumably connected on the set of Spike Jonze's 2013 film Her, which starred Phoenix in the central role. The science-fiction drama followed Theodore (Phoenix), a man who falls in love with an operating system named Samantha, voiced by Scarlett Johansson. Mara starred as Catherine, Theodore's childhood sweetheart and soon-to-be ex-wife. The two only started dating a few years later, when they reunited on set for the film Mary Magdalene, according to Page Six.
January 2017: Dating Rumors Emerge
In 2017, dating rumors surfaced while the two were on set of Mary Magdalene in 2016. On Jan. 10, 2017, Page Six reported that the two "fell for each other on the set while shooting the epic and have been spending a lot of time together ever since." A few days later on Jan. 13, the they were spotted at a detox spa together in California, as reported by E! News. At the time, however, Phoenix's rep told Page Six that he and Mara were "just good friends."
May 2017: Their First Public Event
Following months of romance speculation by the press, Phoenix and Mara made their first joint appearance together at the 70th annual Cannes Film Festival on May 28, 2017. At the event, Phoenix took home the best actor win for his 2017 film You Were Never Really Here. The couple's "close bond was on full display" throughout the show, with Phoenix reportedly seen "resting his hand on Mara's leg," according to a May 27, 2017 report by People. At the end of the ceremony, they were spotted leaving together, hand-in-hand, in the same car, per the report.
September 2017: Phoenix Revealed They Live Together
In an interview with the New York Times Style Magazine published on Sept. 6, 2017, Phoenix revealed that the couple moved in together. The profile disclosed that the two live a "remarkably simple" life together in the Hollywood Hills, located in Los Angeles.
July 2018: Reports State They're "Never Going To Get Married"
In a July 12, 2018, exclusive in Us Weekly, sources told the publication that while the two are "so in love," they aren't in a rush to get married. The source said, "They're never going to get married because they think marriage is too mainstream."
May 2019: Engagement Rumors Emerge
In May, the couple sparked engagement rumors after Mara was spotted with a diamond ring on her finger while running errands around Los Angeles on May 24. At the time, neither Mara nor Phoenix's reps commented on the rumors.
July 2019: The Two Get Engaged
On July 22, news broke that Mara and Phoenix got engaged after three years together. Us Weekly broke the news on the heels of the engagement rumors from May.
September 2019: Red Carpet Appearance At The Joker Premiere
On Sept. 28, the notoriously-private couple made a rare red carpet appearance together for the premiere of Phoenix's upcoming film, Joker, in Hollywood.
September 2019: An Inside Joke At TIFF
People believed that Phoenix was alluding to Mara in his acceptance speech at TIFF when he presumably said about Mara, "One last thing — somewhere here, I don't know where, is a filthy dragon, and I want to rip its wings off and fasten a blanket and sleep with it forever. I love you."
October 2019: Phoenix Revealed He Thought Mara Initially Hated Him
In an Oct. 1 interview with Vanity Fair, Phoenix told the magazine he thought Mara despised him when the two met on the set of 2013's Her. He later realized she was "just shy." The Joker actor even admitted to looking her up on the web. "She's the only girl I ever looked up on the internet," he told VF. "We were just friends, email friends. I'd never done that. Never looked up a girl online."
January 2020: Phoenix Tells Mara He Loves Her
After getting silly on the red carpet, Phoenix acknowledged Mara in his acceptance speech for Best Performance by an Actor in a Motion Picture - Drama for Joker at the Golden Globes. Even if it was barely audible, he mumbled, "I love you," after they shared eye contact for a moment.
September 2020: They Welcome Their First Child
During an appearance at the 2020 Zurich Film Festival, Phoenix's Gunda colleague and filmmaker Victor Kossakovsky confirmed the actor and Mara recently welcomed a baby boy. "He just got a baby by the way," Kossakovsky said, adding that the couple named their son after Phoenix's late brother, River.
November 2020: Phoenix And Mara Pen An Op-Ed About Migrant Children
Weeks after Kossakovsky revealed the couple had a child, Phoenix and Mara penned an essay about the hundreds of migrant children who were separated from their families. Their first time opening up about being parents, they wrote:
"As new parents, it's unbearable to imagine what it would feel like to have our child taken away from us for a day, let alone years. But that's the very situation those 545 children and their parents have been living through. As Americans, it's our responsibility to continue paying attention to the plight of these families and get answers for why they still have not been located."
After noting how the inhumane forced separation "can cause irreparable emotional harm," they continued:
"We have to ask ourselves: Is this the country that we want? Are these our values? How will it feel to explain to our son, when he asks us about this time and how we treated scared, defenseless children, some of whom may never see their parents again? For the sake of our nation's character, I hope we will be able to tell him that America unequivocally rejected this cruelty and demanded that our representatives did everything in their power to find those missing parents."
This article was originally published on