John Travolta Recalls His "Magical" Dance With Princess Diana In A New Interview
American photojournalist Pete Souza shared his memory of the evening, too.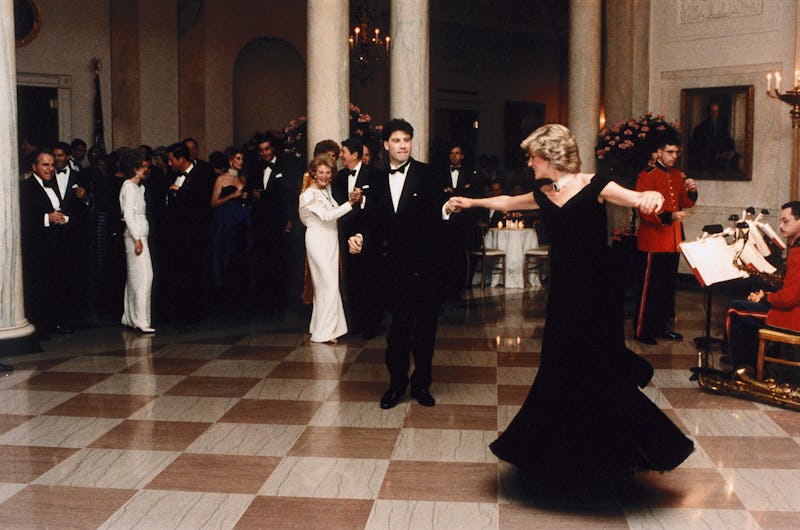 Tim Graham/Corbis Historical/Getty Images
Over 35 years ago, American photojournalist Pete Souza captured a magical moment between Princess Diana and John Travolta. In a new interview with Esquire México, Travolta gave an intimate insight into that special moment he had with the late Princess of Wales, describing it as a "fairy tale". Taken in 1985 at a black-tie dinner at the White House, Princess Diana attended the event with Prince Charles on the first night of their U.S. royal tour.
Souza, the former Chief Official White House Photographer, recently shared the image to commemorate the moment which he remembers "as if it was yesterday". The photographer also highlighted that Travolta wasn't Princess Diana's only dance that night. She also shared the ballroom with President Reagan, Tom Selleck, Clint Eastwood, and Neil Diamond – though notably not Prince Charles.
Described as a "huge privilege and honour" by Travolta, the actor was the first to take Diana's hand in a dance at midnight. However, it seems the Grease star wasn't her first choice. According to former butler Paul Burrell, Diana wanted to dance with Mikhail Baryshnikov, a Russian ballet dancer.
But after being told by former First Lady Nancy Reagan that Lady Diana wanted to dance with him, Travolta worked up the courage to approach her and ask for her for a dance "in the correct way, with confidence," as he told Esquire.
Once Travolta asked her, he described her as turning and flashing "that captivating, melancholy smile" before accepting his invitation. The duo danced to a medley of songs from Saturday Night Fever, according to Souza.
Describing the night like a fairy tale, Travolta was "aware of the significance of that moment" and immediately registered it in his memory "as a very special moment – a magical one," he said.
It was certainly magical for Princess Diana, as "it was her favourite moment" of the U.S. tour, according to Travolta. "So I feel I made her life better; she made my life better; and I'm very sorry that she's not here," he told Good Morning America in 2016 (via Smooth Radio).