JoJo Siwa Says She's "Technically" Pansexual — But She's Still Trying To Figure It All Out
The singer opened up about coming out and how she met her new girlfriend.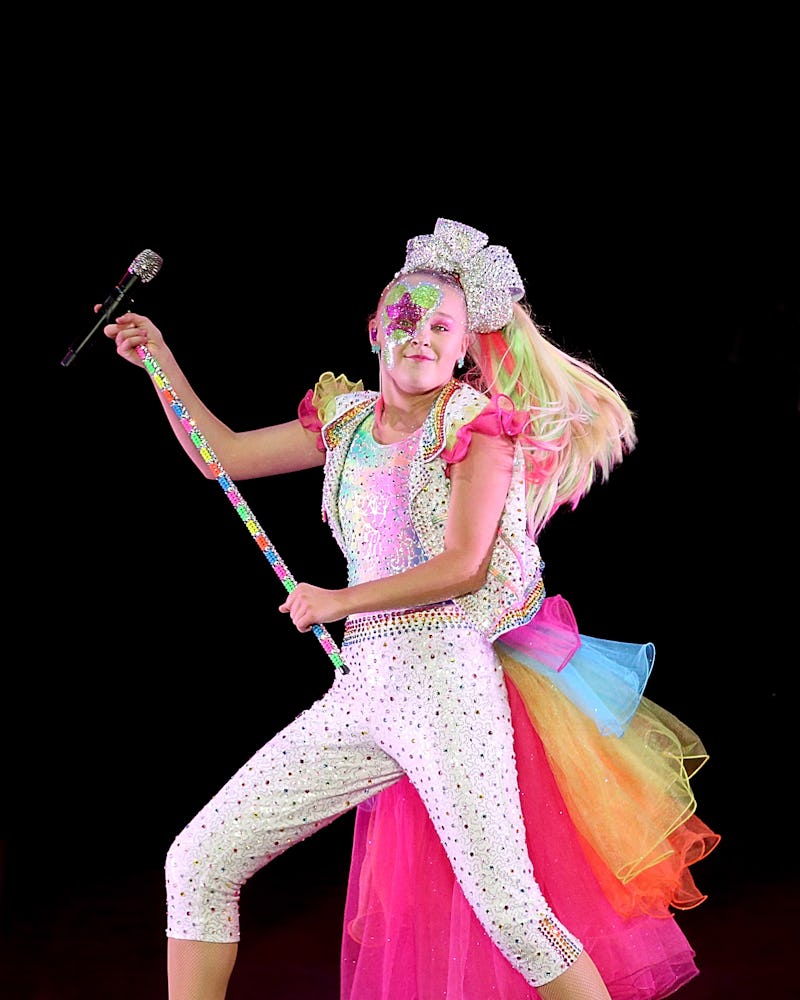 Gary Miller/Getty Images Entertainment/Getty Images
Even the world's biggest teen star is still trying to figure it all out, just like every other kid her age. JoJo Siwa opened up about coming out as LGBTQ in a People interview published on Wednesday, April 7, discussing her sexuality and telling the story of how she fell in love with girlfriend Kylie Prew. Though the Nickelodeon star came out in January with a series of TikTok and Instagram posts, including a photo of her wearing a T-shirt that read "Best Gay Cousin Ever," she said she still hasn't determined a label for her sexuality.
In the new interview, Siwa told the magazine that she's known her sexuality was different since she was little (as did her mother) and wanted her coming out to be casual. However, she was aware of the risk she was taking and received more backlash than she initially predicted. "I was thinking that all the comments were going to be nice and supportive, and they weren't," she shared. "A lot of them were, 'I'm never buying your merch again. My daughter's never watching you again.' I couldn't sleep for three days."
Thankfully, the support she received was enough to help her realize what was truly important to her. "My thing is, I don't want people to watch my videos or buy my merchandise if they aren't going to support not only me, but the LGBTQ community," she said. However, she's still not sure how to label herself just yet. "I want to figure it out," she explained. "I always just say gay because it just kind of covers it, or queer because I think the keyword is cool. I like queer. Technically I would say that I am pansexual because that's how I have always been my whole life is just like, my human is my human."
While it doesn't fall along the typical LGBTQ+ spectrum, she also has another label in mind: "I have this joke — her name is Kylie, and so I say that I'm Ky-sexual," she said, referring to her GF. Siwa met Prew on a cruise ship, where they became instant friends, which gradually turned romantic. "I told her my whole spiel that I tell everyone when they ask me my life story," Siwa recalled. "She goes, 'I could have Googled that. I want to know your life story. You just told me about your career. I want to know about you.' I was like, 'No one's ever asked me that before.'"
The couple has now been dating for four months, becoming official in January, and Prew has been one of Siwa's biggest supporters in her journey. She even encouraged the singer to come out when she was ready. "She never cares what the internet said about us," she said. "It's nice to have somebody in my life like that."